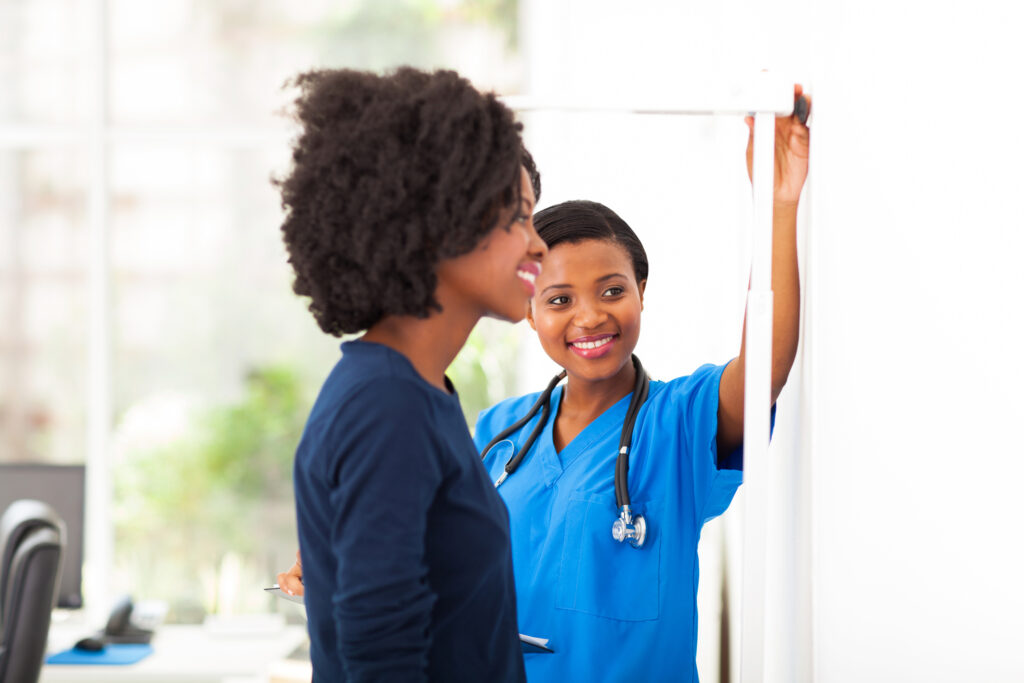 Medical assistants have both clerical and clinical responsibilities. Some tasks are distinctly one or the other, while others blend seamlessly together. As a medical assistant, you'll be a jack-of-all-trades and a master of many.
What Does a Medical Assistant Do?
Medical assistants support doctors, nurses, and administrators by performing a broad range of clinical and clerical tasks in healthcare settings. Their job descriptions vary, some have a predominantly clinical focus while others are more administrative in nature. It's a flexible role and an excellent career choice for people with diverse interests, satisfying passions for wellness, science, and finance.
On an average day as a medical assistant, you'll use your clinical and administrative training to:
Triage Phone Calls
Medical office assistants usually manage the switchboard in medical settings, but while they can make appointments and answer general questions about the practice, they have limited clinical training and can't respond to health concerns. Their role is to forward medical calls to someone who can best answer symptom-related inquiries, typically a medical assistant.
Medical assistants work side-by-side with doctors, so they're aware of patients' needs. They have the clinical expertise necessary to know which symptoms require home care instructions or an emergency visit.
While they can't offer medical advice, they know, for example, that the surgeon they work for wants all patients with post-operative fevers to be prioritized for appointments. After speaking to the client and reviewing their symptoms, they'll help the medical office assistant determine when the patient should be seen.
From the administrative perspective, this task also requires significant documentation. Records kept by medical assistants help subsequent providers track symptoms and treatments so that the patient always gets the most timely and appropriate care possible.
Stock Exam Rooms and Manage Inventory
Keeping exam rooms stocked is one responsibility with both clinical and administrative features. After reviewing the day's schedule, medical assistants use their clinical know-how to choose the supplies needed for each visit. Postoperative care, for example, may require a staple remover kit and bandages while the doctor will need a cerumen removal kit to treat impacted ear wax.
Each of these supplies is also an expense that practices need to track. As a medical assistant, you may need to scan supplies into an inventory tracking system or keep lists of which items to reorder. With experience, you may work with vendors directly to source products and negotiate prices.
Room Patients
When a client arrives for an appointment, you'll escort them to an exam room while preparing them for their visits. Your role will be to complete the clerical and clinical tasks necessary for providers to make the most of their one-on-one time with patients.
After taking their vital signs, you'll update their medication and allergy lists, complete verbal pre-screenings, such as the PHQ-9 questionnaire for depression, and take notes about their physical symptoms.
You'll also search in their medical records for overdue services, such as PAP smears and influenza vaccines, flagging the patient's needs. When the provider arrives, they will review your notes and follow up on concerns.
Perform Diagnostic Tests
Performing diagnostic tests is a purely clinical responsibility, yet it has an administrative component. Medical assistants can assist with x-rays, draw blood, collect biological samples, complete TB tests, and do EKGs without close supervision. It's satisfying work for science-driven people.
But each of these tasks also has a billing and coding component in which both medical assistants and medical billing specialists participate. Because they have both clinical and clerical training, medical assistants often serve as the bridge between the exam room and the back office.
Administer Medications and Treatments
Medical assistants can administer many medications and treatments in most states. Though limited to working with stable patients, they can give immunizations, remove stitches, and apply dry dressings under the supervision of a doctor or nurse. They're also responsible for the administrative aspects of these duties, including obtaining signed consent forms and documentation.
Provide Billing Support
There's a billing component in most of what medical assistants do, but some medical assistants take a leading role. Just as there are medical assistants that perform primarily clinical duties, so are there some that embrace mostly administrative duties.
Medical assistants can help fill out insurance forms and research rejected claims, filling in the blanks if clinical information was missing. They may also participate in marketing, financial management and human resource activities under the supervision of the practice administrator.
Maintaining Medical Records
Medical assistants make entries into clinical records in real-time as they care for patients. However, they can also oversee entire record systems, directing the flow of information between providers and patients. Patient privacy regulations and internet security add a deeper administrative dimension to recordkeeping responsibilities.
Patient Education
Medical assistants have clinical and clerical roles in patient education. Helping a patient prepare for hospital admission, for example, not only includes giving them clinical instructions, such as not to eat or take medication after a specific time, but it also requires verifying demographic and insurance data for the facility as well as informing insurers of the admission.
Where Do Medical Assistants Work?
Where there are doctors and nurses, there's a need for medical assistants. Medical assistants are increasingly being recognized for their skill and versatility and are hired in many health settings, including:
Private Practices
The majority of medical assistants work in doctor's offices, it's the ideal setting for a blended skillset and makes the most of a medical assistant's clinical expertise. Core clinical duties may include:
Rooming patients
Taking vital signs
Giving vaccinations
Performing diagnostic tests
Assisting with treatments
Phlebotomy
Managing referrals
Patient education
Administrative responsibilities encompass:
Managing the schedule
Overseeing inventory
Ordering medical supplies
Billing and coding
Filing
Record management
Hospitals
Medical assistants in hospitals work in many departments, from admissions and ambulatory surgery to the billing and records departments. Because some patients are more acute, clinical roles may be limited to:
Taking vital signs
Collecting specimens for the lab
Patient observation
Transporting patients between departments
Reviewing post-procedure instructions
Performing phlebotomy and diagnostics tests in a hospital usually require additional certifications, but there's also more potential for exclusively administrative roles. Hospitals hire medical assistants to:
Greet clients
Work as unit clerks
Restock inventory
Handle pre-admission paperwork
Track down families for emergency admissions
Follow-up on admissions with insurers
Work in billing
Manage medical records
You could, for example, work exclusively with medical records, ensuring they're complete and properly stored while responding promptly to inquiries for clinical information. Your clinical training allows you to find pertinent medical information quickly to help doctors make speedy treatment decisions.
Clinics
Larger than private practices but smaller than hospitals, clinics are a fun environment for medical assistants. There is less staff, so roles are less focused. Everyone chips in and does the necessary jobs. Clinical tasks may include:
Screening patients for symptoms
Obtaining vital signs
Drawing blood
Assisting with radiographs and EKGs
Administering medications
Reviewing home care instructions
Clerical duties may consist of:
Managing the waiting area
Checking patients in
Requesting prior records
Filing
Reviewing consent forms
Filling out insurance claims
Preparing invoices
Taking payments, light accounting
Medical Billing Services
Many physicians are now outsourcing their billing to separate the business and health aspects of their practice. Medical assistants working in billing practices have no direct clinical role since they rarely see patients face-to-face. However, they do spend considerable time on the phone with them, ironing out billing and insurance issues, some of which require extensive clinical research. You may have to reach out to providers to clarify health data and review charges.
Responsibilities include:
Taking patient phone calls
Troubleshooting bills
Researching claims
Posting payments
Collections
What's the Easiest Way to Become a Medical Assistant?
There's more than one way to become a medical assistant. You can go to college for two years and get an associate degree or get to work faster with a vocational school diploma.
If you attend full-time, you can graduate in as little as nine months. By eliminating elective classes that don't directly improve your skills as a medical assistant, you'll complete your program in less than half the time while qualifying for the same certifications and entry-level positions as your college-educated peers. It's an unbeatable value.
There are also part-time options that let you learn at your own pace while continuing to work, but full-time participation is the fast route to graduation day It's a great option for adults who want a new career without sacrificing an extra year of earning potential.
Vocational school medical assisting programs also come with other perks, including job placement benefits. Career advisers work closely with local employers to help fill their staffing needs. Students not only get a networking edge from industry-seasoned instructors, but they often find out about jobs that aren't posted publicly. Employers are increasingly turning to schools for trained graduates instead of placing want ads that attract unqualified applicants.
Final Thoughts
Medical assisting has a lot going for it as a career. It's secure and personally rewarding, but the best part about the job is that it's never stale because it's so flexible. Whether your strengths lie in clinical or clerical practice, there are always opportunities and a place for you in the medical community.
Want to Learn More?
Gwinnett Colleges & Institute offers medical assisting courses to gain essential skills and training at multiple campuses from Lilburn, Sandy Springs and Atlanta/Marietta to Orlando, FL and Raleigh, NC. The core curriculum at these campuses focuses on the medical assisting skills and training you will need to seek entry-level employment in physicians' offices, clinics, hospitals, and other medical settings needing the services of associates trained in both front and back office medical assisting skills. These medical assisting courses will be the first step in starting a rewarding career.
Contact us to learn more about how you can become a medical assistant today.