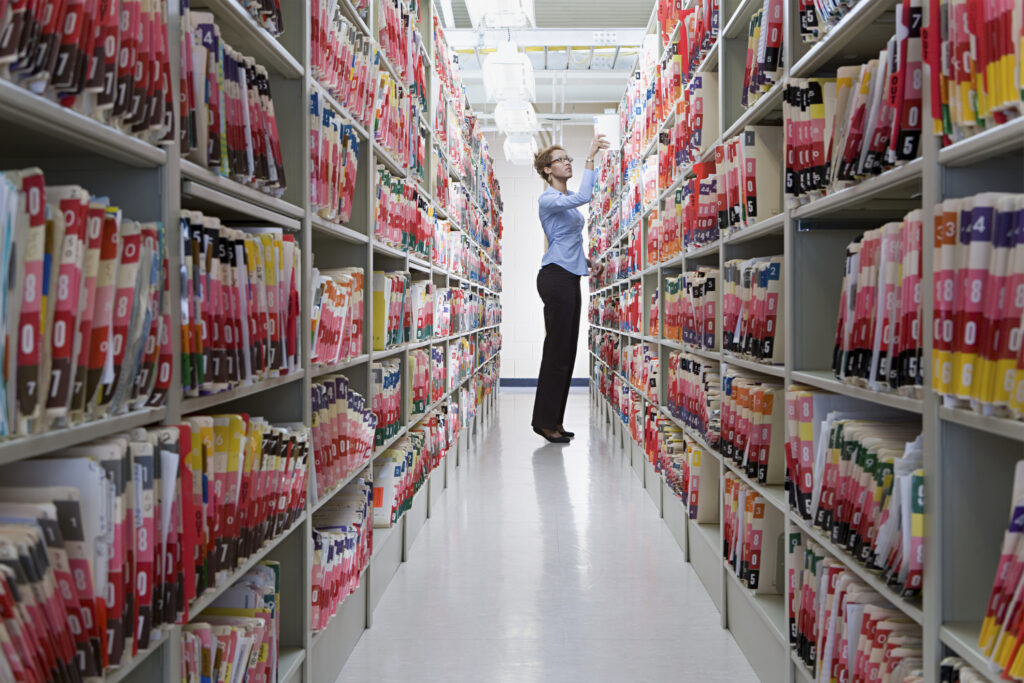 Are you interested in becoming a medical assistant and wondering what an electronic health record is? What does it do and how does a medical assistant use it during their duties at a medical facility? With the evolution of medical technology, the industry is identifying ways to improve health outcomes and one important way that has happened is by transferring paper files to electronic health records.
What is an Electronic Health Record?
The electronic health record (EHR) is a systematic collection of a patient's electronically stored information. The electronic health records are the central repository of information for all providers in a patient's care including physicians, medical offices, and healthcare professionals.
An electronic health record is a digital compilation of a patient's entire medical history. Stored in a computer, it holds information including:
Demographics
Diagnoses
Immunization record
Allergy list
Medication profile
Vital signs
Progress notes
Care plans
Diagnostic test results
Radiographic images
Administrative and billing data
Some of the information recorded in electronic medical records is also recorded in electronic health records. While use interchangeably, they do have distinct use cases.
What is the Difference Between EHR and EMR?
While electronic medical records (EMRs) are designed for proprietary use, EHRs are built to be accessible by everyone involved in the patient's care from a primary physician to billing specialists.
Why not just replace EMRs with EHRs? The answer is complicated but lies in patient privacy. Patients must expressly consent to share records related to substance abuse, mental health treatment or STDs, so some records are safer as EMRs.
While EMRs and EHRs are destined to remain separate systems, the goal is that EHRs will eventually contain most of the information in EMRs so that patients always get the promptest and most informed care possible.
Patient Benefits of Electronic Health Records
There are many important benefits to using electronic health records. Some of the benefits include improved patient outcomes, collective care throughout the patient's life, historical tracking of patient records, proper monitoring of patients, less errors and duplicate testing, time and resources savings, and confidential and secure patient information.
Electronic Health Records Help Improve Patient Outcomes
A medical records system can be set up to alert the health care provider of possible complications, allergies to certain medications, critical lab values or an alert that the patient is due for an important test. These electronic health record systems can also let physician's offices know who is late on their bills or has a denied claim. Electronic health records make it easy for a medical assistant to support a medical facility and keep it running smoothly.
Collective Patient Care
The electronic health record can be accessed, created, and managed by authorized providers and medical staff from multiple health care organizations. Patients receive better medical treatment because the shareability of electronic health records among the healthcare provider community. The physician doesn't have to wait hours for the patient's medical records to be received in the mail or fax. With electronic health records, patient information is available for another medical provider almost instantaneously.
By sharing the information with all health care providers, the risks of medical errors are lowered, the patient doesn't have to pay for duplicate tests, and overall quality of care improves. With electronic health records, the patient is also able to access and respond to physicians using communication tools like text messages and emails.
Historical Tracking of Patient Records
Physicians have access to the patient's health care records across their entire life, offering explanations for different conditions or treatments that have administered. Many patients move from one physician to the next and each physician can access the patient's notes in electronic format.
Monitor Patient Outcomes
By using electronic health records, the health care community can monitor a patient and understand when screenings are necessary or when preventative care is administered. Government agencies can also see an epidemic start or identify where budget should be allocated with the help of electronic health records.
Lower Error Rate
Electronic health records can help physicians avoid making errors in medications prescribed and treatments administered. If a patient reports an allergy to one physician, all physicians that access the health records will know about the allergy and not prescribe medication that will cause an adverse reaction. Electronic health records will also reduce the number of duplicate tests that are performed from a lack of insight into other physician's treatments and medical records.
Saving Time and Resources
Many physicians have resources dedicated to managing incoming and outgoing patient files. Time and resources can be wasted with an inefficiency of paper filing processes. Having electronic health records and a universal coding system allows physicians more time to help their patients.
Confidential and Secure Information
Keeping patient's personal information in a secure environment, makes it harder for people to steal paper documents or intercept mail that holds confidential patient information. Electronic health records are accessed only by those who have permission. The Health Insurance Portability and Accountability Act (HIPPA) specifies who can access a patient's private health records and when.
Make Healthcare More Affordable
It costs billions of dollars to process medical transactions using old technology like fax and snail mail. Doctors' offices hired clerical staff just to handle paperwork. Electronic health records speed transactions, making them more efficient and reducing the cost of healthcare for patients.
Bolster Public Health Surveillance
COVID-19 underscores the need for increased public health surveillance. Electronic health records contain the diagnostic codes the CDC and WHO use to track disease rates in real-time. Paper tracking would make large-scale pandemic management nearly impossible, but easily accessible digital data can be converted quickly enough to guide immediate resource management.
How To Become a Medical Assistant
An easy way to become a medical assistant is by attending a vocational school's medical assistant program. You can complete this program in months, rather than years and start a new career in healthcare as a medical assistant.
What are the Benefits of a Formal Education?
There are many benefits to a formal education. From a comprehensive curriculum to career services and everything in between, getting a formal education will allow employers to skip most of the on-the-job training and allow you to start working right after graduation.
Comprehensive Curriculum
When you attend a medical assistant program at a vocational school, you learn what you need to start working. No art history electives that make you a well-rounded student. Just what you need to start working and nothing else. During a medical assistant program, you learn about anatomy, physiology, medical terminology, phlebotomy, EKG administration and much more.
Lab Experience
One of the great benefits of a medical assistant program is the ability to put lecture theory to the test with lab work. You will spend countless hours working on medical assisting procedures until you have mastered them. You will also have the chance enjoy an externship. Externships allow students to shadow medical assistants and perform real procedures under the strict supervision of a nurse or physician. Practice makes perfect, and you get a lot of practice during a medical assistant program.
Industry Experienced Instructors
At Gwinnett College, we pride ourselves in the instructors we hire to prepare you for the workforce. They have experience in the industry, know what employers are looking for in a candidate, and offer one-on-one attention so you don't get left behind.
Access to Career Services
The best benefit that you will receive at Gwinnett College is career services to find the job you are passionate about. We help you build your resume, prepare for interviews, write thank you emails and meet employers in the community. Our career services staff works to understand your passion and find the right match for your career.
Final Thoughts
Did learn about electronic health records interest you? Want to use EHRs to help patients improve health outcomes? If you want to learn more about becoming a medical assistant, then contact us today. We are happy to answer any of your questions and we will be by your side every step of the process.
Want to Learn More?
Gwinnett Colleges & Institute offers medical assisting courses to gain essential skills and training at multiple campuses from Lilburn, Sandy Springs and Atlanta/Marietta to Orlando, FL and Raleigh, NC. The core curriculum at these campuses focuses on the medical assisting skills and training you will need to seek entry-level employment in physicians' offices, clinics, hospitals, and other medical settings needing the services of associates trained in both front and back office medical assisting skills. These medical assisting courses will be the first step in starting a rewarding career.
Contact us to learn more about how you can become a medical assistant today.