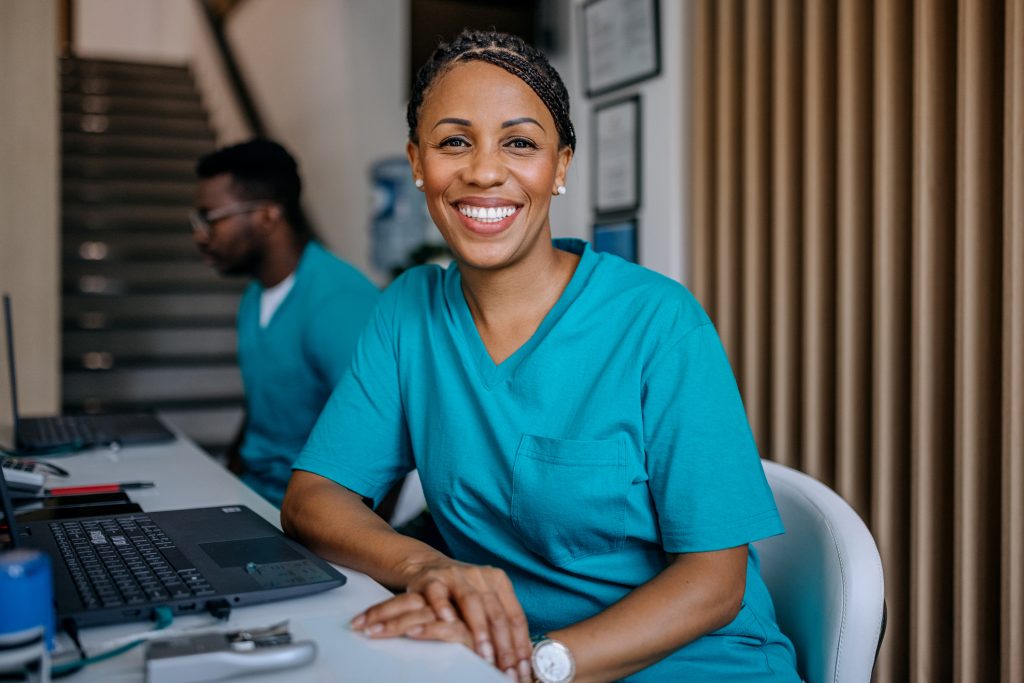 Self-reflection is a tool for success. Assessing your strengths and weaknesses can be the first step toward achieving your life goals. If you're not happy with your accomplishments and want to feel better about who you are and what you contribute to the community, you can improve yourself as a person and a professional by becoming a medical assistant.
How Can I Improve Myself as a Medical Assistant?
Human beings thrive on achievement. But dead-end jobs rob us of the chance to succeed. If you feel stuck in your work life, bored and underutilized, you're not alone. Becoming a medical assistant can be a transformative experience that offers opportunities for personal and professional development. As a career, it helps you:
Overcome Fear
Making a career change is intimidating. But stepping into the unknown can help you overcome the fear of uncertainty and change in other aspects of life. As a person, you'll learn to see challenges as opportunities. And as a medical assistant, it's a life lesson that will help you help others cope with life-altering illnesses.
Develop New Skills
Transitioning to a new career requires learning new skills and broadening your knowledge base. But graduating from a training program is just the beginning of your journey. Healthcare is a technologically advanced field that is evolving continually. You'll learn something new every day, becoming a more informed person and more skilled medical assistant.
Cultivate Your Creativity
Medical assistants encounter unexpected situations in their daily work. Finding creative solutions to these unique challenges requires thinking outside the box and being resourceful. Challenges at work inspire creativity that will serve you well in other aspects of your life.
Build a Secure Future
Jobs pay the bills, but careers give us purpose. The job market, however, is changing, leaving today's students with fewer career choices as technology usurps more roles. Thankfully, the healthcare field remains robust. The US Bureau of Labor Statistics projects a 16% growth in demand for medical assistants through 2031. It's your chance to build a secure and rewarding lifelong career.
Achieve a Better Work-Life Balance
The best careers promote professional development while leaving workers enough time for personal pursuits. If your current job keeps you so busy that you don't have enough time, medical assisting offers a regular schedule with few, if any, evening and holiday hours. You'll have an enviable work-life balance with plenty of time for family and personal improvement priorities.
Help Others
It's possible to help others in any role, but it's a mission for medical assistants. If you want to do more for individuals and entire communities, there's no better way to do it than to join the healthcare field. As a medical assistant, you'll contribute to better healthcare access and improved patient outcomes.
What Does a Medical Assistant Do for Their Patients?
Medical assistants perform clinical and administrative tasks, serving patients in both personal and practical ways, including:
Patient Care
Medical assistants provide hands-on patient care, performing a broad range of duties, such as:
Patient Intake and History – preparing patients for their appointments, taking their vital signs, updating medical history, and documenting relevant information in the patient's health record.
Assisting with Examinations – helping healthcare providers during medical examinations by preparing the necessary equipment, assisting with positioning, and monitoring the patient's comfort and safety during procedures.
Performing Minor Treatments – a medical assistant's treatment responsibilities vary based on where they're employed. But you might remove stitches, apply bandages, and assist providers with more complex procedures.
Collecting Laboratory Specimens – collecting biological samples such as blood and urine for laboratory testing. You'll draw blood and instruct patients on proper collection methods.
Managing Medical Records – accurate records are the foundation of quality care. As a medical assistant, you'll update information continually, ensuring that the timeliest data, including test results and treatment plans, is available to both patients and providers.
Scheduling – collaborating with the front office to manage urgent appointments. You'll triage phone calls, prioritize symptoms, and arrange the appropriate care.
Processing Prescriptions Refills – helping patients get their prescriptions refilled, communicating with pharmacies on renewal requests.
Infection Control – healthcare settings can harbor dangerous pathogens. Medical assistants prevent the spread of disease by sanitizing exam rooms, disinfecting equipment and sterilizing surgical instruments.
Emergency Response
During emergencies, medical assistants may provide vital support. Trained in CPR and first aid, their quick thinking and medical expertise can make a life-or-death difference in critical situations.
Patient Education
Medical assistants educate patients about their health conditions, medications, and treatment plans. They provide information on preventive measures, lifestyle modifications and disease management strategies, empowering patients to take an active role in their healthcare.
Facilitating Communication
Medical assistants serve as liaisons between patients and their healthcare providers. They ensure that patients' concerns are relayed to the medical team and that patients understand the information provided by the healthcare provider.
Improving the Patient Experience
Medical assistants play a crucial role in enhancing the patient's experience. Ambassadors of first impressions they ensure that patients are greeted warmly, appointments are scheduled efficiently and wait times are minimized, creating a positive and pleasant care environment.
Extending Compassionate Care
The importance of compassionate care can't be overstated. Medical assistants provide patients with emotional support, listening empathetically to their concerns and providing reassurance.
Providing Administrative Support
By helping with administrative duties, such as organizing patient records and managing correspondence, medical assistants enable healthcare providers to focus on providing high-quality personal care.
Being an Advocate
Medical assistants act as patient advocates, helping them access resources and navigate the healthcare system.
Community Outreach
Healthcare facilities are increasingly participating in community outreach efforts. Medical assistants help by educating the public about healthcare availability, disease prevention and well programs.
How Do I Become a Medical Assistant?
While other roles in the healthcare field take years to train for, full-time students can become medical assistants in less than a year by completing a vocational school program. The curriculum covers the many skills you need to succeed in a thriving industry, you'll graduate work-ready and prepared for certification.
How Do Vocational School Training Programs Help Me Improve Myself?
There are no formal education requirements to work as a medical assistant. But healthcare is a complex and highly regulated field, so most employers prefer trained applicants. On-the-job training can help you learn practical skills. But through coursework and the student experience, vocational school programs instill the soft skills students need to become well-rounded people and exceptional medical assistants.
As a student, you'll develop:
Confidence and Self-Esteem
Completing a vocational school diploma program instills a sense of achievement and confidence in medical assistants. With each project completed and lesson mastered, you'll feel better equipped to handle both personal and professional responsibilities.
Critical Thinking and Problem-Solving Skills
Vocational school programs emphasize critical thinking and problem-solving skills. As a medical assisting student, you'll learn to assess facts objectively, make sound decisions and find creative solutions to challenging problems.
A Strong Sense of Commitment
Earning a vocational school diploma demonstrates a commitment to personal growth and professional development. This dedication to continuous self-improvement is an important source of pride and motivation for medical assistants.
Better Interpersonal Skills
Healthcare workers interact directly with patients and peers. Interpersonal skills such as empathy and compassion are essential for building strong therapeutic and workplace relationships. Every day as a student brings opportunities to practice these critical skills, which will help you better connect with people in your personal and professional lives.
A Team Spirit
Vocational schools encourage students to work together on activities and projects. Teaching soft skills related to teamwork and collaboration helps medical assisting students understand the dynamics of group work and how to contribute effectively to common goals as part of a multidisciplinary healthcare team.
Cultural Awareness
Medical assistants serve people from all walks of life. They're exposed to diverse cultures, contrasting perspectives and different ways of thinking. Engaging with people who have different worldviews in a setting as intimate as healthcare improves your cultural awareness and encourages open-mindedness. Soft skills training fosters cultural sensitivity, respect for diversity and the ability to work harmoniously with people from different backgrounds.
Professional Ethics and Credibility
Professionalism refers to the conduct expected of healthcare workers. Vocational school programs cover topics related to ethics, behavior, and regulation, helping future workers adapt to unfamiliar concepts. As a form of commitment, professionalism instills pride in those who work to meet high standards.
Having a vocational school diploma also lends credibility to a medical assistant's qualifications. It assures both patients and healthcare providers that they've received the proper training to perform their duties safely and effectively. Like a stepping-stone, it also serves as a launchpad for future learning and career development, serving as a qualification for general and specialty certifications.
Self-Care Abilities
Healthcare settings are fast paced. The work is rewarding but occasionally demanding and stressful. But you can employ the same coping strategies you developed in school to manage high-pressure assignments to maintain your composure during high-pressure work situations. When it comes to managing workplace stress, you have no better advocate than yourself.
A Continuous Learning Mindset
In some jobs, training is once-and-done. But in healthcare, continuing education is a requirement. You'll learn a lot on the job, but you'll need to take advantage of educational offerings from seminars to online courses. Vocational schools encourage students to embrace every learning opportunity, setting the stage for a continuous learning mindset and effective career advancement.
Leadership Potential
Vocational schools play a significant role in building leadership potential among their students by incorporating leadership development programs and activities into the curriculum and campus life. Through classroom projects, extracurricular activities, and mentorship programs, they prepare graduates for future career growth and leadership positions.
Final Thoughts
Self-improvement is a personal journey that only you can define. But because your career is such an important part of who you are, rethinking what you do for work can spark personal and professional growth. So, why stagnate when you can move forward by training as a medical assistant? Improving yourself is less about who you are now than what you choose to be.
Medical Assistant Program
Ready to start a new career as a medical assistant? Gwinnett Colleges & Institute offers medical assisting courses to gain essential skills and training at multiple campuses from Lilburn, Sandy Springs and Atlanta/Marietta to Orlando, FL and Raleigh, NC. The core curriculum at these campuses focuses on the medical assisting skills and training you will need to seek entry-level employment in physicians' offices, clinics, hospitals, and other medical settings needing the services of associates trained in both front and back office medical assisting skills. These medical assisting courses will be the first step in starting a rewarding career.
Contact Gwinnett Colleges & Institute today to learn more about becoming a medical assistant.