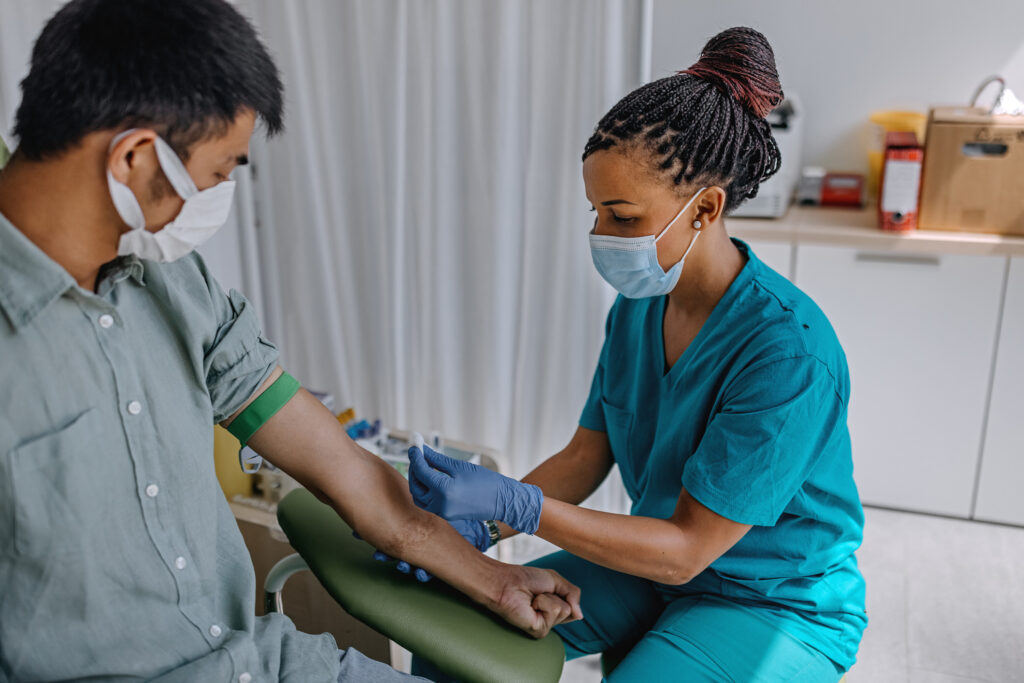 Medical assistants are frontline support specialists. Allied health professionals, they assist licensed healthcare providers in doctor's offices, clinics, and hospitals. However, their duties are far from ordinary. Trained to perform both clinical and administrative tasks, their responsibilities include surprisingly technical tasks. Does that include drawing blood? Let's find out.
What Does a Medical Assistant Do?
What don't they do? Part-clinical professional, part administrator, medical assistants manage an endless range of clinical and clerical tasks in office settings. No two days are alike, part of the fun of medical assisting is the day-to-day variety. But as a medical assistant, your work will typically include:
Scheduling
Medical assistants work closely with providers and front office staff to juggle routine appointments and emergency visits. Using your clinical expertise, you'll triage phone calls and work with the doctor to prioritize the sickest patients first.
Welcoming Patients
Medical assistants escort clients to exam rooms where they complete important clinical tasks and paperwork to save the doctor time. You'll take their vital signs, update their health history, and make them comfortable before the provider arrives.
Administering Medications
Medical assistants may administer most of the low-risk medications given to patients in office settings. In a pediatric practice, for example, you might immunize children. In family practice, you'll give flu shot.
Performing Laboratory and Diagnostic Tests
Diagnostic testing is one of the more technical aspects of a medical assistant's job. Depending on where you work, you may perform EKGs, assist with x-rays, and examine urine samples with a microscope.
Infection Control
More of a process than a task, infection control procedures prevent the spread of disease in healthcare environments. You'll manage a broad range of related activities from sanitizing exam rooms to sterilizing instruments.
Assisting with Surgical Procedures
Minor surgical procedures, such as biopsies, are often performed in doctor's offices. You'll help by setting up equipment, passing instruments, and supporting the patient.
Client Communication
Medical assistants serve as liaisons between patients and their healthcare providers. A go-between, you'll be a trusted source of information, managing phone calls, taking messages, and writing correspondence.
Patient Education
Medical assistants don't give medical advice, but they help patients follow their doctor's recommendations through education on timely health topics from nutrition to heart health. You'll collaborate with providers to reinforce treatment recommendations.
Billing and Coding
Most medical assistants have a primarily clinical role, but they're also trained in general office tasks from filing to faxing. Between visits, you'll give the front- and back-office teams a hand with billing, referrals, and other paperwork.
Phlebotomy
Phlebotomy, or venipuncture, is the process of drawing venous blood for diagnostic testing. Can medical assistants perform phlebotomy? They can.
Do Medical Assistants Draw Blood?
Medical assistants are not certified phlebotomists, but they can draw blood. The difference is where they do it and why.
Phlebotomists draw blood in a wide range of settings from hospitals to blood donation centers, it's all they do. Medical assistants perform phlebotomy in clinics and office settings in addition to their other duties.
Having a medical assistant in the office allows private practices and other small facilities to offer venipuncture. Patients win by not having to visit the hospital, and doctors' benefit by getting test results faster, phlebotomy is an essential service.
All medical assistants are trained to draw blood, but whether you'll do it daily or occasionally depends on where you're employed. Working in a podiatry office, you'll rarely draw blood. In a hematology or oncology practice, you may perform venipuncture every day.
How Does a Medical Assistant Draw Blood?
Drawing blood is a simple yet complex process that starts well before the sample is drawn.
Steps include:
Review the Order
Phlebotomy is performed under a doctor's order. Requisitions list which tests they want, determining which equipment and protocols you'll use to draw the blood.
Screen the Patient
Medical assistants are responsible for patient safety, so the phlebotomy process has been somewhat standardized to limit errors. Still, you'll need a sharp eye and sound clinical judgment.
Before drawing, you will:
Verify the patient's identity — drawing blood on the wrong patient subjects them to an unpleasant and unnecessary medical procedure. And if the error isn't caught, results could end up in the wrong person's chart, affecting treatment decisions. Always check the patient's name and date of birth.
Confirm compliance with restrictions — some tests require fasting for accuracy. Patients who don't comply risk unreliable results.
Check the patient's health history — you may need alternative equipment for patients with an allergy to any of the supplies used in the venipuncture process. Some people, for example, react to latex, skin disinfectants and bandage adhesives.
Evaluate the patient and gather supplies — the supplies you'll use depend, in part, on the tests' orders. However, you'll need to make adjustments based on the client's age, size and health status. Preparing the proper equipment before you get started helps the process go smoothly.
Position the patient — most people sit in an armchair to have their blood drawn. However, patients with a history of fainting may need to lie down. Safety first! Now you're ready to draw.
Complete the Venipuncture
To perform the draw:
Wash your hands.
Wear the necessary personal protective equipment such as disposable gloves.
Disinfect the patient's skin with rubbing alcohol or an alternative disinfectant.
Apply a tourniquet above the venipuncture site.
Stabilize the vein using your thumb and forefinger while inserting the needle into the vessel.
Advance the collection tube until the blood flows.
Release the tourniquet.
Withdraw the needle, applying firm pressure to the site to stop the bleeding.
Dispose of the needle in an approved container.
Cover the wound.
Discard your gloves and label the samples.
Review home care instructions and answer patient questions. Most want to know when to expect results.
Process the Samples
In hospitals, phlebotomists draw blood, but laboratory technicians handle the processing. In doctor's offices, some medical assistants do both.
Some tests require whole blood while others are performed on plasma or serum. You'll find processing and shipping requirements for tests done off-site in the laboratory's test catalog.
What Medical Equipment Does a Medical Assistant Use to Draw Blood?
Medical assistants use the same equipment and supplies as doctors, nurses, and certified phlebotomists. Tools of the trade include:
Personal Protective Equipment
Anyone drawing blood must protect themselves from bloodborne pathogens with personal protective equipment. As part of universal precautions, a set of safety standards that all healthcare professionals follow, PPE limits exposure to potentially dangerous illnesses.
To draw blood, gloves are the minimum requirement. Other examples of PPE that phlebotomists use include sharps containers, puncture-proof biohazard boxes that prevent needle stick injuries, and face shields is a concern.
Alcohol Pads
Drawing blood is not an entirely sterile procedure, but cleanliness counts. It's important to reduce bacteria counts on the skin's surface to lower the chance of infection. In most cases, a vigorous scrub with an Isopropyl alcohol pad does the trick. It cuts through dirt and oils to eliminate germs in cracks and crevices.
For certain tests, or if the patient is allergic to alcohol, alternative disinfectants, such as chlorhexidine or betadine, may be used.
Needles
Needles come in dozens of sizes for patients from infants to seniors. You'll choose which to use based on their age, weight, and health. One-inch, 20-gauge needles are appropriate for most adults but too large for kids and the ill or elderly. Blood flows faster through large-bore needles, but they can exert too much pressure on weak veins, causing them to collapse.
Collection Tubes
Years ago, venipuncture was performed with a needle and the same type of syringe used to give injections. It works, but samples drawn with syringes tended to clot too fast because of the time it takes to load additives.
Today's phlebotomists have an advantage. Collection tubes are preloaded with additives and color-coded for easy selection. Complete with a vial and rubber stopper, they're pushed onto a holder with a two-sided needle, one end punctures the stopper and the other goes into the vein. Simple and nearly foolproof, the strength of the vacuum alone pulls the blood out of the vein.
Tourniquets
Applying a tourniquet above a venipuncture site keeps blood in the limb below, plumping up the vein to make it more visible and resistant to rolling. It's applied to the upper arm, just above the elbow, for draws from the antecubital vein or two inches above the wrist for draws from the top of the hand.
For the patient's comfort, tourniquets are released once blood begins to flow. Latex-free tourniquets are available for people with allergies.
Gauze and Bandages
Blood can continue to ooze from a venipuncture site long after the needle is removed, especially if the patient is on blood-thinning medication. Applying pressure with gauze stops the bleeding and limits bruising.
Avoid cotton balls, strands can stick to the dried blood and dislodge the clot when pulled away. Stick with 2-inch by 2-inch gauze pads and check every 30 seconds for bleeding. When it's stopped, applying a small adhesive dressing helps protect the patient's clothes.
How Do You Learn Phlebotomy and Become a Medical Assistant?
You can become a medical assistant and learn phlebotomy by enrolling in a vocational school medical assisting program. You'll learn theory in the classroom while practicing on peers and simulators. Most programs also include off-site externships in healthcare settings where you can shadow an experienced medical assistant and practice your skills on patients.
Full-time students can graduate in as little as a year with the technical and people skills needed to succeed. You'll learn from seasoned instructors who'll show you the ropes and support you while you learn. By graduation day, you'll be a confident phlebotomist.
Final Thoughts
Drawing blood is a must-have skill for today's medical assistants. Valued by employers, it makes you a sought-after applicant in a competitive job market. If you're intimidated, don't be. Fear and failure are part of the learning process. We all have butterflies; but you just have to be brave enough to try.
Want to Learn More?
Gwinnett Colleges & Institute offers medical assisting courses to gain essential skills and training at multiple campuses from Lilburn, Sandy Springs and Atlanta/Marietta to Orlando, FL and Raleigh, NC. The core curriculum at these campuses focuses on the medical assisting skills and training you will need to seek entry-level employment in physicians' offices, clinics, hospitals, and other medical settings needing the services of associates trained in both front and back office medical assisting skills. These medical assisting courses will be the first step in starting a rewarding career.
Contact us to learn more about how you can become a medical assistant today.