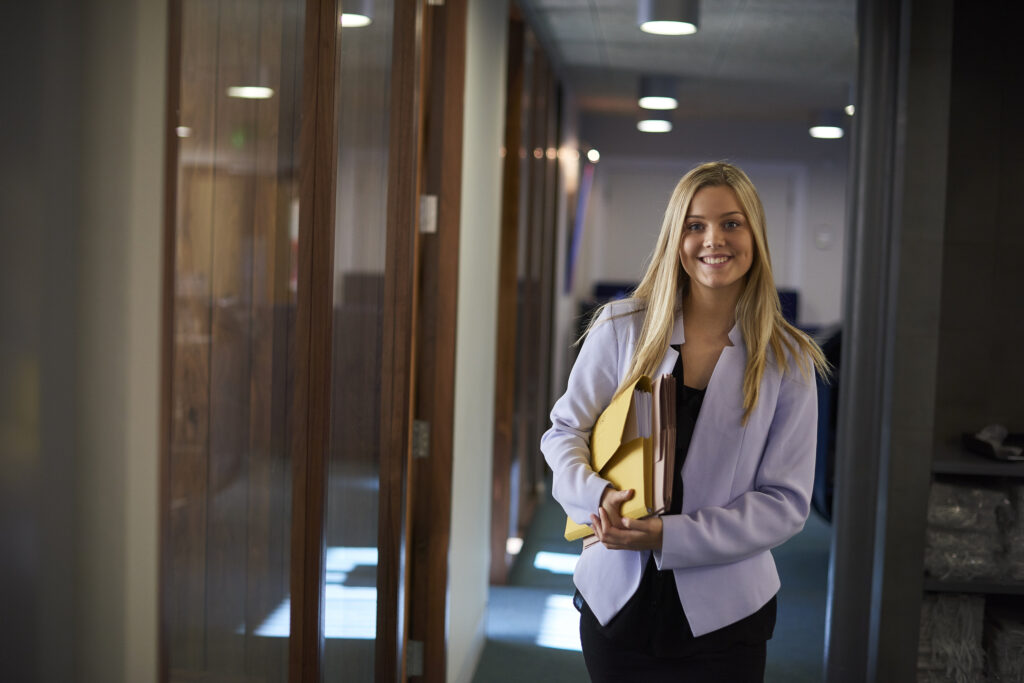 Have you ever wondered what it would be like to work in the legal field? Want to spend years becoming a lawyer or complete a paralegal diploma or degree program in much less time? Becoming a paralegal can also become a stepping-stone to other job opportunities like becoming a lawyer. However, becoming a paralegal allows you to take on important, challenging work. So how do you qualify for this rare opportunity? First let's look at what a paralegal does.
What Does a Paralegal Do?
Paralegal responsibilities vary depending upon the area of law in which they work. In general, it is the paralegal's job to support attorneys, conduct legal research, draft documents, and maintain and organize files.
As a paralegal, you might find yourself completing tasks such as investigating a case, reviewing documents, researching pertinent laws and regulations, drafting correspondence and legal documents, filing legal documents with the court, and scheduling a variety of depositions and meetings.
Paralegals frequently use computers and other technology in connection with their responsibilities. Familiarity with electronic database management and assorted legal software is a must.
Can You Be a Paralegal Without a Law Degree?
You absolutely can become a paralegal without earning a law degree. In fact, the vast majority of paralegals have not completed a law school education. A diploma or degree from a vocational school is the only credential an employer will value when look at a paralegal candidate.
What Education Will Help You Become a Paralegal?
Completing a paralegal diploma or degree program at a vocational school is the route that many paralegals choose. These programs provide you with an understanding of the legal system in the United States and help you to acquire the skills and knowledge that you need to work as a paralegal. Topics such as the court system, trials, laws, legal research, contracts, hearings, ethics, and technology all will be explored.
What Do You Learn During a Paralegal Program?
Throughout the duration of the diploma or degree program, you will be introduced to various legal concentrations. These include topics such as tort law, bankruptcy, civil law, criminal law, family law, wills and trusts, and real estate. By being introduced to many different areas of the legal field, you will gain a broad understanding of litigation and the many areas of law in which litigation is used.
Legal Theory
Your classes will allow you to explore legal theory and reasoning as well as the fundamentals of legal research and writing. You'll learn how to analyze your research findings as you become familiar with the resources, terminology and documentation that are required for paralegals.
Litigation
While learning about litigation, you'll cover areas like family law, environmental law, and criminal law. When coursework focuses on business law, you'll discover what you need to know about banking, real estate, corporations, and contracts.
Family Law
Imagine that you develop an interest in family law while completing your paralegal diploma or degree program. If you became a paralegal in a family law practice, you would be working with people who are going through a separation or divorce. Accordingly, you would encounter things like the division of property, alimony, child custody, child support and visitation rights. You also might deal with diverse situations like adoption, restraining orders, grandparents' rights, and child guardianship with the state. A family law practice might have you frequently preparing for court dates.
Corporate Law
You will learn about corporate law. Corporate paralegals often work in an in-house capacity at a large business. During the program you learn how to support the company's legal department. You may do this by keeping tabs on legislation that might affect how your industry does business and implementing changes to the contracts on which your organization relies. You will learn how to complete a variety of business entity documents that must be filed with the state government to maintain your company in good standing. You will also learn paralegal duties like generating annual reports or organizing shareholder meetings.
Wills and Trusts
During the diploma or degree program, you will learn about wills and trusts in estate planning and probate law firm. You learn how to interact with clients who are interested in preparing a will, trust, or other estate planning document. Preparing probate forms and drafts of trusts and wills is part of what you learn during the paralegal program. You'll learn how to delve into the client's financial situation and assess creditors' claims after a client is deceased.
As you can see, paralegals may be responsible for a broad array of tasks and projects. Some paralegals are deeply involved in litigation and love the challenge of regularly supporting attorneys who appear in court. Others are intrigued by the world of big business, and they enjoy keeping track of legislative developments and examining the finer points of complex business contracts. Still other paralegals like to help people determine how they will distribute their assets at the time of their death.
These and many other possibilities are open to you when you complete a paralegal diploma or degree at a vocational school. Which career path sounds most interesting to you?
What Types of Law Do You Become Familiar with in This Paralegal Program?
Your paralegal diploma or degree program will cover all major areas of law including bankruptcy, criminal law, family law, immigration, intellectual property, personal injury, and real estate. With a broad-based foundation in legal knowledge, you will be prepared to support attorneys and take on a wide assortment of responsibilities in the legal world.
The Legal System
Your journey toward becoming a paralegal begins with a broad overview of the legal profession and the legal system in the United States. Introductory coursework includes subjects like legal research, legal writing, and legal ethics. Your instructors will help you to familiarize yourself with legal theory as well as civil litigation and procedures. You'll also have the opportunity to explore criminal law and procedures, methods of investigation and evidence gathering and completing computer research. Other topics may include the preparation of legal documents, law office procedures and economics.
Different Types of Law
Once you have a firm grasp of the legal world and how it works, it's time to dive into the various concentration areas. Bankruptcy law, business organizations, real estate law, family law, intellectual property and personal injury are just a few of the subjects that will receive an in-depth exploration.
Legal Research
Thanks to your coursework in these areas, this program will prepare you to help lawyers to investigate cases and interview clients. Performing independent legal research will be a part of your daily routine, and you'll understand all the legal terminology that you need to succeed in the modern law office.
Manage File Systems
With your working knowledge of computers and specialized legal office software, you will be fully prepared to hit the ground running in your first job. You'll have expert-level skills regarding managing and maintaining complex file systems and be able to identify and assess ethical issues. With your sharpened writing skills, you will be ready to write legal correspondence, draft reports and set up complex legal documents.
What Are the Benefits of a Formal Education?
The legal field today is fast-paced and demanding. It is essential that paralegals be knowledgeable, well-educated, polished, and professional. Unless you have completed a paralegal diploma or degree program that demonstrates your grasp of the pertinent subject matter, it will be hard to stand out in a crowded field of applicants.
A Complete Paralegal Curriculum
Earning a paralegal diploma or degree exposes you to a complete curriculum. Trying to learn to about being a paralegal by yourself may leave major gaps in your learning, and this can hold you back when applying for a job. While sitting in an interview at a law firm, you want to make the best first impression possible. One way to do this is by saying that you've earned a paralegal diploma or degree from a vocational school.
This tells potential employers that you've earned the right to the title paralegal. Your education is complete and thorough, fully preparing you to take on this challenging role.
Industry Experienced Instructors
Attending a formal paralegal diploma or degree program lets you work with instructors who have real-world, legal industry experience. Many instructors are practicing attorneys or paralegals with decades of experience. If you want to know what it's really like to live and work in the legal field, then this is the place to find out.
Your instructors will introduce you to the day in and day out reality of working in the modern legal profession. Thanks to their insight and experience, you'll begin your career with a clear understanding of your responsibilities.
Real World Experience
This is accomplished through the review of real case studies. You'll become familiar with how the U.S. legal system works by delving into real-world examples. Examining facts, evidence and testimony will bring obscure legal points to light, and you'll gain a fresh and comprehensive understanding about how the legal world really works.
Career Services
Another advantage of a formal education in the paralegal profession is that you receive comprehensive career services. We help you find the perfect job that suits your interests and abilities. There are many different legal concentrations, and some of them may appeal more to you then others. Thanks to our career services, we can help you land the perfect opportunity that fits your passion.
Want to Learn More?
Do you have the qualities law firms are looking for in a paralegal? Ready to learn more about becoming a paralegal or legal assistant? The Gwinnett Colleges & Institute diploma and degree programs in Paralegal Studies provide students with the theoretical and practical knowledge and the legal skills necessary to perform many paralegal functions including research, writing, investigation, and interviewing.
Contact us today or complete the Request More Information form on the top of the page to take the next step towards your new career in the Paralegal field.