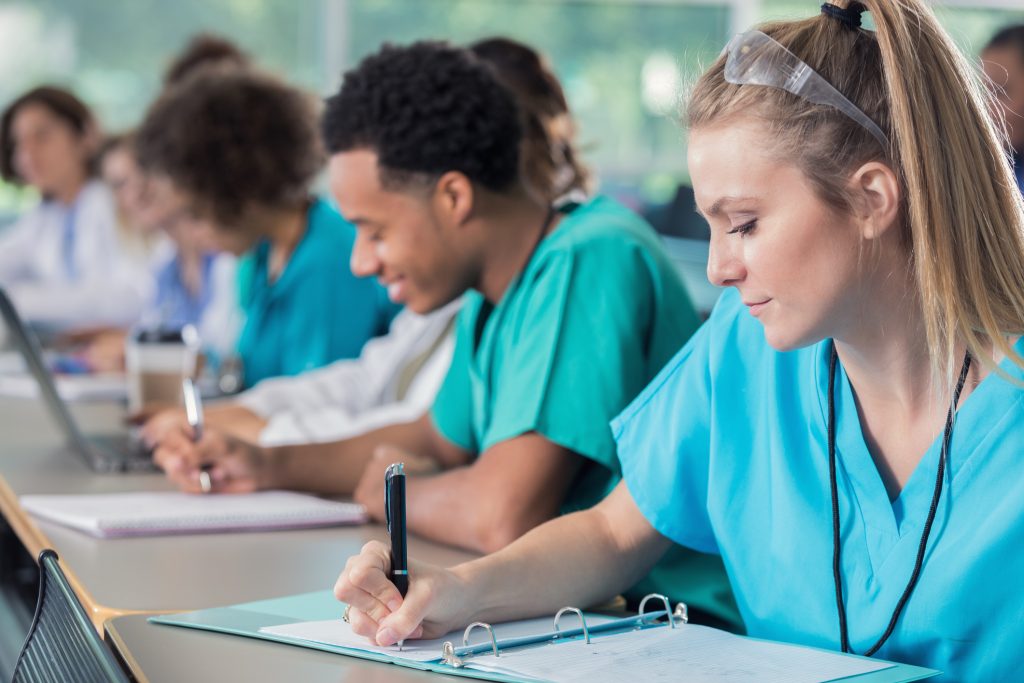 Most jobs in the medical field take years to train for. It is time that some people just don't have. But what if there was a secure and meaningful healthcare career you could start in months? Would you be interested? If you're ready to join a vibrant and growing industry in an essential role, why not turn your passion for health into a rewarding future as a medical assistant?
What Does a Medical Assistant Do?
Medical assistants play a critical role in healthcare settings, performing both clinical and administrative tasks to support patients, healthcare providers, and administrators. They serve as a vital link between patients and their doctors, helping to ensure that patients get the care they need in a timely and effective way.
Job descriptions vary based on employment settings, but responsibilities typically include:
Scheduling
Medical assistants collaborate with the front and back-office teams to manage provider schedules. You'll keep things running smoothly by:
Making appointments for routine office visits, diagnostic tests, and procedures
Adjusting appointment times, handling last-minute cancellations and no-shows
Triaging phone requests
Confirming appointments and reviewing any required pre-appointment preparation
Preregistering patients over the phone to save time at check-in
Rooming Patients
"Rooming" is the process of preparing patients for examinations. The goal is to save the provider time by performing essential clinical and recordkeeping tasks, such as:
Reviewing patients' medical histories, including primary complaints and any changes in allergies, medications, or health status
Conducting health screenings, including vision and hearing tests, and mental health questionnaires
Helping patients change into a gown for physical exams
Taking vital signs; blood pressure, pulse, respiratory rate, temperature, and oxygen saturation level
Measuring patients' weight and height to determine their Body Mass Index (BMI), a metric doctors use to diagnose illness, assess risk for chronic diseases, and calculate high-risk medication dosages
Collecting urine or stool specimens for testing following rigorous laboratory guidelines
Administering Medications
Medical assistants can administer most types of medications under a licensed healthcare provider's supervision. The task includes:
Educating patients about their medications, including their purposes, potential side effects, interactions, and contraindications
Describing the administration process
Obtaining informed consent for treatment
Applying topical treatments, including ointments and patches
Giving injections, such as childhood immunizations, seasonal vaccines, and allergy shots
Drawing Blood
Drawing blood, or phlebotomy, is a routine procedure in many healthcare offices. As a medical assistant, you will:
Draw blood samples for diagnostic testing
Process specimens per laboratory guidelines
Perform in-house testing or prepare samples for shipment
Manage phlebotomy supplies and workstation sanitation
Counsel patients on home care for adverse effects, such as bruising and discomfort
Performing Diagnostic Tests
Medical assistants do a variety of diagnostic tests in office settings. It's a convenience for patients and an important source of revenue for private practices.
You may perform:
ECGs, tracings of electrical activity in the heart
Urinalysis, a chemical and microscopic examination of urine
Blood glucose screening
Occult blood stool testing
Urine pregnancy tests
Strep screens
Fetal heartbeat monitoring
Tuberculosis testing
Assisting with Treatments and Procedures
Doctors rely on medical assistants for help with treatments and minor surgeries. It's a hands-on role that includes:
Preparing instrument trays
Setting up emergency equipment
Positioning and draping the patient
Passing instruments during procedures
Monitoring the patient's comfort, safety, and privacy
Offering physical and emotional support
Aftercare, including specimen collection, bandage changes, and suture removal
Infection Control
Medical offices are reservoirs for dangerous pathogens. Medical assistants safeguard patient health by:
Screening patients for symptoms of contagious disease
Sanitizing shared equipment and hard surfaces between visits
Sterilizing surgical instruments
Coordinating Referrals
Many patients are referred to a specialist by their primary healthcare provider. You'll assist in the process by:
Obtaining insurance preauthorization on the patient's behalf
Scheduling the appointment
Facilitating the flow of health and financial information between providers
Managing Inventory
Medical assistants manage inventory, ensuring that medical and clinical supplies are readily available. Responsibilities include:
Stocking shelves
Performing manual inventories
Tracking supplies with inventory software
Disposing of expired or recalled products
Placing orders
Billing and Coding
How involved medical assistants are in billing and coding depends on where they work. Some coding is integral to clinical duties while other billing issues are handled mostly by the back office. In general, you'll participate by:
Verifying the patient's demographic data and insurance coverage
Coding superbills – documents used to track the services rendered and supplies used during examinations and treatments
Collecting coinsurance payments
Filling out insurance claim forms
Requesting service pre-authorizations
Communication
Medical assistants serve as liaisons between patients, peers, and providers, coordinating communication within the office. Duties include:
Writing correspondence
Calling patients with lab results
Relaying messages between providers and colleagues
Phoning in prescriptions
Clinical documentation
What Education Do You Need to Become a Medical Assistant?
While some medical assistants hold associate degrees, vocational school training is the norm. Comprehensive yet career-focused, diploma programs are the preferred option for most students.
Students benefit from perks that only vocational schools offer from an intimate learning setting to career services that support graduates in the job hunt. There's no better value in education.
What Do You Learn During a Diploma Program?
Medical assisting programs teach the front and back-office skills you need to be a team player in any medical office. The curriculum covers:
Medical Terminology
A grasp of basic medical terminology helps medical assistants communicate with patients, insurers, and medical professionals. Topics include:
Acronyms, abbreviations, and units of measure used in medical documentation
How to decipher complicated medical terms by breaking them down into prefixes, suffixes, and root words
Common conditions, tests, and medical slang
How to use a medical dictionary
Anatomy and Physiology
Anatomy and physiology are the studies of human body structure and function. Students explore:
Cellular structure — how the biochemical processes in cells support life
Tissue — the role of connective, epithelial, muscular, and nervous tissue
Organ systems — the 11 body systems, including their organs and function
Pathology — the cause and effect of disease and injury
Nutrition and therapeutic diets
Human growth and aging, including physiological changes and development benchmarks
Common medical conditions, injuries and treatments encountered in medical offices
Pharmacology
Pharmacology is the study of how medications work. Concepts include:
Drug classifications — how medications, such as analgesics, antibiotics, anticoagulants, and bronchodilators, are categorized by use and effect
Side effects, interactions, and safety concerns
Dosage calculations — factors affecting how dosages are determined
Medication administration methods, including how to give subcutaneous, intramuscular, and intradermal injections
Managing serious adverse reactions, such as anaphylaxis
How to teach patients about their medications, including safety, storage, and self-administration techniques
Phlebotomy
Medical assisting students learn the art of phlebotomy, including the theory and practical skills needed to draw blood. Topics in this hands-on course cover:
Universal precautions — how to protect yourself, patients, and peers from bloodborne pathogens using personal protective equipment
Laboratory safety rules
Venipuncture — how to obtain blood from veins, practicing on simulators and volunteers
Phlebotomy equipment — the needles, collection tubes and other supplies required to draw blood
Sample processing — how to label, prepare, and ship specimens
Electrocardiography
Electrocardiograms are essential tests for diagnosing heart problems, including heart attacks, cardiomyopathy, and life-threatening dysrhythmias. Step-by-step, students learn to:
Position patients for testing
Place electrode pads and leads
Take and record tracings
Care for equipment, including calibration and troubleshooting
Identify abnormal readings
Medical Office Procedures
Medical offices are held to a higher standard than most businesses, so procedures vary significantly. Programs cover both the theory and practical skills necessary to succeed in a healthcare environment, including:
The healthcare revenue cycle — how medical providers are paid
Public and commercial insurance models
Medical coding systems — ICD-10, CPT and HCPCS
Billing — how to fill out insurance forms and submit claims
Basic accounting principles
Practice management software
Inventory and waste reduction strategies
Recordkeeping systems, including Electronic Heath Records (EHR)
Customer care — how to build rapport with patients
Setting up telehealth consultations
Regulatory compliance — the environmental, safety, privacy, and billing regulations integral to a medical assistant's responsibilities
Clinical Procedures
Medical assistants participate in a broad range of clinical procedures. Programs offer a clear overview of:
Infection control principles, including medical and surgical asepsis
Sanitation, disinfection, and equipment sterilization techniques
Specimen collection
How to take vital signs
Intake interviews
Instrument selection for surgical procedures
Operative protocols, including instrument handling
Exam room equipment and supplies
Equipment maintenance, care, and calibration
Patient safety
Emergency response
Medical Law and Ethics
There are many legal and ethical issues to consider in healthcare facilities. Medical assisting students discuss:
Medical guardianship and healthcare powers-of-attorney
Advanced directives
Patient rights and responsibilities
Informed consent
Federal regulations for the security and use of health information
Billing restrictions and illegal practices
Mandatory reporting
Cultural competency
Communication and burnout issues
Ethical issues, such as euthanasia
Final Thoughts
Training for a healthcare career can seem like a dream to people who can't spend years in a classroom. But not all roles require a college degree. With vocational training, you can become a medical assistant in less time than it takes for some flowers to bloom. Isn't it time for you to blossom?
Medical Assistant Program
Ready to start a new career as a medical assistant? Gwinnett Colleges & Institute offers medical assisting courses to gain essential skills and training at multiple campuses from Lilburn, Sandy Springs and Atlanta/Marietta to Orlando, FL and Raleigh, NC. The core curriculum at these campuses focuses on the medical assisting skills and training you will need to seek entry-level employment in physicians' offices, clinics, hospitals, and other medical settings needing the services of associates trained in both front and back office medical assisting skills. These medical assisting courses will be the first step in starting a rewarding career.
Contact Gwinnett College today to learn more about becoming a medical assistant.