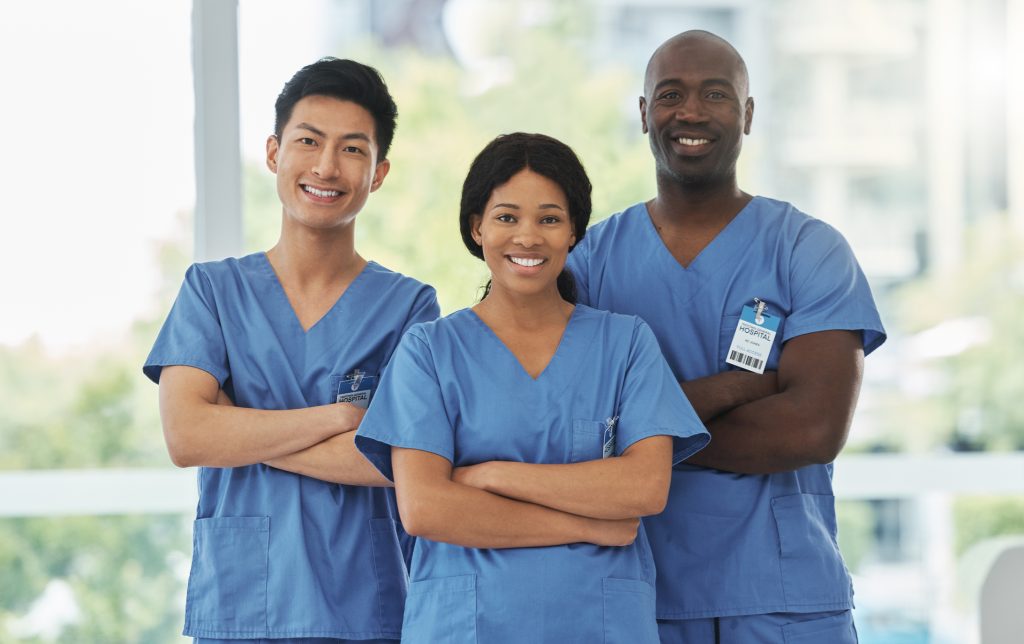 Successful career transitions begin with quality training. For medical assistants in Georgia, that means getting a diploma or an associate degree. Your choice should reflect your career goals and how much time you can dedicate to school. How long it takes to become a medical assistant is up to you, but both pathways have advantages depending on your circumstances.
What Does a Medical Assistant Do?
Medical assistants manage a broad range of clinical and administrative responsibilities in healthcare settings, hospitals, clinics, private practices, and long-term care facilities. Unlike medical office specialists who have non-clinical roles, medical assistants are part of both the front and back-office teams, supporting patients, peers, administrators, and clinicians.
Job descriptions vary, but the work typically includes:
Phone Triaging Care Requests
Medical assistants assess and prioritize care requests based on the urgency of the patient's condition. Using standardized protocols, they inquire about:
Symptoms — duration, character, and severity
Medical history
Self-care measures and other relevant details
The goal of phone triage is to accurately identify the urgency of the situation and direct the patient to the most appropriate healthcare physician or resource for further evaluation and treatment. It's the foundation of timely, high-quality care.
Preparing Exam Rooms
Medical assistants prepare exam rooms for patients and physicians by:
Stocking the necessary medical supplies including bandages, cotton balls, tape, and scissors to name a few
Sanitizing shared surfaces to prevent the spread of illness
Providing comfortable seating for patients and guests
Ensuring that emergency equipment is in proper working order
Protecting patient privacy
Updating Health Records
Accurate records of the foundation of quality care. Medical assistants update patients' health records at each visit, noting changes in:
Demographics including contact information
Diagnoses
Surgical history
Current medications and allergies
Family health history
Social history, including occupation and lifestyle habits
Current complaints
Timely updates ensure that doctors have the most up-to-date information with which to make clinical decisions.
Conducting Heath Screenings
Health screenings help physicians identify health risks. As part of a routine or sports physical, medical assistants may perform basic assessments of:
Vision
Hearing
Mental health
Cognitive function
Home safety needs
Taking Vital Signs
Vital signs are measurements of the body's most basic physiological functions. Before each visit, medical assistants obtain the patient's:
Temperature
Heart rate
Blood pressure
Respiratory rate
Oxygen saturation level
Abnormal readings can point to acute illness or chronic disease.
Measuring Height and Weight
Changes in a patient's height and weight can mean trouble. Height and weight measurements help doctors to:
Diagnose medical conditions, such hypothyroidism and diabetes
Identify developmental delays in pediatric patients
Spot risk factors for chronic diseases, such as heart failure and osteoporosis
Calculate Body Mass Index (BMI) — a ratio used to calculate many prescription drug dosages
Performing Laboratory and Diagnostic Tests
Medical assistants perform a variety of lab and diagnostic tests, such as:
EKGs — tracings of the electrical activity in the heart
Urinalysis — a chemical and microscopic examination of urine sediment
Audiometry — hearing acuity testing
Blood glucose screening — an essential test for diabetes
Urine pregnancy screens
Patients save a trip to the hospital and doctors get the answers they need faster.
Phlebotomy
Blood tests help physicians identify diseases, monitor therapeutic drug levels, and assess the success or failure of treatments. Medical assistants can draw blood in office settings, managing the entire process including:
Equipment selection, from needles and blood collection tubes to tourniquets and bandages
Patient positioning for comfort and safety
Performing the venipuncture
Processing samples for testing and shipping
Patient education
Phlebotomy is among a medical assistant's most valuable skills.
Assisting with Surgical Procedures
Doctors need hands-on assistance when performing minor surgical procedures. Medical assistants help by:
Preparing equipment
Passing instruments — handing tools to the surgeon as needed
Positioning patients
Providing emotional support
Bandaging incisions
Breaking down and disinfecting the surgical suite
Sterilizing instruments
Aftercare, including suture or staple removal
Managing Referrals
Some patients are referred to specialists, necessitating the exchange of medical information. Medical assistants streamline the process on the patient's behalf by:
Obtaining prior approval from insurers
Scheduling appointments
Forwarding the necessary personal and health data, including doctor's note, diagnostic test results and surgical reports
Billing and Coding
Medical billing specialists manage most financial responsibilities in healthcare offices, but medical assistants may participate in many ways, such as:
Coding superbills
Completing insurance forms
Filing claims
Collecting co-payments
Light bookkeeping
Regulatory Compliance
Healthcare offices are regulated by local, state, and federal authorities. Medical assistants collaborate with the clinical and administrative teams to ensure compliance with:
Patient privacy rules
Billing restrictions
Workplace safety laws
Environmental regulations
Inventory Management
No one knows more about the clinical supplies' healthcare offices need than medical assistants. Inventory management duties include:
Monitoring supply levels
Discarding expired items
Tracking the supplies, they use
Reordering items when necessary
Communication
Medical assistants are physician liaisons, managing communication on the clinical team's behalf by:
Returning patient phone calls
Reaching out with lab results
Offering appointment reminders
Reviewing instructions for diagnostic tests and procedures
Coordinating referrals
Writing correspondence
How Long Does It Take to Become a Medical Assistant in Georgia?
Georgia students have two ways to become medical assistants. The first is to get an associate degree. This is a comprehensive, two-year program that includes general education courses designed to enrich students and broaden their horizons.
The second is a diploma program that takes less than a year to complete. Graduates qualify for the same certification and many of the same jobs, but some employers prefer applicants with an associate degree. You may be eligible for jobs with greater responsibility if you have a degree or relevant experience.
For students, it's a balancing act. Should you sacrifice a year in the workforce for more education or choose the shorter path to a new career with fewer employment options? If you have responsibilities at home and can't afford to pursue a degree right now, start with a diploma and build on your education later. If you have the flexibility to spend two years in school, getting a degree expands your opportunities.
What Do You Learn in a Medical Assistant Program?
Medical assistant programs cover everything you need to know for an entry-level job in the field. The degree program curriculum is more in-depth, but diploma programs teach the same practical skills. You'll learn how to perform these fundamental tasks including:
Preparation of Exam Rooms
Medical assistant programs cover the basics of patient hospitality, infection control, and safety. You'll learn about healthcare equipment, supplies, sanitation, and inventory management. Graduates are prepared to manage the workflow in and out of exam rooms.
Measuring Vital Signs
Instructors in medical assistant programs work side-by-side with students, teaching them to measure vital signs using the latest equipment. The emphasis is on accuracy and reporting. You'll practice with peers and patient volunteers during clinical externships, supervised work experiences in real-world settings.
Updating Medical Records
Today's medical records are more than paper charts. Stored electronically in a digital format, they can be shared across different healthcare settings through network-connected information systems.
Medical assistant programs cover electronic health records (EHR), electronic medical records (EMR) and paper recordkeeping systems. You'll learn to access, update, store, and share data securely. Concepts include how to take medical histories, reconcile medication lists, and verify insurance coverage.
Preparing Patients for Exams
Medical assistants play a key role in office resource management. By preparing patients for exams, they save the doctor's time. You'll learn to build rapport through education and hospitality while improving the quality and efficiency of exams through planning.
Performing Diagnostic Tests
Medical assistant programs cover the theory and practical skills required to perform diagnostic tests. Degree students get a more comprehensive view of anatomy, physiology, microbiology, and pharmacology. Diploma programs are more job-focused, addressing these topics as part of your hands-on education. All students will learn to do ECGs and other testing with advanced diagnostic equipment, from ECG machines to microscopes.
Drawing Blood
Phlebotomy is part of both degree and diploma programs. Students learn to draw blood in office settings. You'll practice on simulators and volunteers, studying the science and techniques integral to phlebotomy, including the purpose of blood tests, equipment selection, and patient preparation.
Communicating with Patients, Peers, and Professionals
Communication is the cornerstone of therapeutic and workplace relationships. Students are taught techniques that cultivate their interpersonal skills. Topics include active listening, communication barriers, and cultural competency. Graduates are well prepared to engage with patients, collaborate with peers, and team up with professionals.
Students also develop better communication and other soft skills simply by being students in degree or diploma programs. The small class sizes offered by technical schools are ideal for adult learners. A relaxed atmosphere is conducive to creativity and making friends, you'll learn about teamwork through projects and other classroom activities.
Connecting with fellow students and instructors reinforces therapeutic communication techniques. The connections you make may last a lifetime. Whether you leave campus with a degree or a diploma, you'll be a good medical assistant, a better communicator, and a more well-rounded person.
Final Thoughts
The US Bureau of Labor Statistics projects 16 percent growth of demand for medical assistants through 2031, it's a secure and rewarding career choice. But how you become a medical assistant is less important than getting the education that supports your personal and professional aspirations. Gwinnett College in Georgia offers convenient, comprehensive, and lifestyle-friendly options.
Medical Assistant Program
Ready to start a new career as a medical assistant? Gwinnett Colleges & Institute offers medical assisting courses to gain essential skills and training at multiple campuses from Lilburn, Sandy Springs and Atlanta/Marietta to Orlando, FL and Raleigh, NC. The core curriculum at these campuses focuses on the medical assisting skills and training you will need to seek entry-level employment in physicians' offices, clinics, hospitals, and other medical settings needing the services of associates trained in both front and back office medical assisting skills. These medical assisting courses will be the first step in starting a rewarding career.
Contact Gwinnett Colleges & Institute today to learn more about becoming a medical assistant.