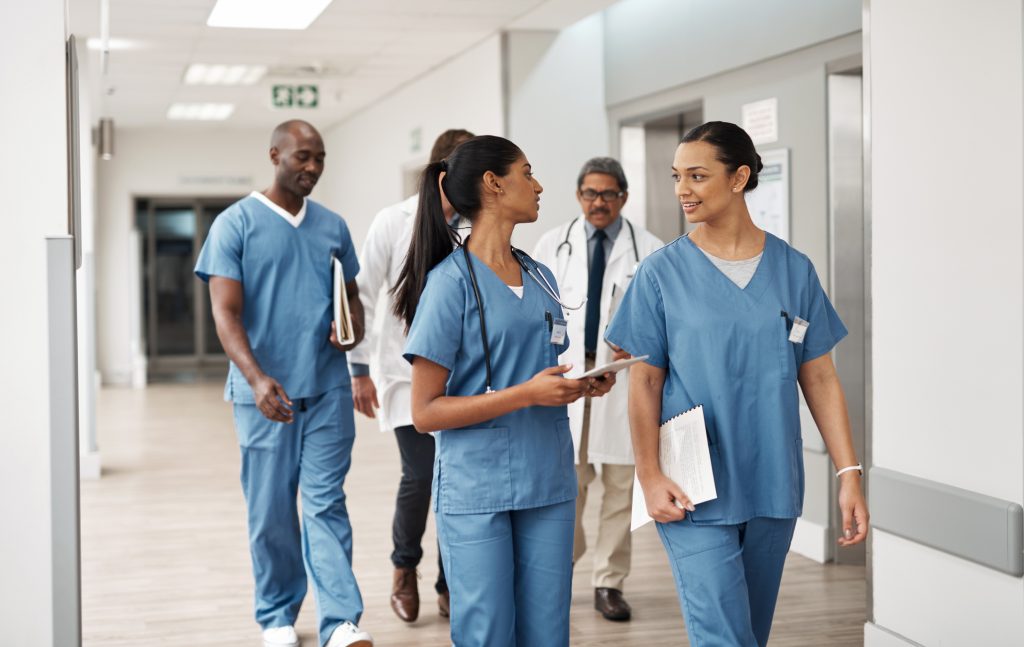 Compassionate people are naturally drawn to the medical field. However, not all healthcare jobs are created equal. Some are more physically demanding than others while advanced roles take longer to train for.
Which career you pursue should reflect your interest, aptitudes, and professional aspirations. Nursing and medical assisting are two examples of similar fields with different rewards.
Why Does Someone Get into the Healthcare Industry?
Healthcare careers have personal and practical benefits. Motivations are as unique as people are and include:
Helping Others
People feel best about their work when they know it has an impact, we all want to make the world a better place. If you're a people person, a healthcare career allows you to make a difference in the lives of those in need.
Accessible Training
It takes years to train for jobs in some fields, time that some people just don't have. But you can break into the healthcare industry with a diploma or an associate degree.
Job Security
The medical sector is among the fastest-growing fields nationwide. The US Bureau of Labor Statistics projects a 13 percent increase in demand for healthcare workers through 2031. During a time in which technology is making some careers obsolete, nurses and medical assistants have a secure and stable future.
Personal Fulfillment
A fulfilling job improves our emotional well-being. We get a deep sense of satisfaction by having a purpose. Surveys consistently show that workers feel more engaged, motivated, and productive when their career reflects their values. The medical field is a good fit for people who are passionate about health and science.
Opportunities for Advancement
Starting at the bottom of a new field is never easy, it takes time to climb the career ladder. However, nowhere is that simpler than in the healthcare industry. Advancement is within anyone's reach through continuing education and experience. Opportunities are plentiful.
What Does a Medical Assistant Do?
Medical assistants manage the flow of patients through healthcare offices by performing a broad range of clinical and administrative tasks.
The job includes:
Scheduling
Proper scheduling minimizes wait times and ensures the efficient use of practice or facility resources, including staff. Medical assistants work with the front office team to support the needs of both patients and healthcare providers by keeping the schedule running smoothly so that the workload is manageable.
Rooming Patients
Medical assistants prepare patients for exams or procedures by verifying their identity, confirming their medical history, taking their vital signs, and making them comfortable while they wait for the clinician. The goal is to maximize the provider's time by managing tasks that don't require advanced skills.
Performing Diagnostic Tests
Medical assistants can perform a surprisingly broad variety of diagnostic tests, saving patients a trip to the hospital. Examples include electrocardiograms, urinalysis, pregnancy tests and blood glucose testing.
Drawing Blood
Phlebotomy is among medical assistants' most valuable skills. Medical assistants draw, process, ship and sometimes test samples when equipment is available.
Billing and Coding
Medical assistants have a primarily clinical role, but they're also trained to perform administrative duties. While billing specialists manage most claims and invoicing, medical assistants are responsible for entering patient data into the clinical record, an integral part of billing. In small clinics and doctor's offices, they may also assist with preparing insurance claims, tracking payments, and inventory management.
Office Communication
Medical assistants act as liaisons, engaging with patients on the clinical team's behalf. From triaging urgent care requests to reviewing lab results, they manage office communication and client outreach through letter, e-mail, and phone.
Is Medical Assisting Harder than Nursing?
Medical assisting and nursing are challenging careers in their own ways. Which is harder depends on your strengths, passions, and career goals. The jobs are similar, but there are key differences, such as:
Training Requirements
Nurses need more education than medical assistants. It takes a year to become a practical nurse, and two years to become an entry-level registered nurse. However, full-time students can become medical assistants in months, rather than years. It's an ideal career choice for working adults who need a quick transition from the classroom to the field.
Nurses also need a license to practice. Graduates must pass the NCLEX exam before they can work. Medical assistants are work-ready upon completing a vocational school program. Certification is recommended but not required.
Work Setting
Medical assistants and nurses work in many of the same places, hospitals, clinics, and private practices. However, their roles are different, and so are their working environments.
Most medical assistants work for doctors. Most nurses are employed by healthcare facilities. The pace in offices is brisk but predictable. Visits are by appointment, so time management is important but less challenging than in an acute care facility. And while emergencies occur, they're relatively rare.
Nurses work in fast-paced settings in which crises are the rule, not the exception. And because most nursing tasks, such as medication administration, are time-sensitive, there's limited flexibility in when they're performed. Neither approach is harder than the other, but which you'll prefer depends on whether you prefer consistency or variety.
Responsibilities
In general, nurses perform primarily clinical tasks while medical assistants engage in both clinical and administrative activities. Nurses provide direct patient care. Medical assistants play an equivalent but supporting role, preparing patients to receive treatment.
If you like interacting with people, being distracted by clerical duties may seem harder and less gratifying than nursing. However, if you have interests in both health and business, dabbling in a wider range of tasks than nurses are trained for could be a better fit.
Professional Growth
Nursing offers more opportunities for advancement than medical assisting, but there's a catch. You may need another degree. Practical nurses with diplomas, for example, need at least an associate degree for most supervisory positions.
A registered nurse with an associate's degree needs a bachelor's for most leadership posts and a master's to be a nursing instructor. And because most nursing education doesn't include training in medical coding or accounting, getting a purely administrative position may be challenging.
Medical assistants may need additional education to get a promotion, but the road is less complex. Adding to your credentials through specialty certifications gives you an edge without needing a degree.
Getting an advanced phlebotomy certificate, for example, can earn you a supervisory role in a hematology practice, while coursework in accounting or human relations could qualify you to become a practice manager.
Work-Life Balance
Most medical assistants work a regular weekday schedule with evenings, weekends, and holidays off. Mandatory overtime and holiday hours are rare.
Conversely, nurses can't punch out just because their shift is over. In an emergency, it's all hands-on deck. Overtime requests are common, and new grads may have to work the night shift for a while before getting a premium day slot. For people who need to work evenings or weekends, however, there's never a shortage of job openings.
What Does a Nurse Do?
Nurses play a critical role in the delivery of clinical care. Their many responsibilities include:
Assessing and Monitoring Patient Needs
In facility settings, nurses assess patients to identify physical, emotional, and social needs related to medical conditions and treatments. As the doctor's eyes and ears, they monitor vital signs and changes in health status.
Care Planning
Nurses are autonomous professionals. They create, evaluate, and adjust individualized plans of care for each patient to ensure that their nursing needs are met.
Patient Advocacy
A nurse's most fundamental obligation is to advocate for their patients, protecting their rights as individuals. As part of an interdisciplinary team, they work closely with physicians, pharmacists, therapists and other medical professionals to ensure that patients receive comprehensive and coordinated care, even if they can't speak for themselves.
Administering Medications and Treatments
Nurses administer physician-prescribed medications and treatments, from tube feedings to wound care, observing for adverse reactions and responses to therapy.
Assisting with Activities of Daily Living (ADLs)
While assisting with ADLs, eating, bathing, dressing, toileting, and grooming is often delegated to paraprofessional staff, nurses retain the ultimate responsibility for patient safety and nursing outcomes. Direct care is the foundation of nursing practice.
Patient Education
Nurses are health educators, helping patients to better understand their diagnoses and treatment needs. Knowledge empowers people to help themselves, improving long-term health outcomes.
How Do You Become a Medical Assistant or Nurse?
Becoming a medical assistant is as simple as enrolling in a vocational school program. Admission criteria are selective but usually not strict.
Full-time students graduate with a diploma in under a year. The comprehensive curriculum prepares you for optional certification.
Nursing requires more education. Practical nursing programs take at least a year to complete. Upon graduation, you'll be ready to sit for the licensing exam.
Admission into nursing programs is more academically stringent than it is for medical assistant programs. Not because the work is harder, but because there are fewer slots available than there are applicants.
Final Thoughts
Nursing and medical assisting are both rewarding careers with secure futures. But there's no one-size-fits-all choice. Consider your strengths, preferences and ambitions when deciding which path is right for you.
Medical Assistant Program
Gwinnett Colleges & Institute offers medical assisting courses to gain essential skills and training at multiple campuses from Lilburn, Sandy Springs and Atlanta/Marietta to Orlando, FL and Raleigh, NC. The core curriculum at these campuses focuses on the medical assisting skills and training you will need to seek entry-level employment in physicians' offices, clinics, hospitals, and other medical settings needing the services of associates trained in both front and back office medical assisting skills. These medical assisting courses will be the first step in starting a rewarding career.
LPN Program
The Practical Nursing diploma program provides the didactic and skills training needed to take the NCLEX-PN examination.* LPN courses create employment opportunities that include entry-level practical nursing positions.
Contact Gwinnett College today to learn more about becoming a medical assistant or nurse.