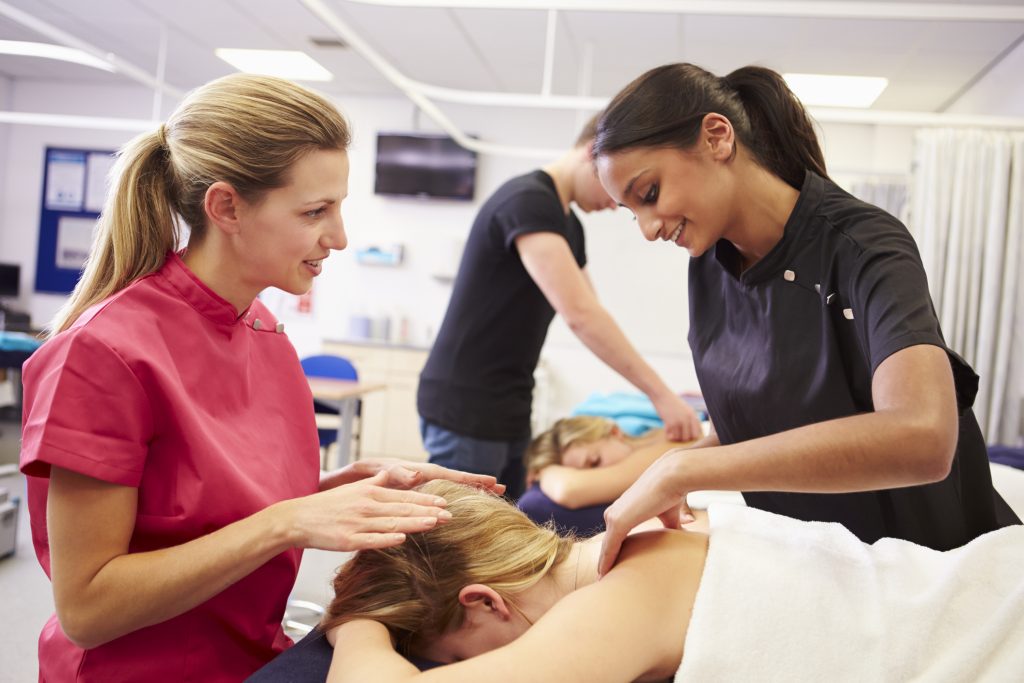 Are you interested in becoming a massage therapist but not sure if it is a good career? Massage therapists are professionals in the healing arts. They enjoy helping clients relax and reduce pain. They use their intensive training to deliver customized treatments to clients. While many massage therapists offer standalone treatments, some work as part of holistic and integrative wellness teams. So, is becoming a massage therapist a good career?
Is Becoming a Massage Therapist a Good Career?
Is massage therapy a good career? The job outlook for massage therapists is robust. According to the U.S. Bureau of Labor Statistics, employment of massage therapists is projected to grow 20% through 2031.
The increased demand for trained and licensed massage therapists is due to the increase in demand for holistic medicine. As interest in integrative medicine grows, people are increasingly seeking out noninvasive, holistic options for dealing with pain and injuries. Additionally, growing awareness about the importance of self-care for mental health has many people seeking options for unplugging from the stress of daily life. Massage therapy has been linked to lower stress levels, decreased anxiety, and reduced irritability. Ordinary people all over the country consider their massage therapists essential for wellness and relaxation.
What Does a Massage Therapist Do?
A massage therapist is a licensed professional capable of delivering both relaxation-based and therapeutic techniques. Massage therapists assess and treat the body's joints, muscles, tendons, ligaments, fascia, and soft tissue. The primary job duty of a massage therapist is to apply manual pressure and stimulation. They can do this using their education focused on anatomy, physiology, reflexology, and the intricacies of recognized treatment techniques. Services offered by licensed massage therapists can be used for:
Improving circulation.
Promoting relaxation.
Treating injury-related pain.
Treating chronic pain.
Promoting overall health.
Promoting mood and mental health.
Massage therapists listen to their clients to get an understanding of what they need. Using input from each client to determine a patient's wellness goals, you can design a custom plan that utilizes the best technique and scheduling frequency to produce results. You can also follow up with clients, help to monitor progress, and provide suggestions for supporting the musculoskeletal system.
Where Do Massage Therapists Work?
As a massage therapist, you can work in a variety of settings. You can work at spas, wellness centers, and massage offices. Some are affiliated with hospitals and care centers. It's also possible to work for resorts and cruise brands as a massage therapist. In some cases, licensed professionals prefer to work independently because they enjoy the freedom to travel from client to client. Opportunities also exist for event-based massage work at shopping malls, festivals, corporate events, and casinos. It's also possible to get a job working for sports teams and athletes. Professional and elite athletes are increasingly using massage therapists to help with muscle recovery to achieve enhanced performance and injury prevention. Many college and professional teams and leagues employ on-staff massage therapists.
How Does Someone Become a Massage Therapist?
Massage therapy is a tightly regulated industry. You must become a licensed professional in order to legally work in this field. The only way to earn licensing is by graduating from a massage therapy program at a vocational school. While programs require a minimum number of classroom hours to obtain a diploma or degree, a massage therapy program is an intensive experience designed to equip you to be successful. In fact, you will become an expert at the human body, reflexes, and muscle groups.
After successfully graduating from a program, you must pass the Massage and Bodywork Licensing Examination (MBLEx) administered by the Federation of State Massage Therapy Boards (FSMTB). Completing a degree or diploma program isn't just a requirement. The reality is that a massage therapy program is necessary to pass the state board exams. These thorough exams will cover all of the technical, ethical, and hygienic requirements that massage therapists must be familiar with before they can begin seeing clients.
What Do You Learn During a Massage Therapy Program?
A massage therapy diploma program consists of a well-planned sequence of courses designed to help you grow in skill and expertise. While these programs are intensive, they are designed to help you learn at a reasonable pace, digest the course materials being covered, and learn how to apply your "book" knowledge in practical settings. Each course prepares you for the next phase of information and training.
A massage therapy school curriculum covers scientific and technical information, manual skills, and mastery of the business knowledge needed to successfully work as a massage therapist. You are led by instructors with real-world experience in a variety of settings. Of course, the highlight of any massage therapy program is the intensive training that you receive in respected massage therapy techniques. You will learn how to administer forms of massage therapy that have been developed around the world. The list of key topics covered during in-class program coursework includes:
Swedish Massage.
Deep Tissue Massage.
Neuromuscular Therapy.
Chair Massage.
Sports Massage.
Anatomy and Physiology.
Business and Success Techniques.
Training in these areas will help equip you to walk into employment situations with the skills employers are looking for. In addition, you will be empowered to help your clients discover approaches to healing and wellness that allow them to enjoy health, comfort, and vitality. In fact, you will have the ability to use your in-depth training to help clients discover healing solutions based on their symptoms, health backgrounds, and other core diagnostic factors.
What Happens After Graduation From Massage Therapy School?
Graduation day is an exciting day because you will know that you are about to walk into a career with limitless potential. There is also a sense of excitement in the air because you have chosen a profession that offers rare levels of satisfaction, personal freedom, and room for growth.
Upon graduation, you are qualified to begin applying to entry-level positions at spa franchises, and medical centers. Many students discover that they have a specific preference that they'd like to pick as a specialty. Choosing a specialty can be a great way to enjoy a niche career with a steady roster of repeat clients. Clinical massage, medical massage, sports massage, and prenatal massage are just some of the specialties that you can pivot toward while building a career. Of course, being a generalist can be a great way to enjoy a career that's full of variety.
Who Can Become a Massage Therapist?
This occupation is open to anyone willing to put in the time and work needed to graduate from a massage therapy program. Many people come to this career after spending years working in corporate settings, education, and other fields. They are drawn to the healing arts because they are seeking a career that gives them a sense of purpose and connection. They also like the fact that a diploma or degree provides access to a sustainable career in a growing field. Also, many people know from a young age that they don't want work in an office. They crave the satisfaction of a career with many different options for growth.
There's no need to have a specific background to enroll in a vocational program. No prerequisite courses are required before enrolling.
How Does Someone Begin a Massage Therapy Career?
A career in this expanding field begins with a diploma or degree from a massage therapy program. A great way to start the journey is by enrolling in a massage therapy program offered by Gwinnett College. While the decision to become a massage therapist requires dedication, you will have the guidance and support of your instructors throughout the educational journeys.
Interested in learning more about starting a massage therapy career? Upon graduation, Massage Therapy Program students will receive diplomas and be qualified to seek entry-level positions as clinical, medical, or deep tissue massage therapists in wellness clinics and centers, spa environments including resorts and franchises, and self-employment.
Gwinnett College also offers a degree program in Massage & Spa Management for students attending the Lilburn, GA campus. The Associate of Science Degree in Massage and Spa Operations is designed to provide you with the additional knowledge and practical skills to transition into positions of leadership within the spa environment or to better function as a proprietor of your own massage business. The program includes core curriculum courses specific to the practice of massage as well as courses to be used in the administration of a practice.
Contact us to learn more about how you can become a massage therapist today.