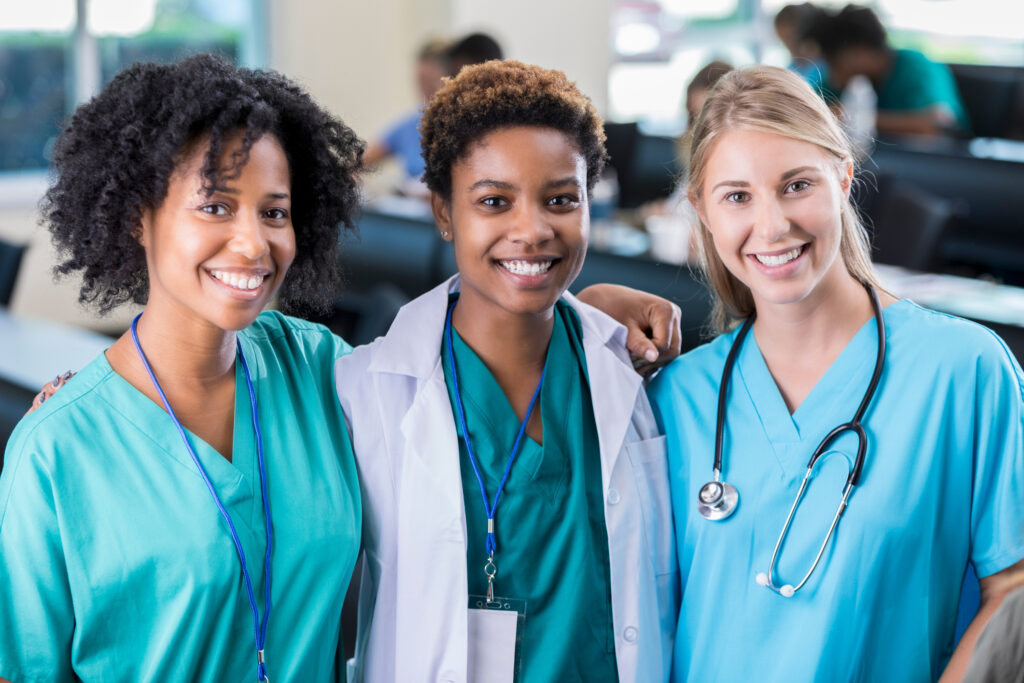 The need for medical assistants is growing nationwide, but demand is rising exponentially in southern states where seniors are flocking to warmer weather. If you live in Atlanta and are considering a job in the healthcare field, it's a rare opportunity. Let's take a closer look at how to become a medical assistant, and why it's such a popular career.
Why Do People Become Medical Assistants?
The healthcare field offers dozens of exciting opportunities. With so many to choose from, why do people become medical assistants?
It's Fulfilling
Jobs pay the bills, but careers make you feel good inside. Whether it's guiding the community through a pandemic or helping vulnerable people in need, medical assistants make a difference by helping patients navigate complex health issues.
If you like to work with people, a career in healthcare is an obvious choice. As the liaison for the healthcare team, medical assistants get to know each client personally, forming close therapeutic relationships as they serve them through the years.
As patient educators, medical assistants work one-on-one with patients, helping them cope with new diagnoses and promoting preventive care. It's rewarding in ways only a people-centered career can be.
There's Never a Dull Moment
Careers in healthcare are fast paced. Experts in both clinical and clerical procedures, medical assistants have such a broad range of responsibilities that the work never gets old. One day, you might work in the front office triaging phone calls. The next, you'll be in the lab drawing blood. Some shifts, you'll be a jack-of-all-trades, doing everything from assisting with minor surgery to giving immunizations.
Medicine continually evolves, and there's always something new to learn. You'll be among the first to learn about the latest medical advancements, spreading the word about new treatments and services.
If you like to stay busy and intellectually engaged, being a part of a cutting-edge field may be just what the doctor ordered. Workdays are structured and predictable enough to plan around, yet they're rarely the same twice.
Medicine Is a Team Sport
Workers in some industries feel like small fish in big ponds. But medical assistants are essential members of the healthcare team. As the first point of contact for patients, they're empowered to use their skills, supervised but never second-guessed.
They have plenty of support from both peers and professionals, and their opinions and contributions are valued. Few careers that require so little time in school are this impactful.
It's a Flexible Job in More Ways Than One
Careers in all industries have benefits, but flexibility isn't always one of them. Family-friendly schedules, for example, are tough to find. Most medical assistants work Monday through Friday with evenings and weekends off. It's the work-life balance parents crave, and it makes any job more manageable when you have other responsibilities. Medical assistants report high levels of job satisfaction.
Medical assisting also offers a flexible choice of work settings. There are dozens to choose from. Most medical assistants work in doctor's offices, but roles are expanding in hospitals, clinics, and insurance companies.
Clinically focused medical assistants with a passion for a specialty aren't limited to working for one type of practice. Physicians from pediatricians and geriatricians to cardiologists and women's health specialists all hire medical assistants. You can work where it matters most to you, knowing you have the option to try something different if you need a challenge.
It's a Respected Career
Medical assisting isn't a new profession. Recognized since 1955, it's supported by an independent professional organization. The American Association of Medical Assistants has worked hard to earn credibility for medical assistants creating education standards and backing efforts to boost wages. Both patients and clinicians appreciate what medical assistants do and with that comes respect.
How To Become a Medical Assistant in Atlanta
Few adults can afford to spend two-, four- or even six years in college to train for a new career. Whether you're fresh out of high school or looking for a change, a vocational school medical assisting program can be completed in months, attending full-time. Students graduate work-ready, it's a short pathway to a brighter future and a steady paycheck.
Atlanta has a large community of healthcare providers, from Children's Healthcare of Atlanta, Northside Hospital, Soliant Health, and Select Specialty Hospitals to name a few. From physician's offices to specialist, hospitals, clinics, long-term care and assisted living, medical assistants are in demand in Atlanta and the healthcare community is always looking for newly trained medical assistants to join their teams.
What Are the Benefits of Attending a Medical Assisting Program?
While a license isn't required to be a medical assistant in Georgia, if you live in Atlanta, a diploma offers many benefits worth exploring.
Benefit #1: It's Comprehensive Education
A medical assistant with a vocational school diploma qualifies for the same jobs as an applicant with an associate's degree. But how can vocational schools turn out quality candidates in half the time?
Vocational schools in the Atlanta area teach students the same skills as colleges but in less time using a focused curriculum. Training is a combination of classroom and hands-on instruction. Students learn the practical skills they need from seasoned instructors without spending time or money on elective courses that don't contribute to their job qualifications. It's a comprehensive, high-quality education.
Benefit #2: It Makes You a More Competitive Job Applicant
Employers are responsible for the actions of their staff, so they want highly trained applicants they can depend on to practice safely and give their patients the quality care they deserve. Practically speaking, higher education is expected.
Optional certification requires a diploma, and only certified medical assistants can do certain tasks, such as entering doctor's orders into patient's records. Vocational schools prepare graduates for certification, so employers have everything to gain and nothing to lose by hiring only the best-trained personnel.
Candidates with diplomas need less on-the-job training, costing practices less, and in some cases, it can also lower their insurance costs. As the price of doing business goes up, employers are incentivized to save money where they can, beginning with staff.
Benefit #3: You'll Enjoy Faster Professional Growth
No one wants to feel like they're spinning their wheels, a job with no possibility of promotion is frustrating. In some industries, experience matters more than a diploma, but in healthcare, you'll need both to advance.
Medical assistants with diplomas have a wide range of skills they can build on, growing into specialized or supervisory positions. Staff with less education tend to linger on the lower rungs of the career ladder.
A diploma can also be a stepping-stone to even higher education. After a few years on the job, some medical assistants develop an aptitude for certain types of tasks. Someone with talent in the lab or billing may opt to build on their education to become nurses, laboratory technicians or office managers.
Benefit #4: It Comes with Lifetime Career Services
Vocational colleges in Atlanta partner with local healthcare offices to understand their needs, tailoring their curriculum to teach the most sought-after skills. Hospitals and private practices, in turn, call vocational schools when they need qualified job applicants, knowing they're well-trained and ready to hit the ground running. It's a win-win for both employers who need skilled staff and graduates who want to find their dream jobs.
Successfully placing graduates in rewarding roles is a vocational school's mission. Career counselors evaluate students' strengths and weaknesses and help them find jobs that are a perfect fit. Finding your first position in a new field is challenging as a new graduate, but vocational colleges are on your side, in many cases, offering lifetime placement assistance.
Are Medical Assistants in Demand?
According to the U.S. Bureau of Labor Statistics, demand for medical assistants is skyrocketing. Growth is expected grow by 19 percent in the coming decade. Why? Millions of baby boomers are nearing retirement, and as they do, they will need many more preventive health services. Also, technology is enabling seniors to live longer, healthier lives through early intervention.
The need for more qualified healthcare workers is industry wide. Doctors, nurses, and healthcare professionals are in demand, but schools are struggling to keep pace. Medical assistants help ease the burden of too few providers by supporting clinical staff.
This level of job security is one of the many reasons people choose to become a medical assistant. As more jobs become obsolete, replaced by technology, few industries can promise that type of growth.
Final Thoughts
If you're thinking about a new career in the healthcare field, you have choices to make. Atlanta is a great place to learn and work as a medical assistant. There's no reason to put your education aspirations on the back burner, vocational schools offer high-quality education at an affordable price with flexible scheduling options to fit any lifestyle.
Did learning about how to become a medical assistant interest you? Gwinnett Colleges & Institute offers medical assisting courses to gain essential skills and training at multiple campuses from Lilburn, Sandy Springs and Atlanta/Marietta to Orlando, FL and Raleigh, NC. The core curriculum at these campuses focuses on the medical assisting skills and training you will need to seek entry-level employment in physicians' offices, clinics, hospitals, and other medical settings needing the services of associates trained in both front and back office medical assisting skills. These medical assisting courses will be the first step in starting a rewarding career.
Contact us to learn more about how you can become a medical assistant today.