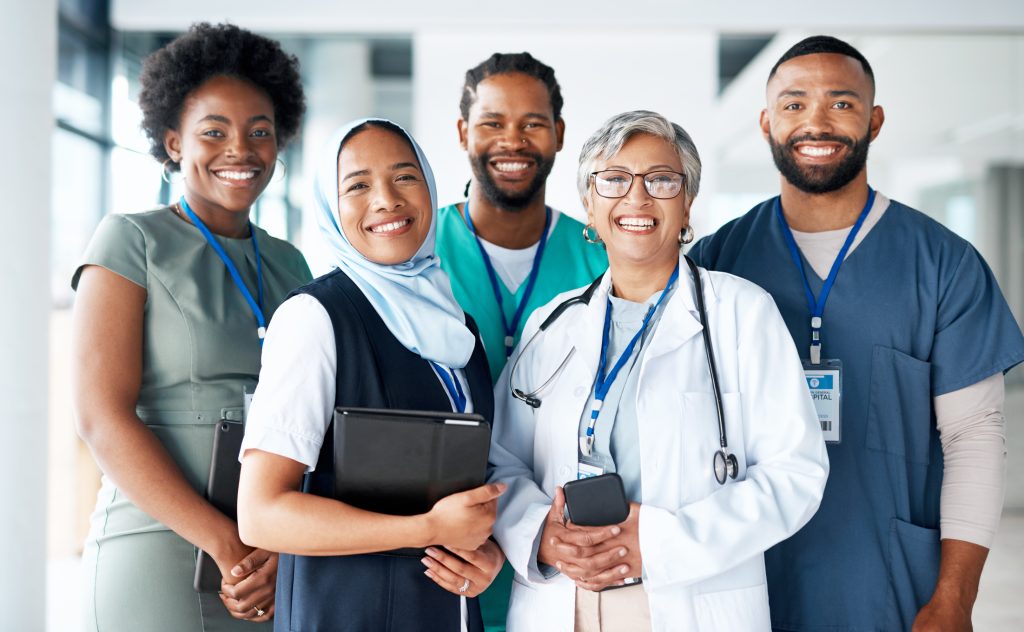 Vocational colleges offer a broad range of healthcare training options for students with different aptitudes and aspirations. The goal is to prepare the next generation of healthcare workers for today's most relevant careers. Healthcare programs are particularly popular because jobs in the medical field are plentiful. To meet the growing demand for qualified applicants, some vocational institutions teach students about medical assisting, nursing, medical billing and coding. Regardless of your interests, there's a program for you.
Why Do People Enter the Healthcare Field?
People choose careers in healthcare for both personal and practical reasons, such as:
Making a Difference
Many students are drawn to the healthcare field because of a genuine desire to serve others. They want to alleviate suffering and promote wellness in their communities. Some were inspired by personal experiences and want to give others the same quality care they once received. While people can have an impact on the world in any industry, it's easier in the medical field because it touches everyone's lives.
A Passion for Science and Medicine
Students with a passion for biology, chemistry, anatomy, and similar sciences are drawn to the healthcare sector because it plays to their strengths and interests. Even non-clinical roles have a scientific aspect that appeals to the amateur researcher. If the human body fascinates you, and you're motivated to contribute to the healthcare community as a clinical or an administrative specialist, a career in the medical field may be just what the doctor ordered.
Career Stability
The demand for healthcare services continues to expand as the population ages and grows. Jobs in the healthcare field are secure, so the training you invest in won't be obsolete. Unlike some careers that are disappearing in favor of technology, careers in medicine will remain uniquely human.
Intellectual Challenges
Too many workers feel underutilized in their roles. But healthcare professions are challenging, requiring critical thinking and problem-solving abilities. If you like to lead, there's no shortage of opportunities in the medical field. There's always something new and exciting to do.
Advancement Potential
The healthcare field offers countless opportunities for professional growth. If you're willing to learn and specialize, there's no limit to what you can accomplish. As a healthcare professional, you can pursue different career paths from a single starting point by developing your skills. Employers and professional organizations make it easy with continuing education opportunities.
How Do I Become a Practical Nurse or a Medical Assistant?
Medical assisting and practical nursing are two similar careers with different pathways. But both begin with graduating from a healthcare college's training program. Full-time students graduate in a year or less, prepared for licensing or certification. There's no better value in education today.
What Can I Learn at a Healthcare College?
Many healthcare colleges offer three diploma and degree programs, medical billing and coding, medical assisting, and practical nursing. Which you choose should reflect your career goals.
Medical Billing and Coding
Medical billing and coding specialists manage health insurance claims and light accounting duties in healthcare facilities. It's a rewarding career for someone who loves medicine but doesn't want to be a hands-on healthcare provider.
Specialists work with administrators and healthcare professionals to handle facility finances so clinicians can focus on healing. The work involves filing insurance claims, tracking reimbursement, invoicing, and collections. Although it's a non-clinical role, medical billing and coding require clinical training because they have a strong research component.
Medical billing and coding programs cover:
Medical terminology — you'll learn to make sense of complex terms by breaking them down into parts.
Anatomy and physiology — geared for the non-clinician, this course helps you interpret medical reports by familiarizing you with basic body structure and function.
Health insurance models — topics include the healthcare revenue cycle, public and private insurance plans, and reimbursement strategies.
Medical coding — you'll learn to use ICD-10, CPT and HCPCS systems to code medical data for billing purposes.
Health information technology — how to access, store, share and secure electronic health data for billing and referral purposes.
Medical billing procedures — how to prepare claims, troubleshoot denials and handle appeals within a regulatory framework.
Healthcare law and ethics — students discuss the ethical considerations and professional standards relevant to medical billing and coding from patient confidentiality rules to communication skills.
Medical Assisting
Medical assistants perform both clinical and administrative tasks in healthcare settings. Part of the healthcare team, they partner with administrators and medical professionals to deliver quality care.
The role is largely clinical but with significant clerical and billing components. Duties include managing the schedule, taking vital signs, performing diagnostic tests, infection control, and phlebotomy. As a student, you'll learn about:
Anatomy and physiology — how the body is made and how it works at the cellular, organ and systemic levels. A more in-depth course than what medical billing students take, it dives deeper into each topic, giving medical assistants a scientific foundation upon which to base their practice.
Pharmacology — medical assistants administer many medications in outpatient environments. This course covers the most common drugs and how they're used to treat diseases. Topics include medication classifications, therapeutic benefits, side effects, and safety issues.
Infection control — students learn how microorganisms cause disease and how to control their spread in healthcare settings.
Clinical procedures — in this hands-on class, instructors teach you how to obtain vital signs, perform diagnostic tests, and administer injections using the same equipment found in medical offices.
Laboratory procedures — you'll learn to collect biological samples, process specimens, and use laboratory equipment, from microscopes to centrifuges, with an emphasis on safety.
Phlebotomy — students learn how to draw blood samples step-by-step, from equipment selection to patient assessment.
Billing and coding — a less comprehensive course than what medical billing specialists receive, this helps medical assistants fulfill their role in the billing cycle by coding services as they're provided.
Office procedures — medical assistants coordinate with the front office team to handle tasks that require both clinical and administrative know-how, so you'll learn to manage electronic communication, recordkeeping systems and other administrative duties.
Medical law and ethics — the healthcare industry is held to the highest regulatory and ethical standards. This course covers professionalism, cultural competency and ethics plus health information, patient privacy, and billing regulations.
Graduates of medical assisting programs are work-ready but encouraged to apply for certification. While a certificate isn't required to work as a medical assistant, it makes you a more valuable job applicant and sets the stage for career growth by demonstrating proven skills.
As a career, it's a good fit for students who enjoy engaging with patients without a nurse's schedule or responsibilities. And through specialization, you can chart your own course through continuing education in specific areas of medicine, including cardiology, gerontology, and mental health.
Practical Nursing
A licensed practical nurse (LPN) is an entry-level nursing professional. They share many of the same responsibilities as registered nurses, but their duties are more practical, consisting of bedside care supervised by an RN or a physician.
The work includes assisting with activities of daily living, administering medications, performing treatments, and protecting patient safety. The practical nursing curriculum covers:
Anatomy and physiology — nurses need a broader foundation in anatomy and physiology than medical assistants, so this is a comprehensive course that touches on biochemistry, genetics and physiatry, the study of disease and injury prevention and rehabilitation.
Pathophysiology — nurses are integral to a patient's recovery, so understanding the cause and effects of disease, pathophysiology, is critical. Topics include the risk factors and manifestations of disease, including genetic, social, and cultural influences.
Human growth and development — nurses care for individuals from birth through end-of-life. This course explores nursing interventions based on age and developmental milestones.
Pharmacology — medication administration is among a nurse's foremost responsibilities. But unlike medical assistants, an LPN works with patients who are acutely ill, so more training is needed. Nursing courses cover the basics, plus medication interactions, administration techniques, and safety considerations.
Nursing fundamentals — in this course, students practice the fundamentals of nursing care, from assisting patients with hygiene and mobility to performing catheterizations.
Additional topics include wound care, tube feedings, IV maintenance, feeding techniques, assistive devices, mobility aids, therapeutic exercises and how to manage medical equipment such as oxygen tanks, nebulizers, and ventilators. Classroom instruction is reinforced during clinical rotations in which you'll spend time caring for real patients in healthcare settings.
Medical law and ethics — nurses grapple with the same regulatory issues as medical assistants and billing specialists. But as patient advocates, they encounter more ethical issues. Expect lively classroom discussions as students examine challenging issues, from patient autonomy to end-of-life care.
Upon graduation, students are ready to sit for their state's licensing exam, you can't practice without a passing grade. But don't be intimidated because vocational colleges support you.
As with medical assistants, the job market for practical nurses is bright with openings in hospitals, clinics, nursing facilities, private homes, and hospices.
Final Thoughts
Careers in the healthcare field are as diverse as the people who fill them. Whether you're a people-person who loves science and medicine or a dedicated number cruncher with a knack for finance, there's a healthcare program for you.
Healthcare Programs
Ready to start a new career as a medical assistant? Gwinnett Colleges & Institute offers a Medical Assistant Program, LPN Program, and Medical Billing and Coding Specialist Program to gain essential skills and training in the healthcare field.
Contact Gwinnett Colleges & Institute today to learn more about becoming a medical assistant, LPN or medical billing and coding specialist.