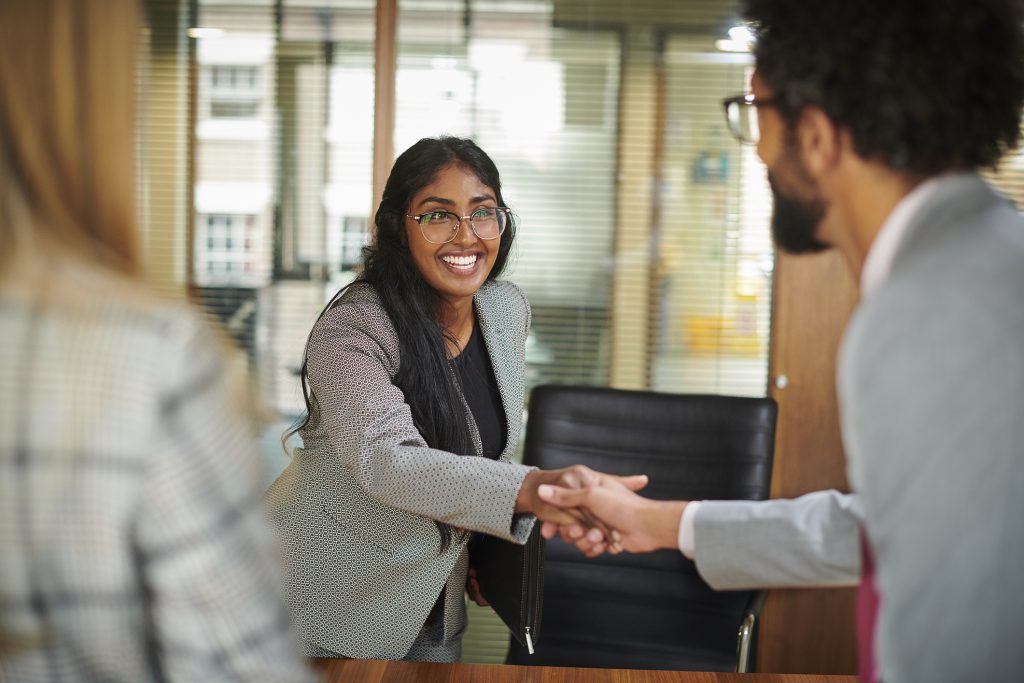 If you have an interview for a medical assisting position, congratulations, you deserve it. But now comes the difficult part, preparing for a face-to-face meeting with a potential employer. It's okay to be nervous. Most people are because they know what's at stake. These tips will help you make the best possible impression.
How Do I Prepare for a Medical Assistant Interview?
A job interview does what a resume doesn't,  it puts a human face on an otherwise dry list of qualifications. It's a one-off opportunity to showcase your skills, experience, education, and professionalism. Here's how to prepare:
Learn about the Employer
Turnover is costly, so employers want to hire medical assistants who are a good fit for their organizations. The right candidate is more likely to get along with coworkers and have a positive impact on the workplace.
Researching the employer's website before the interview allows you to highlight the skills and experiences that best align with their needs and culture. Familiarizing yourself with their services, vision and values demonstrates a keener interest in the position and better prepares you to ask and answer tough interview questions.
Review the Job Description
Jobs for medical assistants are as variable as the applicants, all positions are not the same. Understanding the requirements and responsibilities allows you to clarify expectations and highlight pertinent skills.
Dress for Success
What you wear to an interview demonstrates the professionalism with which you will represent an employer. Make it count. A business casual outfit is your best bet.
Keep it simple with matching separates that are clean, pressed and understated. Photos on social media may offer clues about the dress code.
Arrive on Time
Being on time for a job interview is among the simplest ways to make a positive first impression. If you're not familiar with the location, don't take chances. Time the route in advance, allowing extra time for bad weather, unexpected traffic, or parking woes.
Be Prepared
Bring an extra copy of your resume, a list of professional references and letters of recommendation for the interviewer's convenience. Know the name of the person who will be conducting the interview and be prepared to ask questions that demonstrate an interest in the organization.
Improve Your Odds with a Vocational School Diploma and Career Services
If you don't get the job, you won't be alone. Only one candidate will land the position. While some employers are still willing to train people with a strong work ethic and the willingness to learn, most prefer to hire trained candidates.
If you don't have a formal education or experience as a medical assistant, a great way to ease your disappointment is to improve your odds of getting the next position you apply for by graduating from a vocational school program. Not only does a diploma give you a competitive advantage, but it also comes with perks like comprehensive career services and certification preparation.
Common Interview Questions (and Answers) for Medical Assistants
Applicants can expect a volley of questions during a medical assistant interview. Here are some of the most common and how to answer them confidently:
Question #1: "Tell me about yourself."
"Tell me about yourself" and similar questions allow interviewers to get a sense of your background and skills. But it's an inherently uncomfortable question that puts applicants on the spot. How you answer is seen as a reflection of how you would handle challenging inquiries from clients.
The rules for responses include:
Keep it professional — concentrate on your training, experience, and work history, avoiding personal details.
Don't ramble — replies should be concise.
Stay positive — never perseverate on your failures or speak about past employers in a negative way.
Don't memorize responses — the vibes you get from the interviewer should shape your response. Canned replies may seem stiff or disingenuous.
Question #2: "What are your Strengths?"
Another tough question, asking "What are your strengths" forces applicants to self-evaluate their skills. Examples of sought-after strengths for medical assistants include:
Strong communication skills — the ability to read, write, and speak confidently is critical when engaging with patients, physicians, and other healthcare professionals.
Team spirit — medical assistants are members of the clinical and administrative teams. Their ability to collaborate with others is a must.
Flexibility — adapting to new situations and tasks is important in a medical environment. Emergencies are the rule, not the exception.
Empathy — the ability to see things from different perspectives is a valuable skill that helps you better relate to patients and peers.
Attention to detail — medical assistants are responsible for recording health histories and doctor's orders. Accuracy is vital.
You can stand out among applicants by:
Game planning role-specific responses based on the job description — if an oncology practice values emotional awareness, for example, describe your empathy.
Sharing relevant examples — explaining how you lowered your last company's medical bill by reducing waste and negotiating with vendors means more than saying that you are resource-conscious.
Question #3: "Describe your work experience."
If you've worked as a medical assistant, focus your response on your most relevant experience. Mention your versatility but find ways to link it to the skills the employer is seeking.
If you're a new graduate or have neither a diploma nor experience, highlight the skills you've gleaned through past employment or volunteer work. Working as a cashier, for example, requires accuracy with numbers and good customer service skills.
Question #4: "What are your weaknesses?"
Employers are less interested in your weaknesses than in how you're overcoming them. It's an awkward question, but one that demonstrates your self-awareness. Stick to this formula for a winning response:
Select an honest, professionally relevant weakness, such as being uncomfortable with public speaking.
Offer an example of how this has created a problem in your life, like being unable to articulate ideas through group presentations.
Explain how you've learned from it and are trying to overcome the issue by, for example, taking a class that teaches practical communication skills.
Question #5: "Why do you want to work for this practice?"
Interviewers ask this question to determine if you researched the organization and thought critically about your potential role. Your answer should reflect an understanding of their mission statement and company and culture. Reasons could include that:
You identify with their professional values.
You're interests and aptitudes seem like a good fit.
You've heard positive things about their contributions to the community.
The job aligns with your values and career goals.
Question #6: "Where do you see yourself in five years?"
Employers ask this question to:
Determine if the company can meet your short-term career goals.
Assess whether you're over-qualified and unlikely to be satisfied in a lesser role.
Find out if you're willing to improve your skills.
If you're tempted to guess what an interviewer wants to hear, don't. Just be honest. The last thing you want is to be stuck in a dead-end career or working for a company with unrealistic expectations. Honest answers are best, but dos and don'ts include:
Do share your aspirations — employers want to know that you're thinking ahead. Mention how the position you're applying for will help you meet your goals.
Don't mention promotions — instead, talk about personal and professional growth through experience and further education. Be enthusiastic about learning.
Don't overreach — big goals may sound ambitious, but most are unrealistic.
Do express flexibility — it's important for employers to know that you're open to changing and growing with them.
Question #7: "Do you have any questions?"
This question helps employers gauge the sincerity of your interest in a position by exploring topics beyond the usual Q&A. It's also a golden opportunity to erase any lingering doubts or questions about the role. Consider it your chance to interview the company.
Some examples of questions to ask include:
Is this a new role?
New roles are typically less defined than established positions. Candidates should generally be more flexible and open to shifting job responsibilities.
What's your favorite part about working here?
Non-specific answers are a red flag. Look for positive comments about the staff, leadership, and workplace environment.
What's the biggest challenge in this position?
This question is a good way to assess how a company supports its team members. Challenges are only obstacles if they're not properly managed.
What factors determine someone's success here?
Managers know what makes their employees successful. Typically, it's flexibility, compassion, time management and reliability. Whatever the answer is, it gives you one last opening to share examples of professional achievements in that realm.
Is there room for advancement here?
Training new workers is expensive, so the most valuable employees are those who plan to stay. Asking this question plants a seed in the mind of the interviewer, letting them know that their business is a part of your goals.
Do you have any concerns about hiring me for this role?
Interviews are often over before applicants can sell themselves. As intimidating as a face-to-face meeting can be for candidates, it's equally daunting to many employers who lack interviewing skills.
Most, however, can articulate a reason why they might think you're not a good fit for the job. Use the opportunity to clarify any misunderstandings about your experience or qualities.
Final Thoughts
First impressions determine future opportunities. Known as the "halo effect," employers are more likely to hire and promote people with whom they had a positive initial interaction. So, despite your qualifications, interviews can open doors or close them. Preparation is the key both to getting a job and growing your career.
Medical Assistant Program
Ready to start a new career as a medical assistant? Gwinnett Colleges & Institute offers medical assisting courses to gain essential skills and training at multiple campuses from Lilburn, Sandy Springs and Atlanta/Marietta to Orlando, FL and Raleigh, NC. The core curriculum at these campuses focuses on the medical assisting skills and training you will need to seek entry-level employment in physicians' offices, clinics, hospitals, and other medical settings needing the services of associates trained in both front and back office medical assisting skills. These medical assisting courses will be the first step in starting a rewarding career.
Contact Gwinnett College today to learn more about becoming a medical assistant.