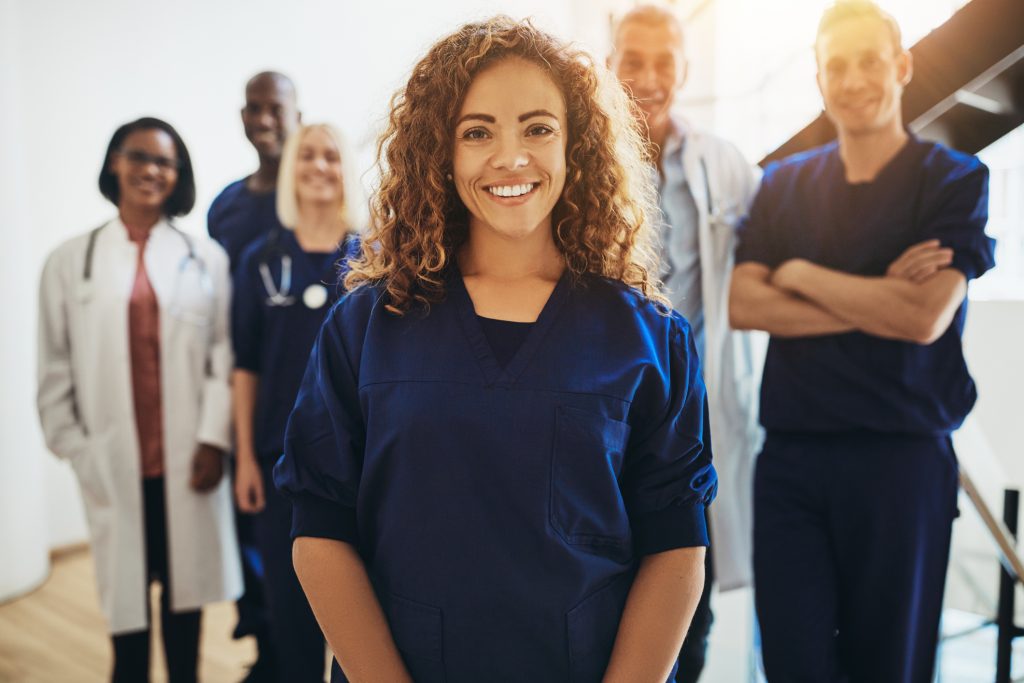 There's no shortage of reasons to work in the medical field. Secure and dynamic, the medical industry has a lot to offer. But a career should reflect your strengths, interests, and aptitudes, so choosing the proper role can make or break your success. Let's explore the possibilities.
Why Work in the Medical Industry?
Motivations for working in the healthcare industry vary, but the benefits are tangible and too good to ignore.
Careers in the medical field offer:
Job Stability
Healthcare is an essential industry, so there is a consistent demand for clinical and allied health professionals. In a changing job market, this level of security is rare. The US Bureau of Labor Statistics projects growing demand for clinical and administrative healthcare professionals through 2032.
Personal Fulfillment
Contributing to the wellness of others is intensely gratifying on a personal level. While it's possible to help others in any occupation, healthcare offers more intimate opportunities. You'll work with physically and emotionally vulnerable people from all walks of life, helping them navigate complex health challenges.
An Intellectual Challenge
Life's too short to be bored. Medicine offers intellectually stimulating and challenging work that requires continuous learning. You'll have a front-row view of the latest advancements in treatments and technology. Days are never the same twice.
Role Diversity
The healthcare field offers a wide range of entry-level career paths. This diversity allows you to find a just-right role that aligns with your aptitudes and interests. Whether your passions include clinical care or administration, you have a seat at the table.
Team Spirit
Team players thrive in healthcare environments because camaraderie is built on mutual support. If you enjoy joining forces with others to tackle tough challenges, a career in a multidisciplinary environment may be just what the doctor ordered.
Professional Respect
Healthcare professionals are consistently ranked among the most respected workers for their dedication. You'll have the admiration of patients who appreciate what you do. Peers will be equally supportive and respectful of your work, whether clerical or clinical.
Organizational Support
Professional organizations promote the growth and development of specific occupations by raising awareness of their importance at the community and legislative levels. They address common challenges on behalf of healthcare workers by collaborating with employers, schools, government agencies, and regulatory institutions to effect positive change. Healthcare workers at all levels have opportunities to join professional organizations, reaping the benefits of organizational support.
Advancement Opportunities
The healthcare field provides a clear path for career advancement. You can start in an entry-level position and build a meaningful career through experience and continuing education.
What Are My Medical Career Options?
Among the hundreds of job descriptions in medicine, these are among the most popular entry-level options:
Medical Assistant
Medical assistants manage clinical and administrative tasks in healthcare settings. It's a blended role that bridges the gap between the exam room and the office.
Responsibilities include:
Appointment scheduling
Rooming patients
Taking vital signs
Performing diagnostic tests
Drawing blood
Minor wound care
Assisting with procedures
Tracking inventory
Patient education
Many medical assistants work in private practices. The remainder are employed in hospitals, clinics, chiropractic offices, and the public health sector. You can choose from positions that are predominantly clinical or primarily administrative.
Medical Billing
Medical billing specialists handle insurance claims and other financial responsibilities in healthcare facilities.
Their primary duties are:
Medical coding
Insurance claims processing
Payment tracking
Patient billing
Financial reporting
Regulatory compliance
It's a non-clinical role that requires a medical background. Job opportunities are available in hospitals, clinics, doctor's offices, third-party billing services, and insurance companies.
Medical Office Administrator
Medical office administrators oversee the day-to-day operations of a medical facility or single department.
The work includes:
Facility management
Budgeting
Creating policies and procedures
Patient and vendor relations
Regulatory and accreditation compliance
Credential and license tracking
Staff supervision
Technology and information management
Quality improvement initiatives
Long-term financial planning
Job descriptions vary significantly, so finding a position that aligns with your interests is relatively easy. Entry-level administrators typically manage a medical unit, department, or office, gaining experience before moving into a broader, facility-level leadership role.
Medical Office Assistant
Medical office assistants handle front office tasks in doctor's offices, hospitals, clinics, and long-term care facilities.
Duties consist of:
Scheduling
Checking in patients
Verifying insurance coverage
Managing referrals
Administrative paperwork
Medical transcription
Inventory tracking
Office organization
Medical records management
Patient hospitality
Medical office assisting is ideal for someone with a welcoming demeanor and crack organizational skills.
LPN
Licensed practical nurses provide primary nursing care under the direction of an RN or a physician. It's a hands-on clinical role.
Responsibilities include:
Assisting patients with mobility and activities of daily living, such as bathing and dressing
Monitoring for changes in physical condition
Safety supervision
Medication administration
Pain management
Performing treatments, including catheterizations and wound care
Patient and family education
Providing companionship and emotional support
Supervising paraprofessional staff, including nursing assistants
Documentation
Jobs are available wherever nursing care is provided. Most practical nurses, however, are employed in long-term care facilities and private homes where stable patients need long-term health management but not continual medical intervention.
How Do I Start a Medical Career?
Many roles in healthcare require a bachelor's degree or higher. But you can launch a career in as little as one year with vocational school training. Choose from diploma or associate degree programs based on your career goals; each has distinct advantages.
Diploma programs are typically shorter and more job-focused, while associate degree programs are more comprehensive and offer a broader range of career and educational opportunities. Which you should choose depends on your career goals and field requirements.
Diploma programs are the norm in some industries, such as practical nursing. In other fields, job offerings are education-based. A diploma in medical administration, for example, leads to work as a front-office specialist, medical secretary, or records clerk. With an associate degree and relevant experience, you might find a more rewarding job as an office manager.
While no one wants to start at the bottom of the career ladder, we all must start somewhere. Diploma programs are ideal for students who wish to enter the workforce fast. You'll be out of the classroom and into the field in 6-12 months. Graduates are qualified for most of the same certifications as their peers with degrees.
Associate degree programs take up to two years to complete. However, they may be a better option for students who plan to further their education because credits are generally easier to transfer. Many medical billing specialists, for example, go on to get their bachelor's degrees as medical coders.
Finding the right balance is challenging regarding training, but the diploma and degree options make it possible for all students to further their education in a way that best fits their lifestyle.
Final Thoughts
Few fields offer as many diverse career opportunities as healthcare. Top talent is being recruited in all positions. So, whether your gifts lie in administration or clinical medicine, your work will contribute to healthier individuals and stronger communities. Vocational school training will prepare you for your niche.
Gwinnett Colleges & Institute offers medical assisting program courses to gain essential skills and training to achieve entry-level positions in this career field. These courses will be the first step in starting a rewarding career. All Gwinnett College & Institute campuses offer diploma programs, with the Orlando, Lilburn, Marietta, and Sandy Springs also offering medical assisting associate degree programs.
Contact us today to learn more about becoming a Medical Assistant, Medical Billing Specialist, Medical Office Administrator, or LPN.