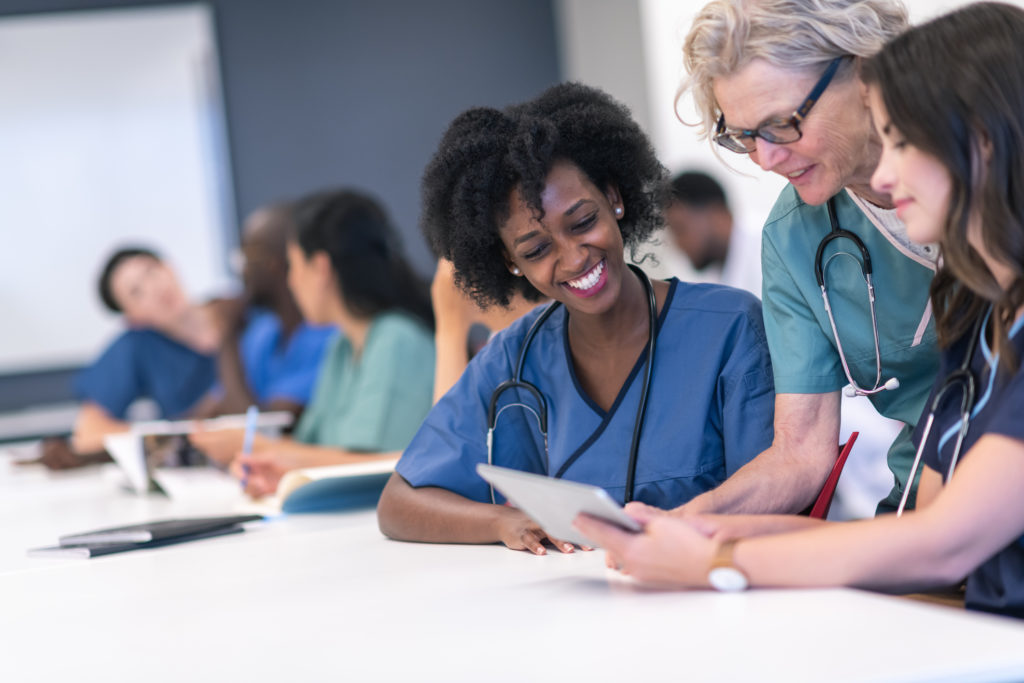 Being a registered nurse requires a college degree, and while having a bachelor's is helpful, a Registered Nurse (RN) with an associate degree has the same professional standing. Graduates with a four-year education and a two-year education are similar because all candidates take the same test for licensure and must be equally prepared. RNs with bachelor's and associate degrees work side by side in the same settings from hospitals to doctor's offices, and they have similar responsibilities, but associate degree candidates can be out of the classroom and earning in just 24 months. There's no better time to apply.
Why Become an RN?
The healthcare field is growing, and there's an increasing demand for educated workers in a wide range of health-related occupations from administration to radiology, so why do so many students choose to become associate RNs? Registered nurses make a difference, never stop learning, enjoy a thriving job market, work with caring colleagues, and can grow professionally.
Make a Difference
Patients and their families are physically and emotionally vulnerable. They need knowledgeable and compassionate guides to help them navigate complex healthcare issues. Everything that nurses do matters to their patients, and the impact is lasting. Few careers requiring only an associate degree are this influential.
Never Stop Learning
RNs get a holistic view of healthcare. Unlike occupations with a limited scope, such as radiology, RNs are involved in every aspect of patient care from pharmacology and diagnostics to nutrition and exercise, and there's something new to learn every day. RNs work with cutting edge treatments and the latest technology. It's the perfect job for students with interests in both science and medicine.
Enjoy A Thriving Job Market
According to the U.S. Bureau of Labor Statistics, job openings for registered nurses are expected to grow much faster than the average for all occupations, 12 percent from 2018 to 2028. To help meet demand, employers offer full-time, part-time and other flexible opportunities. Working as a nurse doesn't have to mean spending nights, weekends and holidays away from home.
Work with Caring Colleagues
Healthcare is a team effort and while everyone has a job to do, working with caring colleagues toward a common goal creates a mutually supportive environment. Team members share their skills and resources, inspiring one another with successes and sharing the burden of failure, so no one ever feels alone.
Grow Professionally
An associate degree is the end of the line for some careers, but for nurses, it's just the beginning. Graduates can work while they continue to learn. Associate RN to BSN bridge courses require experience, but they take less classroom time than traditional bachelor's degree programs.
Where Can an RN with an Associate Degree Work?
Where an associate RN can work is limited only by employer policy. Nurse educators must typically have a master's degree while top leadership positions require a master's or higher. But practically speaking, while select institutions may give preference to nurses with a bachelor's degree, most will hire any professional nurse with the right background and experience. Associate RNs work in hospitals, nursing facilities, clinics, doctor's offices, home health, and public health.
Hospitals
All RNs have the education and sound judgment necessary to manage patients with complex medical needs. They plan and implement the delivery of all nursing care, including the supervision of paraprofessional staff from nursing assistants to dietary aides.
Under the supervision of a physician, their responsibilities include:
Administering medications
Starting IVs
Inserting urinary catheters
Monitoring intake and output
Collecting biological samples
Operating ventilators
Monitoring pain and vital signs
Assessing for changes in condition
Helping patients with activities of daily living
Assisting with therapeutic exercises
Communicating with doctors and therapists
Educating patients and their families
Providing emergency care
What are the benefits of working in a hospital? The environment is fast-paced, and emergencies are the rule, not the exception. Work is never dull, and it's always rewarding. Additional perks include gaining experience. Nurses are exposed to a broad range of clinical conditions and the more they see, the faster their expertise grows. There's always a diverse clinical team to partner with, so hospital nurses know that professional resources are just a phone call away, collaboration is simpler than in other settings.
Nursing Facilities
RNs in nursing facilities have the same responsibilities as hospital nurses, but they play a greater role in managing patient care because there's no doctor on-site.
Duties include:
Administering medications and treatments
Collecting samples for off-site labs
Monitoring for changes in condition
Assisting with mobility and personal care
Managing outside appointments with doctors
Offering companionship and emotional support
Documenting care
Supporting family members
Supervising nursing assistants
Nursing facilities provide a safe, homelike environment for patients who can't care for themselves. Health goals are long-term, and the pace is slower. Patients are clinically stable, so nurses have more day-to-day responsibility and less oversight from doctors. Positions offer significant autonomy and room for advancement.
Clinics
Free-standing clinics are growing in popularity. Some are specialty-specific, such as birthing or occupational health centers. Others are general, such as urgent care facilities that offer off-hours treatment for a variety of minor illnesses and injuries.
A nurse's responsibilities in a clinic may include:
Conducting medical screenings
Checking in patients
Performing minor diagnostic tests
Taking vital signs
Assisting with exams
Suturing wounds
Managing medical records, insurance claims
In a clinic, nurses are more likely to have both clinical and clerical roles. There is fewer staff, so for nurses with an interest in both the medical and administrative sides of healthcare, employment in a clinic is less exciting than a hospital, but it offers broad exposure.
Doctor's Offices
The role of registered nurses in private practice has shifted in the past few years. Medical assistants, trained to handle minor clinical functions at this level, do many of the tasks once done by nurses. Today, RNs employed in doctor's offices have more managerial responsibilities, such as:
Patient Triage
Managing complex referrals
In-depth patient teaching
Serving as patient navigators for facility- or community-based care
Patient outreach
Working in a doctor's office is ideal for RNs with life commitments. Hospitals and nursing facilities operate 24/7, but most private practices still offer regular Monday through Friday hours. It's a perfect setting for nurses seeking a positive work-life balance.
It's also a way for RNs who enjoy big-picture care to work with the same patients day after day. Hospital nurses see patients for a brief time before discharge, an RN working in a physician's office gets to see how their stories end.
Home Health
RNs have the education, experience and autonomy to work independently in private homes. Home care is an increasingly popular alternative to receiving long-term or post-acute care in a nursing facility.
A home care RN's duties may include:
Assisting with bathing, dressing and eating
Homemaking and meal preparation
Administering medications and treatments
Monitoring changes in physical condition
Environmental safety
Managing medical equipment such as oxygen, ventilators, CPAP and feeding pumps
Supervised transportation
Home care offers a unique opportunity that other settings don't, to participate in care at the ground level. Nurses who enjoy one-on-one time with their patients can help them be safe at home by providing essential services that would otherwise require a nursing facility. Cases range from temporary post-acute care after a joint replacement to forever care for dementia.
Public Health
Public health nurses work to improve community health. Care is less one-on-one and more group oriented.
Responsibilities involve:
Analyzing health trends and identifying risk factors unique to specific demographic groups
Working with policymakers to improve access to affordable care for all communities
Designing disease prevention campaigns
Advocating for at-risk populations
Disaster relief
Promoting public safety
Contributing to public health policy
Providing direct healthcare services such as vaccination and reportable disease testing
Associate RNs often believe that public health nursing is reserved for bachelor-educated applicants, but nothing could be further from the truth. Nurses with more education qualify for more responsible positions, but most health departments have entry-level jobs for any qualified nurse.
As healthcare costs skyrocket, states are turning to public health departments to tell them how to better manage the well-being of the entire population. And because public health nurses are in demand, many offer tuition assistance programs that help associate RNs get a bachelor's degree.
Final Thoughts
Nursing is a dynamic and rewarding career with tangible benefits, and the good news is, it only takes an associate degree to become a registered nurse. The only prerequisites are a passion for helping others and the willingness to learn, two years of training takes care of the rest. Opportunities are waiting.
Did learning about where you can work with an RN associate degree interest you? The Associate of Science in Nursing degree program at Gwinnett College provides training to prepare college graduates to enter the nursing profession as a registered nurse.  Classroom theory, challenging assignments, skill labs, simulations, and clinical experiences help to prepare college graduates for an entry-level nursing position. 
Upon successful completion of the program and demonstrated nursing competence, the college graduates will be eligible to apply to take the NCLEX-RN licensure examination.*   Upon graduation and licensure, college graduates will be eligible to seek employment in hospitals, clinics, private duty, urgent and acute care centers, and various other medical or business facilities requiring the services of registered nurses.
*While Gwinnett Institute provides test preparation and review assistance to college students, it cannot guarantee any college student will be able to take or pass any type of licensure exam.  College students must be mindful throughout their entire training program that licensure is a pre-requisite for employment as a nurse and to diligently prepare themselves to meet this important requirement.
Contact us today to learn more about becoming an RN at Gwinnett College.