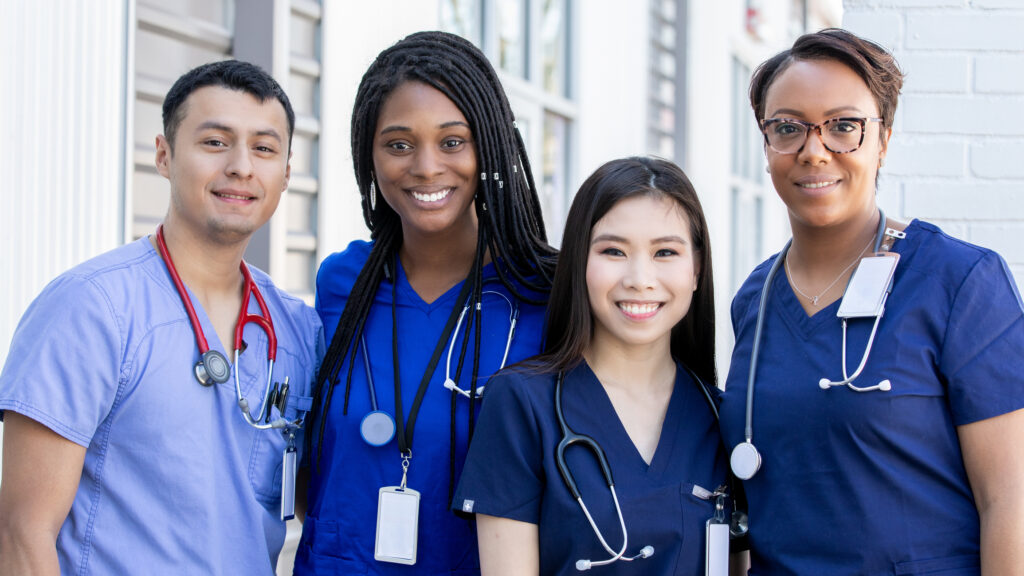 Nurses are fixtures in hospitals, clinics, doctor's offices, and nursing homes; they couldn't run without them. But today's registered and licensed practical nurses are increasingly found in a wider range of settings as communities recognize their value. Let's take a closer look at where today's nurses are making a difference.
Where Can I Work as a Nurse?
Where you can work as a nurse depends in part on your education. Both registered and licensed practical nurses are professional caregivers who work in similar settings. However, each has a slightly different skill set that's better suited for some healthcare environments than others, so their employment opportunities and job responsibilities vary.
Hospitals
RNs and LPN work side-by-side in hospitals caring for the same patients, but their scope of practice is different.
RNs have the training required to manage acutely ill patients with complex medical needs. Responsibilities include:
Planning, implementing and supervising nursing care.
Administering high-risk drugs and blood transfusions.
Pain management.
Monitoring patients for changes in condition.
Performing complex treatments.
Initiating emergency care.
Patient education.
LPNs work as bedside caregivers under the supervision of an RN, performing duties such as:
Helping patients to eat, dress and shower.
Obtaining vital signs.
Giving low-risk oral medications and injections.
Inserting urinary catheters.
Checking blood glucose.
Light wound care.
Tracking intake and output.
Assisting with therapeutic and recreational activities.
Interdepartmental transportation.
Providing emotional support.
LPNs are less independent in hospitals than in other settings because of patient acuity. And they have less direct contact with physicians and other professionals on the healthcare team, registered nurses take the leadership role. However, by taking advantage of what each does best, RNs and LPNs make an indispensable team.
Nursing Homes and Assisted Living Facilities
Nursing homes care for stable patients that need medical supervision but not hospitalization. Assisted living facilities offer medical and personal support services. Both employ registered and licensed practical nurses, but an LPN's skills were tailor-made for the role. As an LPN in a long-term care setting, you will
Assist patients with activities of daily living.
Administer medications.
Insert urinary catheters.
Track intake and output.
Dress wounds.
Collect biological samples.
Manage medical and mobility equipment.
Support family members.
Provide emergency care.
Offer psychosocial support.
Help with therapeutic activities.
Supervise paraprofessional staff.
Coordinate appointments with outside medical providers.
Assist with transportation and finances.
In nursing and assisted living facilities, LPNs work directly with professional staff and are often in supervisory positions as charge nurses or unit directors. It's a great place for entry-level nurses to spread their wings.
RNs in nursing homes also have direct care roles, performing most of the same duties as LPNs, but most assume leadership roles that also include:
Performing admission assessments.
Managing residents' psychological needs.
Administering IV medications.
Feeding tube changes.
Departmental budgeting.
Staff scheduling and supervision.
Disaster planning.
Clinics
Clinics are smaller than hospitals, but they offer more services than private practices. Cost-effective, they're growing in popularity around the country as the population becomes more mobile. Both employ nurses to help treat minor injuries and illnesses, but because clinics see a smaller volume of patients, nurses manage both clinical and administrative responsibilities.
In general, an RN's role includes:
Physical assessments
Assisting with exams
Pain management
Referrals
Documentation
Complex procedures
Patient education
LPNs:
Record health histories
Take vital signs
Collect fluid samples
Manage medical records
Assist with diagnostic testing and wound care
Clinics have fewer staff members than large facilities, so the team is tight knit. LPNs may have more of a voice in leadership matters.
Private Practices
The role of nurses in private practices has changed in the past decade. Medical assistants have largely replaced nurses as doctors' liaisons. Still, LPNs are hired to perform practical nursing tasks in offices that offer clinical services such as infusions while RNs serve as patient navigators and educators.
LPNs employed in private practices:
Triage patients.
Assist with diagnostic tests.
Give medications and perform treatments.
Manage emergency equipment.
RNs:
Manage complex referrals
Offer patient education
Serve as resource navigators
Client outreach
A private practice is an ideal environment for nurses who enjoy working with the same patients and peers every day. The circle is narrow, but it allows you to build strong interpersonal relationships.
Other benefits of working in an office environment include regular hours and a favorable work-life balance. It's a perfect schedule for parents with school-aged children.
Home Health Care
The demand for home health nurses is skyrocketing as seniors seek alternatives to institutionalized care. Both RNs and LPNs play a role, coordinating with patients, families, and medical providers to create a safe home environment for ill or aging adults who want to remain independent.
Registered nurses:
Complete admission assessments.
Ensure a safe home environment.
Manage medical equipment orders.
Follow-up on post-surgical cases.
Create individualized care plans.
LPNs follow the care plan, helping patients and their families manage:
Activities of daily living
Medication needs
Tube feedings
Mobility and transportation
Meal preparation and homemaking
Ventilator, tracheostomy, and oxygen equipment
Environmental safety
Psychosocial needs
Research shows that the involvement of nurses on the home front improves patient satisfaction with their healthcare and lowers medical costs.
Schools
As mainstreaming children with medical issues becomes commonplace, so has the need for nurses in schools. School nurses work with students, families, peers, and educators to ensure that all children can safely participate in a full range of activities.
Registered nurses take the lead by:
Identifying at-risk students.
Creating customized care plans.
Creating school-based health policy.
Managing emergency equipment.
Overseeing disaster preparedness.
Acting as administrative safety consultants.
Serving as a health safety net.
Licensed practical nurses help by:
Administering medications and treatments during school hours
Managing vaccine records
Transportation assistance
Student outreach
Recordkeeping
Public Health Departments
The recent pandemic has underscored the need for improved public health efforts. Coordinating with officials from the federal to the local level, nurses play a vital role in bringing health information and basic services to their communities.
RNs:
Analyze health data and identify at-risk demographics.
Develop wellness programs.
Serve as individual and community health advocates.
Provide disaster relief.
Promote public safety.
Work with policymakers to improve access to affordable medical care.
Practical nurses assist by:
Collecting health data.
Giving immunizations.
Providing health screenings.
While most public health nurses work in office settings, there's a growing trend toward mobile nursing. Transportation is a barrier to accessibility, but clinics-on-wheels are bringing much-needed medical services to under-served rural populations.
Industry
Occupational health nurses offer health services and safety programs to workers within industries and the community. They work with employers, staff, and government agencies to create a culture of safety. As in most settings, RNs and LPNs have different roles because of their education.
RNs:
Assess workplace health and safety issues.
Interpret OSHA regulations.
Implement safety guidelines.
Guide employees who've had workplace injuries.
Create occupational health initiatives and emergency management plans.
LPNs focus on more practical tasks, such as:
New employee safety orientation.
Drug screenings.
Personal safety device fittings.
First aid and emergency medical services.
Occupational health follow-up referrals.
As an occupational health nurse, you may work in a particular industry, such as manufacturing or agriculture, as an on-site health advocate for employees while helping employers reduce workplace injuries and associated costs. Or you can work in an occupational health clinic, following up on illnesses and injuries.
Occupational health nursing is growing as employer's credit early intervention with lower workplace injury rates and declining costs.
How Do You Become an LPN or RN?
Being a registered nurse requires a degree. The push is on nationwide for more bachelor's-educated RNs but getting an associate degree from a vocational school qualifies you for the same professional license and many of the same jobs.
Positions in management and nursing education typically require a four-year degree or higher, but getting an associate degree lets you get your feet wet. You can earn and gain experience while building on your education.
Associate degree nurses can take RSN to BSN bridge programs in which their work experience counts toward portfolio credit. In some cases, you can take fewer courses and earn a degree in under 18 months. Meanwhile, the connections you make on the job establish your reputation as a nurse and pave the way for professional growth.
If you want to become a nurse without a degree, consider becoming a licensed practical nurse. It takes a vocational school diploma. Programs focus on practical nursing tasks with no general electives required. The learning is intense, but you can graduate in under one year.
Becoming an LPN is an excellent way to break into the nursing field without breaking the bank or missing too many paychecks. It's also the perfect way for hesitant nurses to get a feel for the industry before committing to years in school.
You'll have the opportunity to explore your options, working with different types of patients in diverse environments. It's a chance to network with future employers and set career goals. Being an experienced LPN may also help you ascend the wait lists for RN programs faster.
Final Thoughts
One of the most valuable parts of a nursing career is its flexibility. You can work as an RN or an LPN in a wide range of places where the work is always interesting and opportunities flourish, you're never stuck or bored. As a nurse, the journey is as rewarding as the destination.
An easy way to launch a nursing career is to enroll in a vocational school practical nursing program. You'll graduate with a diploma in months, not years, having spent less time and money than your college counterparts to break into the industry.
Becoming an LPN is also an attractive option for students who want to be nurses but who aren't yet sure which direction they want their careers to take. Working in different settings helps you get a feel for different types of nursing. Many students start as LPNs, so they can earn while they learn, gaining experience and insight as they work toward a degree part-time.
But while experience and aptitude play a part in which jobs nurses grow into, it's important to be realistic. State law limits a nurse's scope of practice based on their training, so no matter how much enthusiasm and experience an LPN has, they will never become an RN without a degree. Practical nurses have good jobs, but opportunities for advancement are limited.
Florence Nightingale once said that nurses should never consider themselves finished with education. So, whether you begin your nursing career as an LPN, an RN, or a BSN, where you start is always less important than where you're going.
LPN Program
Gwinnett Institute in Orlando offers a Practical Nursing diploma program that trains LPN students for positions delivering basic bedside care to patients. LPN courses create employment opportunities that include entry-level practical nursing positions in long-term care facilities, nursing homes, hospitals, rehabilitation centers, urgent care facilities, occupational care centers, and physician offices.
Upon successful completion of the program and demonstrated nursing competence, the college graduates will be eligible to apply to take the NCLEX-PN or NCLEX-RN licensure examination. *  
Registered Nurse Program
The Associate of Science in Nursing degree program at Gwinnett College provides training to prepare college graduates to enter the nursing profession as a registered nurse.  Classroom theory, challenging assignments, skill labs, simulations, and clinical experiences help to prepare college graduates for an entry-level nursing position.
RN to BSN Program
The RN to Bachelor of Science in Nursing/RN-BSN program is designed to provide professionals currently licensed as registered nurses the flexibility of online study to build upon the knowledge gained through previous training and education. The RN to BSN program courses are designed to assist college students with developing the core knowledge and skills needed to provide patient-centered care and to work collaboratively with other professionals in the field.
*While Gwinnett Colleges & Institute provides test preparation and review assistance to college students, it cannot guarantee any college student will be able to take or pass any type of licensure exam. College students must be mindful throughout their entire training program that licensure is a pre-requisite for employment as a nurse and to diligently prepare themselves to meet this important requirement.
Contact us today to learn more about becoming an LPN or RN at Gwinnett College.