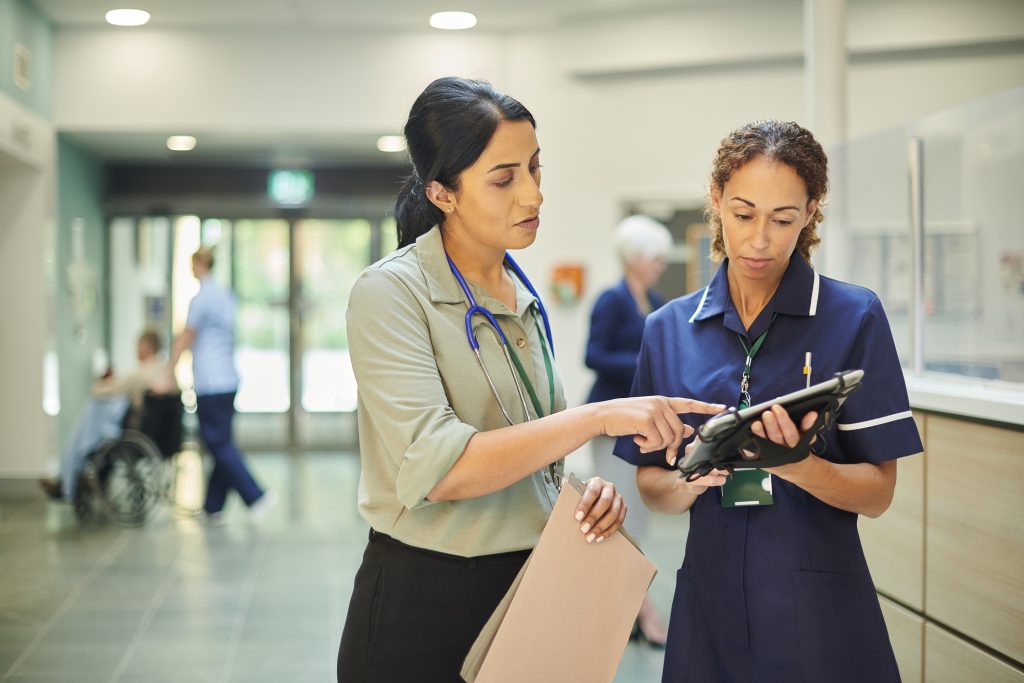 If you're a registered nurse with an associate degree, congratulations. RN programs are tough, squeezing in a lot of learning in just two years. But have you ever wondered where your career is headed in an industry defined by education? As an RN, no amount of experience is a substitute for higher learning. So, if you want to advance your career and become a leader in the nursing field, you need to earn a BSN. It's a career move you won't regret.
What Is a BSN Degree?
A BSN is a Bachelor of Science in Nursing degree. For first-time nursing students, it takes four years to complete. For RNs with an associate degree, program lengths vary from 18 to 24 months. The curriculum builds on your existing knowledge and work experience to take your skills to the next level.
What Do You Learn in an RN to BSN Degree Program? 
The RN to Bachelor of Science in Nursing/RN-BSN program gives registered nurses a way to earn a bachelor's degree without starting from scratch. Courses are built on your work experience, taking a deeper dive into topics only touched upon in RN programs. Students are prepared to assume management and leadership positions in public and private healthcare settings. Courses include:
Quality and Safety in Nursing and Health Care
Beyond entry-level nursing principles, this course focuses on the broader concepts of patient safety, quality improvement and evidence-based practice within the nursing field and in the healthcare industry as a whole. Students explore:
Patient safety concepts — how to promote a culture of safety within healthcare organizations through risk assessment and harm prevention.
Healthcare quality frameworks — established quality improvement models, such as Lean, Six Sigma and the Plan-Do-Study-Act (PDSA) cycle.
Quality improvement strategies — methods for assessing and enhancing the quality of patient care, including root cause analysis, measuring outcomes, identifying areas for improvement, and implementing changes to meet performance goals.
Evidence-based practice — how to appraise research findings and apply evidence to clinical decision-making.
Healthcare regulation — an overview of the regulatory bodies that set standards for healthcare quality, safety, and best practices.
Risk management — how to identify, assess and manage risks in complex healthcare environments.
Incident reporting — reporting near misses, adverse events, and medical errors to comply with regulations and promote transparency within healthcare organizations.
Human factors engineering — how to prevent healthcare errors by influencing human behavior.
Health technology and informatics — the use of technology, such as electronic health records and barcoding systems, to prevent medical mistakes and improve safety.
Palliative Care
Palliative care optimizes the quality of life for people with complex or terminal illnesses. BSN topics include:
The history of palliative care — the philosophy, evolution, and goals of palliative care.
Pain relief and symptom management methodology — using medications and non-pharmacological interventions to alleviate the physical and cognitive impact of serious disease.
Psychosocial support — how to provide psychosocial support to patients and their families, addressing the many psychological, emotional, spiritual, and social impacts of illness.
Communication — how to have open conversations with patients and families about sensitive topics, including prognosis, treatment options and end-of-life planning.
Advanced Care Planning — a look at advance directives, living wills, healthcare powers-of-attorney and other tools for documenting patients' end-of-life wishes.
Grief and bereavement — how to support families during the end-of-life phase and in the aftermath of a loved one's death.
Palliative care settings — exploring the challenges of palliative care in acute and long-term settings from hospitals to nursing homes.
Interdisciplinary collaboration — how to work effectively with physicians, social workers, chaplains, and other team members to provide comprehensive palliative care.
Holistic Approach to Health Assessment
Students in this class learn how to perform comprehensive health assessments from a holistic perspective, considering not only a patient's physical health but also their psychological, emotional, social, and spiritual well-being. You'll learn more about:
Taking health histories — how to gather the most accurate and relevant health information through patient interviews and documentation analysis.
Physical examination techniques — advanced assessment methods for major body systems, including how to adapt techniques for different patient populations, from infants to the elderly.
Communication skills — how to build trust and establish rapport with patients through therapeutic communication techniques, such as active listening, asking open-ended questions and conveying empathy.
Mental health assessment — assessing patients' mental health and emotional well-being, including how to recognize signs of anxiety, depression, and other common psychological disorders.
Patient-centered care — strategies for effective communication, shared decision-making, and patient engagement in care planning.
Cultural Competence — the importance of cultural awareness and how patients' cultural beliefs, values and practices impact health and care preferences.
Health promotion and education — how to educate patients during the assessment process with an emphasis on lifestyle choices, chronic disease management and preventive care.
Ethical Issues in Nursing
This course equips nurses to navigate and guide others through the moral complexities of healthcare. Students discuss:
Ethical theories and principles — how ethical theories, such as utilitarianism, deontology and relativism can guide ethical decision-making and behavior in nursing practice.
Patient autonomy and informed consent — the importance of respecting patients' autonomy and obtaining informed consent for medical procedures and treatments.
Confidentiality and privacy — the legal, moral, and ethical implications of sharing and securing sensitive health information.
End-of-life care — the ethical considerations surrounding end-of-life care, including decisions about withholding or withdrawing treatment, do-not-resuscitate (DNR) orders and honoring patients' advance directives.
Resource allocation — discussions about equitable distribution of care, triage protocols and balancing the needs of different patient populations where resources are scarce.
Diversity considerations — ethical dilemmas related to discrepancies between cultural norms and medical recommendations.
Patient advocacy — a review of advocacy as a core nursing responsibility, including how to promote patients' rights within the healthcare system.
Professional boundaries — the legal and ethical implications of maintaining appropriate professional boundaries with patients, families, and colleagues, including boundary protection strategies.
Research ethics — the moral considerations in nursing research, including informed consent for research participation, protection of participants' rights and responsible research conduct.
Organizational Ethics — addressing ethical challenges related to healthcare organizations, such as conflicts of interest, corporate influence, and the nurse's role in promoting ethical practices at the institutional level.
Whistleblowing — personal and occupational considerations for reporting misconduct and unsafe practices.
Nursing Leadership and Management
Today's BSN students are tomorrow's leaders. This course prepares you for supervisory, oversight and management roles. Concepts include:
Leadership styles — the impact of various leadership theories, such as transformational, transactional, situational and servant leadership, on team dynamics and organizational culture.
Management functions — the fundamental functions of management, including planning, organization, and delegation.
Interpersonal skills — how to better communicate with peers and motivate staff.
Team building — building cohesive healthcare teams through collaboration, communication and leveraging the strengths of team members.
Change management — how to facilitate smooth transitions, manage resistance to change and promote a culture of adaptability in the workplace.
Quality improvement — the use of data analysis and performance metrics to improve patient outcomes.
Budgeting and resource allocation — how to manage healthcare resources effectively, including budgeting for staffing, supplies, and equipment.
Strategic planning — how to align nursing goals with the broader mission and vision of a healthcare institution.
Legal considerations — balancing patient and staff rights as a nurse leader.
Performance evaluation — performance appraisal techniques for nursing staff, including feedback, goal setting and motivation.
Conflict resolution — how to identify and address conflicts within the healthcare team, including proven strategies for resolving disputes and promoting a positive work environment.
Healthcare policy — how nurses can contribute to shaping healthcare policies that benefit both patients and the nursing profession.
Professional development — the importance of continuous professional development for nursing leaders and managers, including ways to further your education as a supervisor and encourage staff training.
What Are the Benefits of Getting a BSN Degree? 
A BSN degree offers personal and practical benefits, including:
Advanced Clinical Skills
BSN programs offer more comprehensive training, helping you develop the advanced competencies employers need. RN students get less clinical exposure, leading to potential gaps in critical skills that can take years on the job to fill.
Greater Job Opportunity 
Many healthcare facilities, especially hospitals, now prefer or require nurses to hold a BSN. Research consistently suggests that hospitals with a higher proportion of BSN-prepared nurses tend to have better patient outcomes. Having a four-year degree opens up a wider range of job opportunities and increases your chances of being hired in your choice of settings, particularly in competitive job markets.
Professional Autonomy
All nurses are autonomous professionals. But BSN-prepared nurses have stronger knowledge-based critical thinking skills, enabling them to assess complex situations, analyze data and make well-informed decisions. Within the healthcare team, you'll have more professional independence and take a more active role in patient care decisions.
Foundational Education
If you plan to pursue specialized nursing roles, such as nurse practitioner, clinical nurse specialist or nurse anesthetist, a BSN is a prerequisite for the MSN required for these jobs. BSN programs also emphasize continuous learning, a must for growing your career.
Networking Opportunities
BSN programs help students connect with peers, faculty, and healthcare professionals, creating a valuable support network. You may find a mentor, a role model who can guide your professional development. You may also learn about potential job openings through word-of-mouth referrals while cultivating personal and professional recommendations.
Research Opportunities
Nursing research is among the topics that associate degree programs don't address in-depth. BSN education, however, introduces you to research concepts. You'll be better equipped to establish studies, evaluate research findings, and collaborate with academic professionals. Having a BSN qualifies you for jobs as a research or clinical trial coordinator.
Leadership Development 
BSN programs make the most of your leadership abilities, cultivating critical skills through classroom education, clinical experiences, and self-reflection. You'll be encouraged to build on your strengths, identify your weaknesses and develop the self-awareness required of leaders. No degree guarantees you a leadership position, but earning a BSN puts you in the best position to move up the career ladder.
Final Thoughts
All RNs have the same professional license. They work side-by-side in the same facilitates doing similar tasks. But with knowledge that only BSN programs can provide, only bachelor's-educated nurses have an inside track to professional growth. Every accomplishment in nursing begins with the decision to learn.
RN to BSN Program
The RN to Bachelor of Science in Nursing/RN-BSN program provides professionals currently licensed as registered nurses the flexibility of online study to build upon the knowledge gained through previous training and education. The RN to BSN program assists college students with developing the core knowledge and skills needed to provide patient-centered care and to work collaboratively with other professionals in the field.
*While Gwinnett Institute provides test preparation and review assistance to college students, it cannot guarantee any college student will be able to take or pass any type of licensure exam. College students must be mindful throughout their entire training program that licensure is a prerequisite for employment as a nurse and to diligently prepare themselves to meet this important requirement.
Contact us today to learn more about becoming a bachelor's degree in Orlando at Gwinnett Institute.