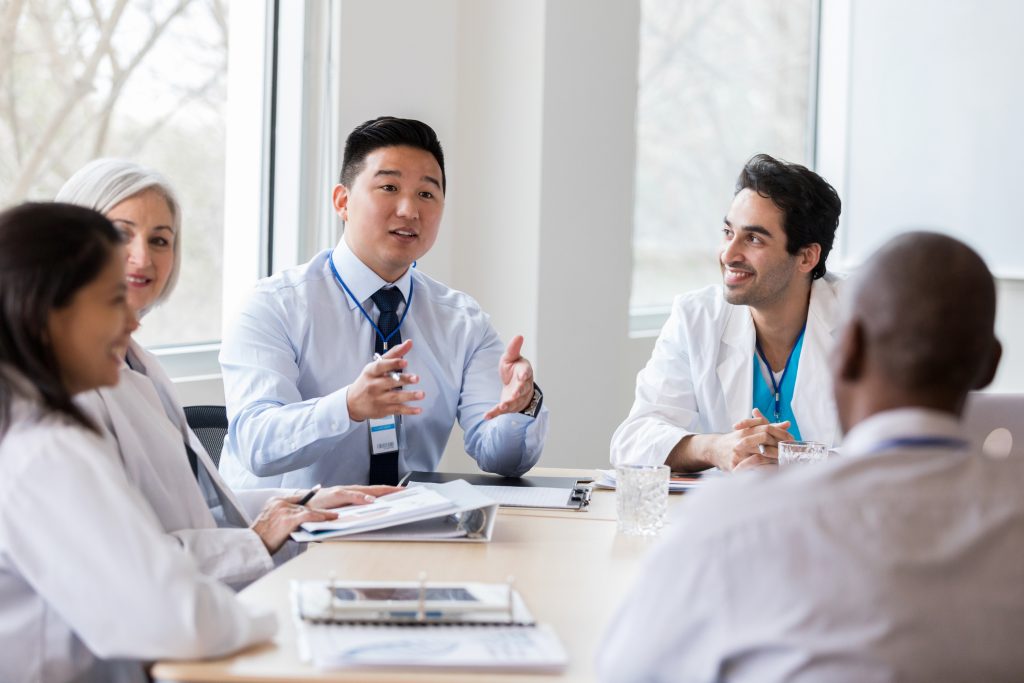 "Medical administration" is an umbrella term for administrative healthcare careers. Jobs are typically divided into two categories, office, and general administration. Both are excellent choices for organizational geniuses with good communication skills and leadership ability. But the roles are very different.
What Does a Medical Administrative Assistant Do? 
Medical administrative assistants manage clerical and administrative responsibilities in healthcare settings. Their diverse skills and ability to multitask contribute to the overall quality of patient care wherever medicine is practiced.
The work includes:
Appointment Scheduling
Medical administrative assistants manage the scheduling of patient appointments, ensuring that physicians' schedules are well-organized and properly spaced to accommodate different types of visits while optimizing productivity and minimizing patient wait times.
Front Desk Operations
Medical administrative assistants greet patients, answer phone calls, and oversee hospitality services while managing the flow of patients through the reception area. They set the pace for the entire team.
Patient Registration
Part of the front-office staff, medical administrative assistants collect patient information, verify insurance details and update data in electronic health records (EHR).
Medical Records Management
Healthcare is data driven. Medical administrative assistants maintain paper and electronic recordkeeping systems, ensuring that patient files are organized, accurate, readily accessible, and securely stored.
Billing and Coding
As team players, medical administrative assistants help the back office with billing tasks, such as processing insurance claims, obtaining service pre-authorizations, collecting copayments and reconciling credit card remittances.
Transcription
Medical administrative assistants may transcribe physician dictation into written reports, including medical histories, examination notes, and treatment plans.
Correspondence and Communication
Medical offices receive high volumes of mail, e-mails, and faxes. Administrative assistants sort and distribute communication, flagging priority messages and handling responses when needed.
Maintaining Supplies
Medical administrative assistants ensure that offices are adequately stocked with the necessary supplies, from printer paper to paper clips. They might also care for office equipment, such as printers, managing routine maintenance and ink and toner orders.
Client Care
As ambassadors of first impressions, medical administrative assistants serve as liaisons between patients and their healthcare team. They ensure compliance with environmental and safety regulations and provide a welcoming atmosphere for patients and other guests.
What Does a Medical Administrator Do? 
Medical administrators oversee the operational aspects of healthcare facilities. This could include supervising a single department, managing one or more aspects of facility management such as finance, or assuming leadership of entire facilities. It's a much broader role.
Responsibilities may include:
Strategic Planning 
Strategic planning is the process of setting goals, making informed decisions, and allocating resources to achieve a facility's long-term vision. Medical administrators explore the internal and external factors affecting organizational goals and develop action plans to accomplish growth and sustainability initiatives.
As leaders, they:
Identify facility strengths, weaknesses, and growth opportunities
Assign human, financial, and technological resources to support strategic planning
Monitor performance metrics
Develop risk mitigation strategies
Collaborate with stakeholders to achieve objectives
Promote a culture of integrity, teamwork, and productivity
Manage marketing and community outreach efforts
Regulatory Compliance
Regulatory compliance in healthcare refers to adhering to the laws, regulations, standards, and guidelines imposed by government and accrediting agencies.
Whether for a unit or a facility, medical administrators:
Manage facility licensing and certification processes
Oversee data security
Develop emergency response plans
Implement workplace safety measures
Prepare for accreditation surveys
Handle incident reporting
Workforce Management
Medical administrators manage the recruitment, training, and supervision of employees. Some take an active role in the hiring process while others create workforce development policies to guide others.
Depending on the role, job responsibilities may include:
Coordinating recruitment efforts
Developing job descriptions
Reviewing resumes and conducting interviews
Determining wage and benefit packages
Sourcing liability insurance
Developing orientation and training programs
Creating personnel policies
Organizing team-building activities
Promoting an inclusive workplace environment
Managing labor disputes and contract negotiations
Ensuring facility adherence to labor regulations
Care Coordination
A healthcare facility's greatest objective is to provide a pleasant and seamless patient experience. Medical administrators provide the supervision and leadership necessary to bring together the key players in that effort.
Responsibilities include:
Developing patient care protocols
Optimizing staffing levels
Facilitating interdepartmental collaboration
Budgeting for care coordination processes
Implementing performance improvement strategies
Engaging community partners
Establishing performance metrics
Healthcare Technology and Informatics Implementation
Medical administrators play a crucial role in implementing and managing healthcare technology.
Their focus is on:
Identifying areas where technology and data can be leveraged to meet operational goals
Assessing new technologies
Performing cost-benefit analyses on technological upgrades
Developing policies and procedures related to health information technology and data security
Working with personnel managers to implement staff training on new technology
Facility Oversight
Mid-level medical administrators manage daily operations in facilities large and small.
The work encompasses:
Overseeing facility improvements
Budgeting for repairs, renovations, and maintenance
Managing inventory
Negotiating supply contracts
Developing waste management programs
Implementing security measures to protect patients and assets
Establishing data access policies
Coordinating the use of facility space
How Do You Become a Medical Administrator or Administrative Assistant? 
Different roles require different training. Formal education isn't always mandatory for this position, but healthcare is a unique and complex industry that requires a special skill set.
Vocational school programs cover the many skills students need to succeed as medical administrative assistants. While skills from previous jobs may be transferable, most people don't have the necessary background in healthcare to thrive in this role without training. Many employers prefer hiring work-ready candidates with proven skills, so having a degree gives you an edge when competing against experienced candidates for the best jobs.
The curriculum covers topics such as medical terminology, healthcare law and medical coding, preparing graduates for entry-level front-office positions, such as patient registrar, medical biller, medical records specialist, and patient account representative. It also qualifies you for career-boosting certifications. The CMAA certificate is offered by the National Healthcareer Association (NHA). To be eligible, you usually need to complete an accredited medical administrative assistant program and pass an exam.
Medical administrators can launch their careers with a degree. The advanced curriculum covers topics from healthcare finance and operations to medical law and leadership skills. Graduates are qualified for entry-level roles from department managers to practice administrators. With experience, certification and continuing education, qualified candidates can grow into mid- and executive-level positions.
What Does the Future Hold for the Medical Administration Field? 
Today's students are rightfully concerned about the future. Once-dependable careers are less secure as technology takes center stage. But the medical administration field is poised for continued growth, tasked with meeting the challenges of a rapidly expanding healthcare industry, including:
Technological Integration
Technology has the potential to make healthcare more accessible, effective, and financially sustainable, but there's a steep learning curve. Medical administrators will take the reins, preparing their organizations for upgrades from digital recordkeeping systems and data analytics tools to remote work and telehealth service platforms.
Data-Driven Decision-Making
Medical knowledge is growing exponentially as healthcare providers try to keep up. One solution has been to deploy clinical decision-making tools that help doctors track new developments and best practices. Medical administrators will establish these and similar information support systems as part of strategic planning. The goal is to provide more efficient, evidence-based healthcare.
Workforce Diversity and Inclusion
Medical administrators will play a leadership role in fostering diverse and inclusive work environments that reflect the communities they serve. Cultural change starts at the top with decision-makers who lead through education and by example.
Regulatory Compliance 
Every new process in the healthcare field demands more regulation. Medical administrators will need to think ahead by creating proactive policies and training initiatives that keep organizations in compliance.
Financial Stability
The shift from fee-for-service to value-based care models reflects issues in healthcare funding. Medical administrators will be asked to focus on optimizing outcomes while controlling long-term costs through innovation and better care coordination.
Workforce Development
The evolving nature of healthcare requires a well-educated and versatile workforce. Medical administrators must emphasize professional development among clinical staff, ensuring that they stay competent so that facilities can remain competitive.
Accessibility
Despite our best efforts, some health services remain inaccessible for large parts of the population. Medical administrators will collaborate with private and public health agencies to address disparities in healthcare access and outcomes.
Environmental Sustainability
Healthcare organizations are increasingly focusing on sustainability and environmental impact. Administrators will participate in projects designed to reduce waste, minimize energy consumption, and promote eco-friendly practices.
National and Global Health Integration
The recent pandemic and natural disasters underscore the importance of interconnectivity in healthcare. Medical administrators will manage local, national, and international collaborations to improve crisis preparedness.
Public Policy Making
National healthcare policy dictates much of what occurs at the organizational level. Regulations are both necessary and frustrating. But medical administrators have seats at the table, and with their input, government agencies can craft better policies that are more responsive to the needs of patients, communities, and healthcare facilities.
Final Thoughts 
The medical administration field will continue to evolve in response to the changing healthcare landscape. Industry professionals will need to be adaptable, tech-savvy and dedicated to improving patient outcomes. Where you begin your career matters less than cultivating the skills required to prosper in a changing world, skills that begin with the right education.
Now that you know what the role of a medical office assistant is, do you want to learn more? Start by attending a school that offers one of the best Medical Office Administration training programs in Sarasota, FL. An Associate of Science in Medical Administration from Meridian College prepares you for the day–to–day challenges of managing a healthcare organization. You'll also benefit from better work hours, advancement opportunities and greater financial security.
Contact Meridian College today to learn more about becoming a medical office administrator.