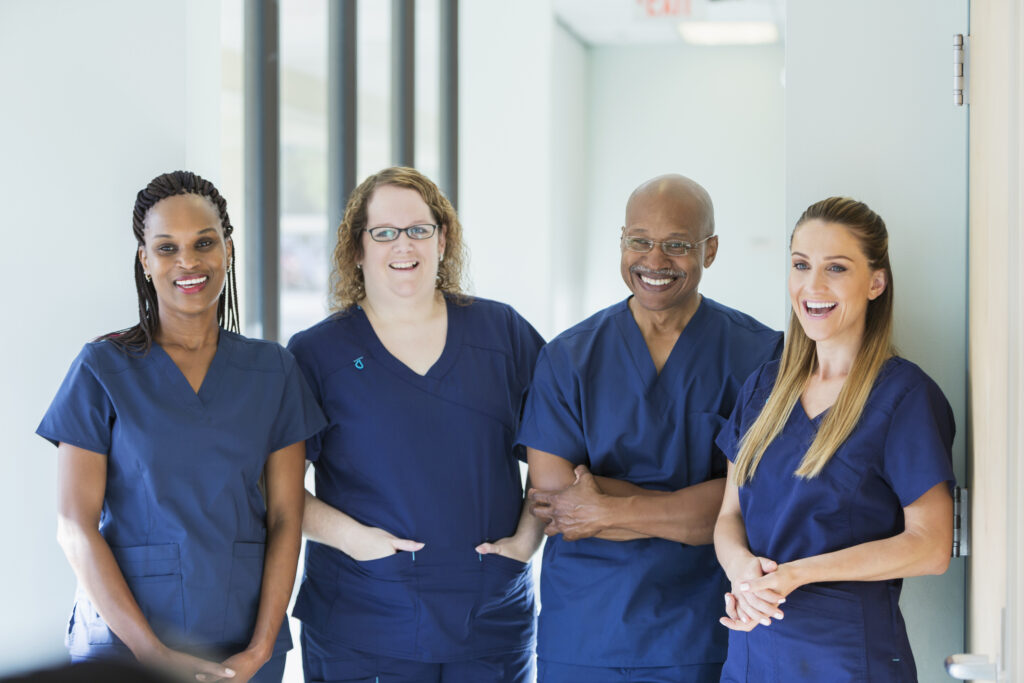 Are you considering becoming a medical billing and coding specialist but want to know more about the profession? Careers in healthcare offer excellent stability, have great advancement potential, and provide rewarding professional challenges that help you grow. Countless clinical and non-clinical professionals contribute to patient care and the ongoing success of the healthcare system. You can too!
Medical billing and coding is a career for individuals interested in helping patients but do not want a hands-on patient care role. Are motivated problem solvers who thrives in dynamic environments that demand focus and attention? If so, then becoming a medical billing and coding specialist may be the right career path for you.
The administrative side of healthcare requires an understanding of clinical principles and business practices. This dual knowledge makes you an indispensable team member because you must reconcile patient care with the reimbursement cycle. Medical billing and coding is a multifunctional discipline with quality assurance, invoice creation, and collaborative duties.
What are a Medical Billing and Coding Specialists' Core Roles?
To work as a medical billing and coding specialist, you must learn multiple tasks. While the profession is evolving and your employer will want you to complete ongoing training, the fundamental principles and skills are consistent. Your position may focus on a narrow set of tasks as part of a larger team that handles medical claims, or you may be a generalist, working on each claim from start to finish.
Typically, a hospital system or large medical facility divides work and expect medical billers and coders to specialize. Smaller clinics or doctor's offices may have you handle chart review, coding, claim submission, and collections solely on your own.
The versatility to find the type of role and size of employer you want is one of the career's many advantages. As you grow into your position, you may determine whether a specific skill appeals to you or whether you enjoy the diversity of operating as a generalist. There are ample opportunities for medical billing and coding specialists regardless of their preference. Remaining flexible will also maximize your career opportunities.
Medical Billing Basics
Your medical billing tasks will be guided by industry-wide bill generation and submission standards and practices. The standard rule is "if it's not documented, it didn't happen." Each day, you will review medical records, including chart notes, narrative reports, and diagnostic imaging summaries, to determine what happened during an appointment.
You'll then assess which diagnoses and services must be coded and submitted to insurers for payment. You'll issue bills on standardized forms that conform to regulations and insurers' internal policies.
ICD-10, CPT, and HCPCS
Federal law stipulates that all bills are submitted in a uniform way using a standardized coding language. Each day you'll read clinical information compiled by doctors and nurses and distill that data into billable codes that tell insurance companies what happened during an appointment.
You'll use the International Statistical Classification of Diseases and Related Health Problems (ICD-10), Current Procedure Terminology (CPT-4), and Healthcare Common Procedure Coding System (HCPCS). These systems are precise and detailed because accuracy is vital to safe and successful treatment. You'll need to understand anatomy and physiology terminology so you can create bills that comprehensively document the appointment or procedure.
Advanced Clinical Coding
Medical treatment involves comprehensive physical exams, collections of detailed patient histories, diagnostic testing, interventions, and simple to complex procedures. Medical coders compile this data, confirming accuracy and completeness, and then translate it into the ICD-10 system.
You need an advanced understanding of physiology and pathophysiology to understand the full spectrum of disorders, illnesses, and chronic issues affecting patients. Medical coding requires you to leverage a formal education to research clinical information because it's impossible to prepare for every scenario. You'll also need to understand illnesses well enough to collaborate with clinical staff to obtain amendments to incomplete records and get clarification on your questions.
Inpatient Coding
Record review and coding for inpatient clinical cases is necessary for hospitalized patients who receive extensive care over multiple days. You'll need to read dense records kept by physicians, nurses, and aides to sift through pertinent medical data and identify services that must be coded and billed.
Inpatient coding requires a broad knowledge base and comfort with the unknown because hospital admissions can be for any possible medical condition. Depending on the length of the patient's stay, medical records can be extremely long, complex, and include medical care, surgical intervention, and multiple types of therapy.
Coding Operative Reports
Interventional procedures like dermatological excisions, routine appendectomies, and complex neurosurgeries are also coded for reimbursement. You'll read detailed operative reports that chronicle each step of an operation and create bills based on the documentation.
Coding operative reports requires you to understand the conventions and terminology of surgery, nuances of various procedures, and the medical necessity requirements that satisfy a proper bill.
Operative coding will require deep reading about the procedure, review of preoperative evaluations and testing, and perseverance as the cases can be highly time-consuming and complex.
Health Information Technology
Federal mandates require the creation of electric medical records across the full spectrum of healthcare services so most of your work will be computer-based. You may navigate a unified system to review, code, and submit bills. Other employers will have separate systems dedicated to each task, requiring you to adapt to multiple software platforms.
You'll also maintain information security to keep your network safe and guard patient information. Medical billing and coding specialists communicate protected health information to outside parties, like insurance companies, other medical providers, and patients. You'll need to be vigilant for potential threats and always adhere to information security best practices outlined by HIPAA guidelines.
Why is a Medical Billing and Coding Specialist Important?
Medical billing and coding specialists are vital because they manage high-level administrative tasks that fall under rigorous internal and strict government standards. Although you won't directly interact with patients, your work is an added layer of accountability for clinical staff.
Medical billing and coding specialists ensure documentation rules and guidelines are upheld. This quality assurance keeps everyone safe because complete documentation is vital for patient protection. Furthermore, your administrative work allows doctors to focus on patient outcomes while you navigate the gap between the art of medicine and the business side of the industry.
Cooperation is essential in healthcare settings. You must effectively collaborate with fellow medical staff to ensure timely filing deadlines are met and follow-up is executed on outstanding claims.
In addition, medical billing and coding specialist's relationships with clinical staff are critical for both patient safety and institutional success. You will be a source of clarification for practitioners working through the record-keeping requirements and reinforce the importance of accurate notetaking.
How Do You Become a Medical Billing and Coding Specialist?
Medical billing and coding is a field that requires in-depth knowledge of science, business practices, technology, and federal regulations. Successful medical billing and coding specialists are creative problem-solvers who are organized, perseverant, and able to prioritize tasks.
Completing a medical billing and coding program through a vocational school is an easier way to become a medical billing and coding specialist. Comprehensive training programs are ideal for students who want to complete their education and rapidly enter the workforce.
Medical Billing and Coding Theory
Your instruction will center around the guiding theories behind medical billing and coding. Establishing strong conceptual knowledge will help you work confidently because you'll understand the how and why behind your on-the-job tasks.
Real World Experience
Vocational schools also ground your learning in real-world examples. By using in-depth case studies of real-world scenarios, live software that you can use in a controlled environment, and practice tasks, you'll acquire the practical skills needed for your career. Upon graduation, you'll have already done many of the duties you'll be expected to perform as a medical billing and coding specialist.
Shapes Soft Skills
A vocational education also shapes the soft skills needed to thrive. Medical billing and coding specialists must be calm, adaptable, and able to research. No coursework can prepare you for every single case you will bill throughout your career. However, you'll develop investigatory skills and clinical fluency so you can analyze problem cases and challenging assignments. You'll then learn where and how to search for answers.
Where Can You Work as a Medical Billing and Coding Specialist?
Every single healthcare provider, clinic, and facility needs medical billing and coding specialists. Without you, they would be unable to collect compensation for their work. Additionally, complementary business and support services also need you to review and respond to bills. The following are the most common employers.
Doctors' Offices
Every doctor's office needs medical billing and coding specialists, whether it's a single provider or a group practice. In these environments, you're likely to interact with doctors, patients, and other administrative staff. You'll develop close relationships with providers. These opportunities provide flexible hours, certain benefits, and a slower-paced work environment.
Hospitals and Medical Facilities
Hospitals see a constant flow of patients that are treated and discharged. If you work for a hospital, large clinic, long-term care center, or other medical facilities, you'll be part of a team of medical billing and coding specialists. You'll work in an office setting, usually within the facility but away from patients.
Hospitals and medical facilities are faster paced, with higher case volumes and tighter deadlines. Working for a hospital provides a broader support network of fellow medical billing and coding specialists and managers who help you adapt to revisions in the billing regulations.
Insurance Company
Working for an insurance company or bill review agency moves you further away from patient contact. Just as clinicians need medical billing and coding specialists translate their medical records, insurers need staff that can read bills.
Working at an insurance company will require you to audit submitted claims and their supporting documentation to ensure invoices are legitimate and justified. You'll make determinations based on the patient's coverage and issue payment, denial, or request for follow-up information.
Government Agency
Medicare, state Medicaid programs, and other Health and Human Services agencies hire medical billing and coding specialists. Working for a government insurer is like working for a private insurer. You'll be required to adhere to coverage standards and review patient cases consistent with the regulations.
Experienced medical billing and coding specialists can secure positions as auditors and investigators. Credentialing and compliance agencies conduct routine reviews of physicians' and medical facilities' records to ensure documentation regulations are followed.
Want to Learn More?
Gwinnett Colleges & Institute's Medical Billing and Coding programs will provide you with the opportunity to learn insurance coding and processing, medical administrative procedures, and the regulatory requirements in the healthcare delivery system.  School externships provide the opportunity to apply the medical billing and coding skills learned in the classroom in actual medical settings. Gwinnett Colleges & Institute offers medical billing & coding courses to gain essential skills and training to achieve entry-level positions in this career field. These medical billing & coding courses will be the first step in starting a rewarding career.
Contact us to learn more about how you can become a medical billing and coding specialist today.