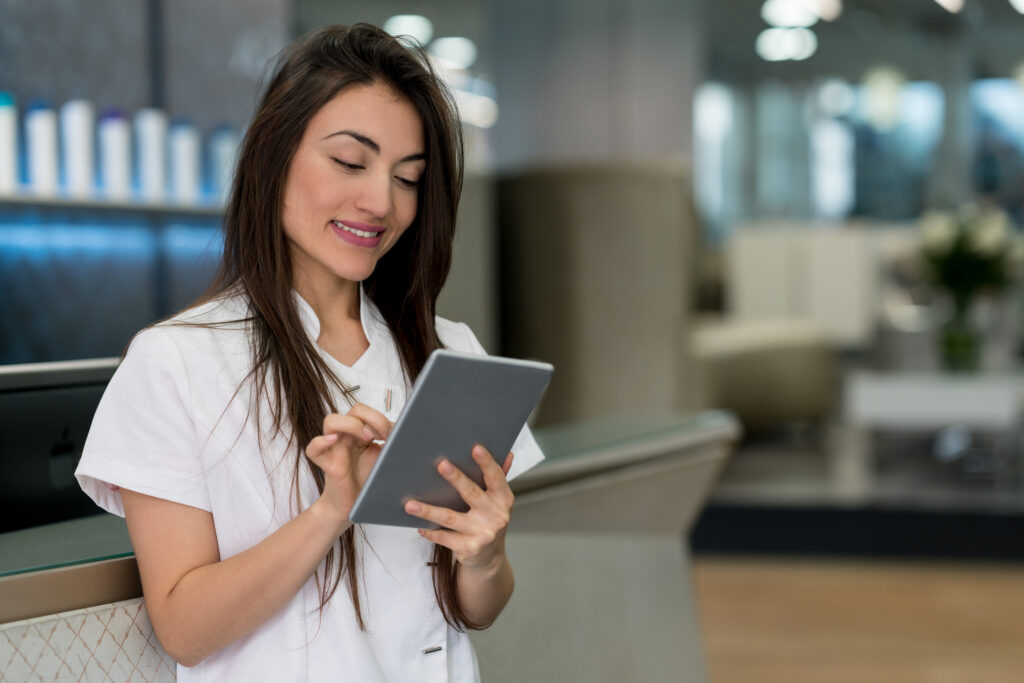 Are you passionate about massage and want to manage a spa? Not sure if you need to get a degree to be a spa manager? There are many reasons to get a massage and spa management degree before becoming a spa manager, however is it required?
Do You Need a Degree to Be a Spa Manager?
Although technically, you won't need a degree to become a spa manager, you will be more successful and garner more respect from an employer if you have both a degree and massage license. There are also some permits and licenses you will need to start a massage business and they might require a massage license. The requirement for getting a massage license is the completion of an accredited massage therapy program.
Why Get a Degree to be a Spa Manager?
There are many reasons to get a degree before working in a spa management position. From working your way to the top to jumping in when its busy, having a degree will suit you well as you manage a spa full-time. The reasons to get a massage and spa management degree include:
Work Your Way to the Top
Many spa managers will start as massage therapists and work a few years before they decide to manage a spa. This is also the path of many massage business owners. How can you expect your employees to trust you unless you have a degree in massage therapy? Getting a few years under your belt working for a spa and obtaining your degree will give you a competitive advantage when it comes time to apply for a spa management position.
Know Proper Massage Technique
Knowing proper massage techniques will help you better manage your massage therapist. If you know what they are supposed to do, then you will be better at managing them. You will be able to give better feedback, understand if a massage therapist is using improper technique, and help train them on new techniques and protocols.
Jump in When Its Busy
Sometimes it will get busy, and you won't want to turn anyone customers. One poor experience is enough to turn off customers from a spa. If you have a massage degree and license, you can jump in when it gets busy, and help out your fellow massage therapists. This will also bring respect and credibility from employees and customers alike.
Handle Complaints Better
Some customers will come to you with specific complaints about technique and you should be able to explain proper procedure and massage technique to diffuse the situation. Customers will also respect you more if you have a degree, because you will better understand the terminology of massage and speak from experience.
Train New Employees
Although, most of your employees will have a degree in massage, but it is up to you to teach them the nuances of the job that are particular to your spa. As you work in the industry, you will pick up tips and tricks that allow for a better massage experience and you can pass this down to your employees.
What Do You Learn During a Massage and Spa Management Degree Program?
The Massage and Spa Management program includes courses specific to the practice of massage as well as courses to be used in the administration of a practice. You will be exposed to concepts in organization and management, marketing, hospitality management, and finance as well as be introduced to the use of office applications like Microsoft Word and Excel.
What Massage Techniques will You Learn?
There are many massage techniques that you will learn during your massage and spa management program. They include:
Swedish Massage
Swedish massage is used to increase the level of oxygen in the blood, decrease muscle toxins, improve circulation and flexibility while easing tension. During a Swedish massage, you lubricate the skin with massage oil and uses various massage strokes. The movements warm up the muscle tissue and release tension.
Deep Tissue Massage
As a massage therapist, you use slow strokes that focus pressure on layers of muscle, tendons, and deep tissues under the skin. Deep tissue massage can be used for chronic pain or medical disorders. This massage technique breaks up scar tissue and breaks down any bands of painful tissue that can disrupt circulation, which cause pain, increase toxins, and limit range of motion.
Chair Massage
Chair massage is a mobile way for you to help clients as they sit leaning forward in a chair made specifically for chair massage. You will massage the neck, shoulders and back to relieve stress and tension in the upper body. Since it is mobile, you can help clients in many different environments including at an office, retail store, or any location that a massage is needed. The benefits of chair massage include lowering anxiety, increasing circulation, relieving muscle pain and headaches, and reducing stress.
Sports Massage
Sports massage helps athletes before, during and after sporting events. This massage technique focuses on the areas of the body that are overused and stressed from repetitive movements. Sports massage promotes flexibility to prevent injuries and aids in healing after competition. It can help athletes improve flexibility, reduce fatigue, improve endurance and range of motion, help prevent injuries, and prepare the athlete for optimal performance.
Shiatsu
Shiatsu is a technique known for its holistic approach to massage. It helps balance the body, while alleviating physical pain and discomfort. Shiatsu is helpful for clients dealing with anxiety, depression, or chronic stress. This massage technique is also found to improve symptoms associated with migraines and headaches. Shiatsu is a good massage technique to use for clients experiencing other ailments, such as fibromyalgia, chronic fatigue, and lower back pain.
Lymphatic Massage
The lymph nodes, in the body, are responsible for the effective draining and movement of bodily fluids throughout each of the 14 body systems. Having a properly balanced flow of lymph fluids can improve a client's immune system, as well as promote deeper relaxation. A properly performed lymphatic drainage massage can provide several health benefits, including the reduction of muscle soreness and swelling due to fluid retention.
Cranial-Sacral Therapy
Tension, anxiety, and other chronic conditions often appear in the form of physical symptoms such as headaches, stiff neck muscles, and other issues. Cranial-Sacral therapeutic techniques have become a popular treatment for clients experiencing physical ailments. Sessions involve a light, purposeful touch, as you assess each part of the body for tension and other energy imbalances.
Thai Massage
Thai massage is one of the oldest therapeutic techniques, This massage technique can significantly improve pain and tension throughout the body. Thai massage involves active participation from the client, and is performed by using different moves, pressure, and stretching techniques to facilitate total body relaxation. Clients experience lower stress levels, increased energy, improved blood flow and circulation, as well as a better range of motion with the help of Thai massage.
Hot Stone Massage
Hot stone massage uses smooth, basalt mineral stones which are heated and combined with oil. This massage technique helps relieve muscle stiffness and reduces fatigue while restoring body energy. The hot stones may be placed on the body, including spine, back, neck, arms, legs, and feet. You may hold the hot stones as you massage the body using long strokes, circular movements, vibration, tapping and kneading.
Reflexology
Reflexology theorizes that different pressure points on the hands and feet correspond to different parts of the body. With reflexology, you will use your hands, thumbs, and fingers to stimulate areas of the client's hands and feet. The pressure on the hands and feet helps relay messages of relaxation to connected parts of the body. Reflexology helps relieve tension, improve circulation, and support of the function of the 14 body systems.
What Can You Do With a Massage and Spa Management Degree?
Whether you are looking to start your own spa or want to manage an existing spa, with a massage and spa management degree, you can obtain employment as a sole practitioner in massage, a spa manager, clinic manager, spa trainer, or shift leader in the spa industry. A massage and spa management degree is a great first step to a career as a spa manager or owner.
Final Thoughts
Now that you are ready to manage a spa, it is time to take the first step and learn more about the Massage and Spa management program at Gwinnett College. We will give you the knowledge and skills to start managing a spa after graduation. It is up to you to manage the budget and attract the clients, but we are here if you need anything else after graduation. From networking opportunities to continuing education classes and career services support. We put your education first.
Want to Learn More?
Gwinnett College also offers a degree program in Massage & Spa Management for students attending the Lilburn, GA campus. The Associate of Science Degree in Massage and Spa Operations is designed to provide you with the additional knowledge and practical skills to transition into positions of leadership within the spa environment or to better function as a proprietor of your own massage business. The program includes core curriculum courses specific to the practice of massage as well as courses to be used in the administration of a practice.
Contact us to learn more about how you can become a massage therapist today.