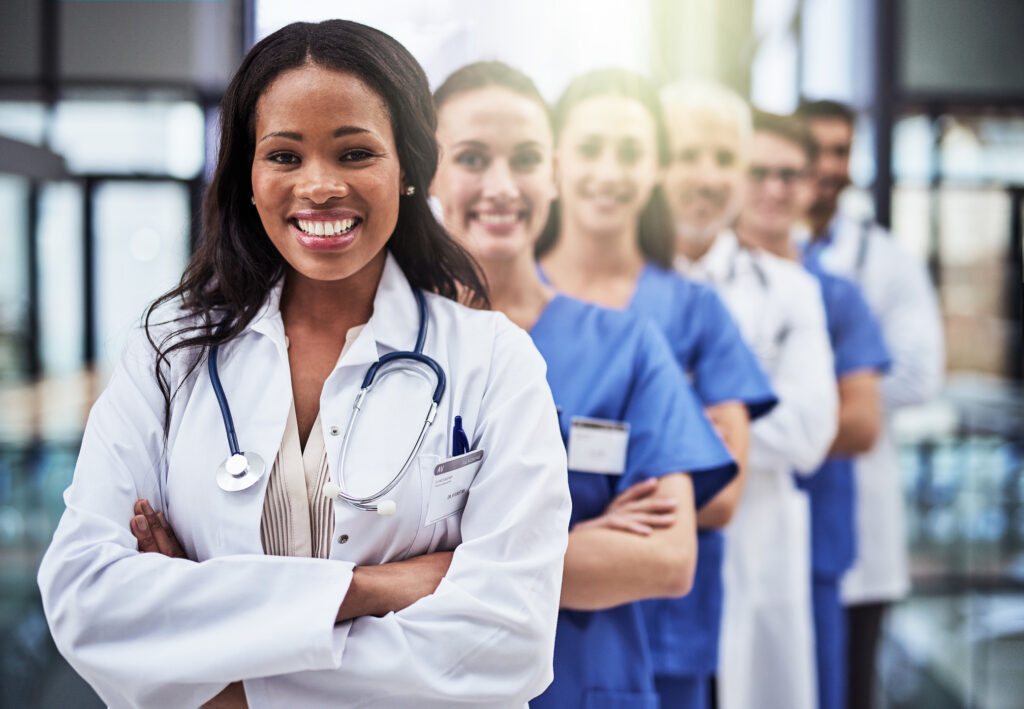 Medicine is a team sport, it's less about doctors and more about a community of committed experts working together to meet patients' wellness goals. Known as allied health professionals, they're a diverse group of clinical and administrative specialists who bring unique talents to the team. In demand, they're the future of healthcare.
What is an Allied Healthcare Professional?
The Association of Schools of Allied Health Professions defines allied health professionals as workers "that deliver services involving the identification, evaluation and prevention of diseases and disorders; dietary and nutrition services; and rehabilitation and health systems management."It's a growing field that includes a wide range of technicians, therapists, technologists, clerical specialists, and administrators.
Over half of US healthcare workers are classified as allied health professionals. Some are clinical experts while others have support roles. But each is necessary to achieve the best health outcomes. Allied healthcare professionals include:
Speech, occupation, and physical therapists
Paramedics and EMTs
Nurses
Dietitians
Midwives
Audiologists
Nurse anesthetists
Billing specialists
Medical coders
Office managers
Hospital administrators
Dental hygienists
Pharmacy technicians
Phlebotomists
Laboratory technologists
Chaplains
Psychologists
Counselors
Radiology and ultrasound technicians
Medical assistants
Massage therapists
Why Do Allied Health Professionals Matter?
As healthcare becomes more complex, no single professional has enough training to meet every need. Doctors take the lead, but they depend on experts in complementary fields to provide more in-depth or far-reaching care than they can offer. They collaborate directly and casually to:
Improve Patient Care
When it comes to medicine, many minds make light work. Each professional's knowledge and experience contribute to more comprehensive and holistic patient care. It's a win-win for patients who benefit from wide-ranging expertise and doctors who can relax, knowing they're free to concentrate on what they do best.
Keep Communities Healthy
The recent pandemic showcased the importance of allied health professionals in trying times. As the crisis unfolded, it was all hands on deck to identify and treat the ill. From the medical office assistant that answers telephones in private practices to the nurse that provides home healthcare when hospitals are full, each played a role in helping communities cope. It's a lesson well learned with future implications now that the crisis has passed.
Frontline allied healthcare professionals are better positioned than doctors to identify health needs among the vulnerable who struggle with resources. Together, they form a network of gateways through which patients can access care. As the shortage of primary care physicians worsens, they will play an increasingly important role.
Chart the Future of Healthcare
Healthcare professionals are becoming more dependent on each other for support. It will take their combined vision to address the problems we face as a nation. As a group, they're best equipped to diagnose emerging issues as we create a more equitable healthcare system. The future of medicine will be built on a collaborative foundation.
Popular Allied Health Professions
Allied health professionals have hundreds of different job titles, but these professions are among the most popular.
Registered Nurse (RN)
Registered nurses plan, provide and supervise nursing care in a wide range of settings from hospitals to homes. Autonomous professionals, they collaborate closely with other allied healthcare workers to provide quality patient care. While the push is on for more RNs to have bachelor's degrees, associate degree nurses have the same professional licenses and qualify for most of the same jobs. Their responsibilities include:
Create care plans
Assessing patients for changes in condition
Administering medications
Performing treatments
Providing emergency care
Managing medical equipment
Assisting with activities of daily living
Supervising practical nurses and paraprofessional staff
Educating patients
Licensed Practical Nurse (LPN)
LPNs are entry-level nurses with vocational school diplomas. LPNs can build on their training while they work and gain experience. Like RNs, they're licensed and can fill many of the same roles. But their responsibilities are more practical and include:
Helping patients bathe, dress, eat and use the toilet
Taking vital signs
Inserting urinary catheters
Monitoring intake and output
Administering medications
Performing basic treatments
Testing blood glucose
Wound care
Assisting with therapeutic exercises
Collecting lab specimens
Maintaining feeding tubes
Supervising paraprofessional staff
Patient and family education
Medical Assistant
Medical assistants manage clinical and administrative tasks in office settings. Ubiquitous in doctor's offices, they support physicians, nurses, billing staff and office managers. Duties include:
Triaging phone calls
Rooming patients
Taking vital signs
Collecting biological samples
Updating health records
Performing diagnostic tests
Phlebotomy
Ordering supplies
Sterilizing equipment
Assisting with minor surgical procedures
Basic wound care
Patient education
A diploma is generally expected by employers and required for most certifications. Full-time students can complete the program in less than a year.
Medical Office Assistants
Medical office assistants are clerical support specialists, they handle the many administrative tasks that are part of every patient visit. It's a non-clinical role with responsibilities including:
Switchboard management
Data entry
Updating patient demographics and insurance information
Patient screening
Filing
Sorting mail
Interoffice communication
Assisting with billing
Ordering office supplies
Accepting payments
Becoming a medical office assistant is ideal for people who enjoy science and medicine but prefer not to be direct caregivers. There are no firm education requirements, but practically speaking, a diploma is a must. Students attending full-time can obtain a diploma in months, rather than years.
Medical Billing and Coding Specialist
Nearly all healthcare bills in the US are covered by insurance. Medical billing and coding specialists handle the claims. They work in hospitals, clinics and private practices managing billing and other financial activities, such as:
Medical coding
Obtaining insurance pre-authorizations
Completing and submitting health insurance forms
Troubleshooting rejected claims
Posting payments
Collections
Light accounting
Like medical office assistants, higher education isn't mandatory for medical billers, but it's expected and essential for certification. The field is complex, and few would thrive without extensive training or experience. Full-time programs can be completed in months, rather than years.
Medical Office Administrator
The definition of a medical office administrator varies. Jacks-of-all-trades, they do whatever is necessary to keep doctor's offices running smoothly. Duties may include:
Managing human resources
Customer service
Setting departmental budgets
Monitoring revenue
Making large purchase decisions
Marketing
Depending on their education and experience, their job description may look more like a medical office assistant's or an office manager's. The medical office administrator diploma program takes less than a year.
Massage Therapist
Massage therapists work with clients directly to relieve stress, reduce muscle pain and rehabilitate injuries through bodywork. Embraced by mainstream medicine as an alternative to surgical or pharmacological treatments, manipulating soft tissue is scientifically proven to improve health and enhance mobility. Students in massage therapy programs learn more than bodywork techniques. They delve into:
Anatomy and physiology
Kinesiology — the study of movement
Nutrition
Aromatherapy
Medical ethics
Therapeutic communication
Massage therapy is a fast-growing field with self-employment potential, so a well-rounded education is necessary to function as an allied healthcare professional. Graduates are well-versed in holistic care. Training can take up to two years depending on students' desired credentials.
Is There a Need for Allied Health Professionals?
As the American population ages, they need more access to preventive health services. Employment in allied healthcare occupations is projected to grow 16 percent through 2030, adding more than 2.6 million new jobs according to the U.S. Bureau of Labor Statistics.
Students training in allied health today will have more opportunities than many other occupational groups. As careers in some industries fade, replaced by technology, the medical field remains vibrant.
How To Become an Allied Health Professional
Allied health professions require different levels of education, but there are dozens of job titles to choose from that don't require spending years in a 4-year college to train for. The easiest way to get started is to get a diploma or an associate degree from a vocational school. Programs are lifestyle friendly and include far-reaching benefits, such as:
A Comprehensive Education
Vocational school programs are shorter than degree programs because they focus on practical courses. You'll graduate in a fraction of the time by eliminating unnecessary electives. The education, however, is no less complete. Graduates are well-prepared for entry-level positions and poised for professional growth.
Certification Preparation
Certification is how job applicants demonstrate their competency. It looks great on a resume and serves as a foundation for continuing education, but it takes work. Vocational schools teach to the test, so students are prepared to seek credentials upon graduation.
Career Services
The public rarely knows about the best job openings, many jobs are never posted. Instead, employers work with local schools to fill their positions with qualified applicants. As a graduate, you'll be in the right place at the right time.
Final Thoughts
Allied health professionals are the bedrock of the healthcare system. Millions strong, they need millions more to join their ranks. There are opportunities in the field for dedicated individuals with a wide range of aptitudes and career goals. Enthusiasm is the only requirement. Vocational schools take care of the rest.
Registered Nurse Program
The Associate of Science in Nursing degree program at Gwinnett College provides training to prepare college graduates to enter the nursing profession as a registered nurse.  Classroom theory, challenging assignments, skill labs, simulations, and clinical experiences help to prepare college graduates for an entry-level nursing position.
LPN Program
Gwinnett Institute in Orlando offers a Practical Nursing diploma program that trains LPN students for positions delivering basic bedside care to patients. LPN courses create employment opportunities that include entry-level practical nursing positions in long-term care facilities, nursing homes, hospitals, rehabilitation centers, urgent care facilities, occupational care centers, and physician offices.
Upon successful completion of the program and demonstrated nursing competence, the college graduates will be eligible to apply to take the NCLEX-PN or NCLEX-RN licensure examination.*  
*While Gwinnett Colleges & Institute provides test preparation and review assistance to college students, it cannot guarantee any college student will be able to take or pass any type of licensure exam. College students must be mindful throughout their entire training program that licensure is a pre-requisite for employment as a nurse and to diligently prepare themselves to meet this important requirement.
Medical Assistant
Gwinnett Colleges & Institute offers medical assisting program courses to gain essential skills and training to achieve entry-level positions in this career field. These courses will be the first step in starting a rewarding career. All Gwinnett College & Institute campuses offer diploma programs with the Orlando, Lilburn, Marietta, and Sandy Springs also offering medical assisting associate degree programs.
Medical Billing & Coding Specialist
Gwinnett Colleges & Institute offers medical billing & coding program courses to gain essential skills and training to achieve entry-level positions in this career field. These medical billing & coding diploma and degree courses at the Orlando, Marietta & Lilburn campuses will be the first step in starting a rewarding career.
Medial Office Administrators
The Associate of Science Medical Administration program prepares Gwinnett College students for entry-level positions as medical office administrators. Graduates of this degree program will have the technical & professional-interaction skills necessary to function in the demanding medical industry. 
Massage Therapist
The massage therapy training diploma program consists of a well-planned sequence of courses, with each course preparing the college student for the more intensive information to follow. The school curriculum includes training to provide college students with the scientific knowledge, manual skills, and mastery of business to successfully become a professional massage therapist.
Contact us today to learn more about becoming an allied health professional at Gwinnett College.