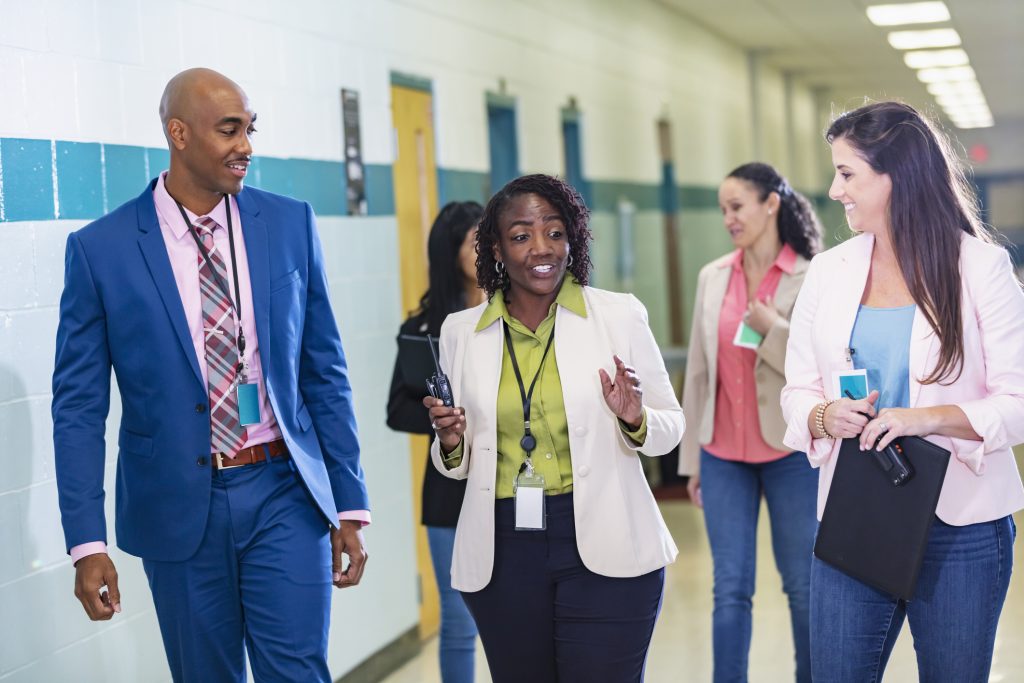 Today's students are looking for alternatives to the traditional college experience. As an investment, four-year degree programs don't always hit the mark. Training is an investment, so it should teach relevant skills that meet your career goals.
What Is a Vocational Program?
Vocational programs are practical, job-focused training courses offered by career, trade, technical and vocational schools. Tracing back to Colonial America where young adults developed occupational skills through apprenticeships, they're nothing new.
The first modern-day vocational school that combines classroom learning with hands-on experience was established in the 19th century. Since then, the concept has been refined to apply to a wide range of training options with an emphasis on meeting labor market demands. Vocational schools train people for jobs that are available now.
What Are the Benefits of Attending a Vocational School?
Vocational schools offer personal and practical benefits for diploma and degree students, such as:
Accessibility
The college application process is complex and often cumbersome, beginning a year or more before enrollment. Applications are lengthy, students are asked to fill out forms, write essays, take standardized tests, provide transcripts, and submit letters of recommendation. It's overwhelming, and most institutions receive more applications than they have openings. So, even well-qualified candidates are left behind despite having met the requirements.
Vocational schools recognize that all students deserve a quality education without the hassle. Admissions are less competitive for most programs, and the entire process is streamlined. Students benefit from fewer deadlines, less paperwork and an enrollment schedule that accommodates last-minute applicants.
Career-Focused Training
Career-focused training programs eliminate most of the enrichment courses required by traditional colleges. You won't waste time taking classes that don't teach job-relevant skills. Students in diploma programs can graduate in a fraction of the time it takes to get a degree. You'll be work-ready in 1-2 years or less.
A Competitive Advantage in the Workforce
In a perfect world, people could get on-the-job training without sitting in a classroom. But it's expensive and risky for employers who prefer well-trained applicants with proven skills. The learning curve is too steep to get most jobs without an education or experience. A certificate, diploma or degree from a vocational school is the competitive advantage you need to land your dream job, especially when you're competing with experienced candidates.
Certification and Licensing Preparation
Professional certifications and licenses demonstrate competency. There's no better way to show prospective employers that you're a good investment.
For some jobs, such as nursing, a license is required. Other fields rely heavily on certifications. Vocational school programs prepare students for licensing and certification exams by incorporating the test material into courses.
Small Class Sizes
The hustle and bustle of college isn't for everyone. Some students prefer a personalized learning environment where they can feel more connected to their peers.
Because hands-on training requires more individual supervision, vocational classes are smaller. Instructors have more time to spend with each student, and students have more opportunities to engage with classmates.
Career Services
Vocational schools do more than train you for a career, they help you find a job. By partnering with local businesses, they have an inside track to positions that may not be publicly posted. Career advisers work with both students and employers to find matches. The best vocational schools offer lifetime support.
What Are Some Examples of Vocational Programs?
Vocational programs include job-specific training in occupations, such as computer operations, administrative assistant, cosmetology and more. But many of the most meaningful are in the medical field. The healthcare system is expanding, and with it comes a rare opportunity, vocational schools are seizing the day by preparing the next generation of healthcare workers.
Programs include:
Medical Assisting
Medical assistants perform clinical and administrative tasks in healthcare offices, working with medical professionals and administrators to deliver top-quality care. Job responsibilities include scheduling appointments, managing medical records, rooming patients, billing, and coding, and performing diagnostic tests.
Medical Assisting programs offer a broad curriculum designed for beginners. You'll learn about:
Anatomy and physiology — how the body is made and how it functions at the cellular and systemic levels.
Pharmacology — the study of medications and how they're used to prevent or treat medical conditions
Clinical procedures — instructors walk you through how to take vital signs, give shots, and perform diagnostic tests.
Phlebotomy — you'll learn how to draw blood and process samples.
Laboratory procedures — topics include how to collect biological samples and use laboratory equipment, including microscopes, centrifuges, and autoclaves
Infection control — how microorganisms cause disease and what you can do to protect yourself and patients.
Billing and coding — the use of medical codes for reimbursement purposes
Medical law and ethics — a review of the regulatory and ethical concerns common in healthcare offices
Office procedures — faxing, filing, electronic communication, and recordkeeping systems
Students are prepared for nationally recognized certifications and entry-level positions in hospitals, clinics, private practices, and other medical facilities.
Medical Billing and Coding
Medical billing and coding specialists handle health insurance claims and billing duties in medical offices. Responsibilities include submitting insurance claims, tracking payments, creating invoices, and light accounting. You'll work with administrators and peers to keep accounts in order. This program teaches:
Medical terminology — the language of medicine, including acronyms and abbreviations
Anatomy and physiology — topics are related to medical billing and include common conditions, related diagnostic tests and treatments.
The principles of health insurance — the inner workings of public, private and group health coverage systems
EHR — how to research electronic health records for medical data
Billing and coding — billing practices and the coding systems used to categorize conditions and medical services
Medical law and ethics — billing restrictions and patient privacy regulations
Graduates are prepared to work for healthcare facilities, private practices, insurers, and billing services.
Medical Office Administration
Medical office administrators handle the front-office work in healthcare facilities. They work with patients, clinicians, and administrators to direct workflow. Duties include taking phone calls, managing the schedule, checking in patients, and collecting payments.
The curriculum covers:
Medical terminology — you'll be familiarized with the terms you'll hear from clinicians and callers
Scheduling — how to use software to keep track of employee schedules, identify scheduling conflicts, and improve efficiency.
The check-in process — you'll learn to collect, enter, and correct personal and insurance data
Communication —topics include electronic communication equipment, cultural competency, conflict resolution, and professionalism.
Billing and coding — the role of medical office administrators in the billing process
Regulatory compliance — how to follow rules, regulations, and best practices in medical settings
Nursing
Vocational schools may offer more than one type of nursing program. Those that are designated as colleges may offer nursing diplomas or degrees. All programs share common elements.
Student nurses learn about:
Anatomy and physiology — this is an introductory course, but the instruction is more in-depth than it is for medical assistants or medical office administrators. Students take a deeper dive into biochemistry and genetics.
Pathophysiology — how doctors identify the causes and effects of illness and disease
Pharmacology — medication administration is a large part of a nurse's job. This course covers drug classifications, administration methods, side effects, and safety protocols.
Nursing fundamentals —include the many processes and procedures nurses participate in based on their level of education. In this course, students learn to assist patients with hygiene and mobility, manage medical equipment and perform procedures, including wound care and catheterization.
Medical law and ethics — students explore the many legal and ethical questions surrounding clinical practice from patient privacy to end-of-life care.
Massage Therapy
Not all healthcare workers wear scrubs. If you have a passion for wellness and an interest in complementary medicine, massage therapy may be the field for you. Massage Therapy programs cover the theoretical knowledge and hands-on techniques necessary to perform different types of bodywork. The curriculum covers:
Anatomy and physiology — students learn about the effects of massage on different body parts.
Infection control and safety — you'll learn to create a safe working environment through proper hygiene, sanitation, and safety protocols.
Pathophysiology — you'll study the common disorders and injuries for which clients are often referred. You'll learn to recognize contraindications and safety issues.
Massage techniques — how to perform the most popular types of massage including Swedish, deep tissue and sports massage.
Business and communication skills — you'll learn about the business aspects of running a massage therapy practice such as marketing, client retention, recordkeeping, and financial management.
After graduation, you can practice independently or partner with a healthcare provider.
Final Thoughts
If you're ready for a new career without the wait and pressure associated with going to a 4-year college, take a closer look at what vocational schools can offer, comprehensive training, lifestyle-friendly programs and a better future.
Want to Learn More?
Are you ready to start a new vocational career in business, legal studies or healthcare at Gwinnett College? Because you are making the commitment to seek career-focused technical training and vocational education, we commit ourselves to providing you with exceptional customer service each step of the way.  
Contact Gwinnett Colleges & Institute today to learn more about attending a vocational school.