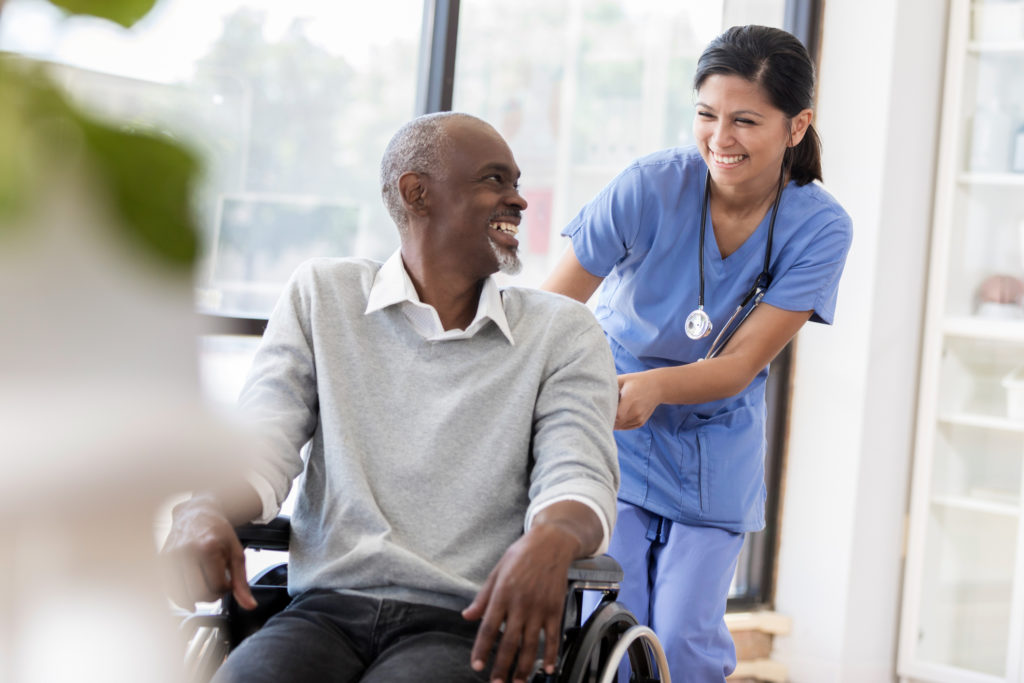 In 2016, the population of Americans over 65 years of age reached 50 million. By 2040, that number will rise to more than 83 million as scores of baby boomers reach retirement age, according to the Administration on Aging. Who will care for these vulnerable seniors? With primary care providers stretched to their limits, it's the perfect mission for professional geriatric nurses.
Why are American Demographics Changing?
America's changing demographics are a reflection of a steep increase in births following the end of World War II. Between 1946 and 1964, the United States experienced unprecedented economic growth. Couples felt secure starting families, and today, their children are known as the Baby Boomers. They're the largest group of medical consumers in the country, and their needs are growing. State and federal spending on healthcare for people over 65 is expected to double in the next two decades.
What is geriatrics, and How Can Nurses Help?
Geriatrics is the study and care of aging adults. It focuses on the physical, emotional and social needs of the elderly, and it's deeply rooted in preventive medicine.
Aging is not an illness, it's a perfect storm of physiological and cognitive changes that increase a seniors' susceptibility to disease and loss of independence. Unlike generations past when elder parents were cared for by their adult children, the Baby Boomers want to take care of themselves. It's a concept called aging in place, and it has benefits for both patients and the healthcare system on the whole.
Today's seniors want to:
Live comfortably and safely in their own homes
Remain active and independent
Manage their long-term healthcare expenses
Enjoy personalized, holistic care
But unlike young adults, seniors face a broader range of complicated medical issues, including:
Chronic disease
Impaired mobility
Higher rates of acute illness and injury
Sensory changes
Cognitive decline
These issues are not only threats to their health, but they also impact their ability to take care of themselves and live at home safely. For every senior who ends up in a nursing facility because of disease, there are others with equally complex illnesses who successfully age in place because they have a better support system.
How can geriatric nurses help? The focus of geriatric nursing is different than for other age groups. Emphasis shifts from curing disease so patients can return to a normal life, to managing illness and promoting independence. By intervening early in the lives of seniors, geriatric nurses create a safer living environment that supports well-being. Whether that's in a facility or at home, geriatric nursing seeks to help aging adults live the best lives they can despite their challenges.
Where Do Geriatric Nurses Work?
From preventing disease and injury to advocating for safe housing and nutrition programs, geriatric nurses help seniors meet their needs wherever they may be.
Hospitals
Geriatric nurses in hospitals see patients mostly due to injury or for exacerbations of chronic disease. But in addition to tending to their physical health, nurses caring for the elderly must also consider patients' long-term well-being. An otherwise healthy adult with a broken leg can still care for themselves at home with adaptive equipment. With crutches, they can cook, bathe, pay their bills and arrange for their medical aftercare. They can manage their own pain medication, and there's not much risk of secondary injury or illness.
But a senior with a similar injury is at a much higher risk for developing complications. Perhaps their mobility was already limited, or they're forgetful due to cognitive decline. Even with the right equipment, they may not have the physical strength or clarity of thought to avoid injury. They may struggle to fix meals or remember when to make a follow-up appointment with the doctor. Since pain and pain medications affect seniors differently, life-threatening adverse effects are possible.
In a hospital setting, nurses work with case managers and social workers to ensure their patient's care continues at home by arranging for home health services or a temporary stay at a rehabilitation center.
Rehabilitation Facilities
Rehabilitation centers are places where seniors who are ready to leave the hospital, but who are not well enough to return home, can go for additional monitoring and therapy. Because most patients are stable, their care is a perfect match for the skills of LPNs.
In addition to administering medication and monitoring for changes in condition, geriatric LPNs help their patients work toward independence through education. They work in concert with therapists to promote healing and to give seniors the skills they need to be safe in their own homes.
Nursing Homes and Assisted Living Centers
More geriatric nurses work in long-term care than in any other setting. Seniors who are not safe to live alone or have medical needs that exceed what a home care nurse can provide can receive temporary or life-long care in centers explicitly designed for their age group.
Nursing homes and assisted living centers are institutions dedicated to helping them live to the fullest. Nurses take care of residents' daily needs and support their social wellness through activities while empowering them to make their own decisions. Their foremost mission is to make the facility as home-like as possible.
Doctor's Offices
An LPN working in a doctor's office is ideally positioned to help seniors who want to age in place. They see them early in the course of illness and can intervene before complications snowball. Private practices are fast becoming hubs for senior care, initiating home nursing, therapy and social services when it becomes evident that seniors need assistance. So-called community case managers work with seniors, their families and interdisciplinary teams of medical professionals to ensure home support addresses all activities of daily living.
Hospices
Seniors with terminal illnesses may seek care through hospice. Built on a life-affirming, holistic philosophy, hospice emphasizes comfort when curative medical interventions become futile.
Geriatric hospice nurses care for their patients' physical needs, managing their pain and assisting with activities of daily living, but they also provide social, emotional and spiritual care. As a patient advocate, a geriatric nurse supports the needs of terminally ill seniors and their grieving family members. Patients with tough-to-manage pain may receive hospice care in a hospital or nursing facility, but most services are provided at home.
Public Health
Managing seniors' medical needs is paramount to both their health and to control medical expenditures nationwide. Public health departments recognize that as the Baby Boomers reach retirement age, most will lose their employer-based insurance coverage and transition to Medicare, America's national health insurance program for those age 65 and older.
Controlling costs requires lowering the incidence of disease and injury, but it's not easy. How do geriatric public health nurses help? It begins with programs that support seniors at home.
Safety, nutrition and transportation are top concerns. When the elderly can no longer drive, even simple activities such as cooking healthy meals and seeing the doctor can be a challenge. By seeking out seniors who can benefit from services such as Meals on Wheels and handicapped-accessible transportation, geriatric nurses improve their well-being and access to essential care.
As the population of seniors who have no immediate family members nearby to care for them, geriatric public health nurses are the medical community's eyes on the ground. They visit homes to conduct safety assessments, and when a senior can't get to care, they bring it to them. Mobile immunization initiatives, for example, bring vaccines for flu and pneumonia to senior centers and private homes, saving both lives and millions of dollars in unnecessary hospitalizations.
Home Care
Geriatric nurses may also work exclusively in private homes. While nursing assistants provide most personal care, LPNs manage medications and services that require professional assessment such as wound care or tube feeding. In most cases, the cost of supportive care at home is significantly less than comparable full-time care at a nursing home.
Tips for Interacting with Seniors
Research shows that seniors are more likely to act on medical advice when they trust their provider. Geriatric nurses can build trust by being respectful, recognizing sensory changes, supporting seniors' autonomy, and keeping things simple.
Being Respectful
Seniors may have child-like needs, but they're still adults who have paid their dues, they deserve respect. Nurses should avoid negative stereotypes suggesting elderly persons can't be productive or are cognitively impaired. Instead, they should focus on the individual while still remaining generationally sensitive.
Recognizing Sensory Changes
Age-related changes in hearing and vision can affect how seniors communicate. Adaptive equipment such as hearing aids and eyeglasses can help. But because nurses have vital medical information to share, they should assess patients for sensory impairments and adapt their teaching methods as needed. A hearing-impaired patient, for example, may appreciate written material while a senior with poor eyesight may prefer verbal instructions or paperwork in large print. Well-informed patients trust their healthcare team.
Supporting Seniors' Autonomy
Aging adults, including the Baby Boomers, hold generational world views that others may not understand. They can struggle to communicate with well-meaning doctors and family members who assume they can't make sound decisions just because they disagree with their recommendations. As a patient advocate, a geriatric nurse engenders trust by supporting seniors' right to make their own decisions whenever possible.
Keeping Things Simple
Seniors come from a simpler time. As people, they're less introspective, and they don't appreciate unnecessary complexity. Nurses can build trust by offering clear and simple medical information.
Final Thoughts
If the growing number of seniors who need care is a problem, then geriatric nurses are the solution. Their medical know-how and accessibility make them the ideal team members to bring older adults the advanced but holistic care they deserve.
Did learning about the aging population and nursing geriatric patients interest you? Are you ready to become a licensed practical nurse? Gwinnett Institute in Orlando offers a Practical Nursing diploma program that trains LPN students for positions delivering basic bedside care to patients. The Practical Nursing diploma program provides the didactic and skills training needed to take the NCLEX-PN examination.*
*While Gwinnett Institute provides test preparation and review assistance to college students, it cannot guarantee any college student will be able to take or pass any type of licensure exam. College students must be mindful throughout their entire school training program that licensure is a required prerequisite for employment as a nurse and to diligently prepare themselves to meet this important requirement.
Contact us today to learn more about becoming a licensed practical nurse at Gwinnett College.