Nursing Pinning Ceremony
Join us in congratulating our newest Graduate Nurses as they get ready to attend their Pinning Ceremony on May 12, 2017.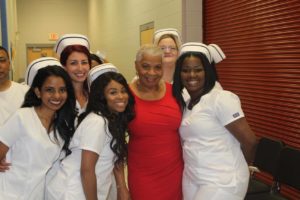 The Pinning Ceremony is a time-honored nursing school tradition that carries personal meaning for both the Practical Nursing and Registered Nursing students and is an extremely proud moment for the faculty.  The ceremony is rich with symbolism that initiates our students into the brotherhood and sisterhood of Nursing as they are pinned by a licensed nurse, usually one that has made a significant impact on the students, either through their schooling here at Gwinnett Institute or through their personal lives.   At the ceremony they will also be taking their Florence Nightingale Pledge to bring honor and distinction to the nursing profession as well as to Gwinnett Institute.  This night is a symbol of the hard work, late nights, and dedication that the students have put into their education in order to complete their program.  So don't forget to come support your favorite nurse on the 12th!