Congratulations Medical Arts School Graduates!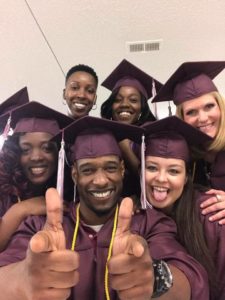 Congratulations to The Medical Arts School's Spring 2017 graduating class. The graduating class from Friday, April 21, 2017 officially marks the end of an era as it is the last graduating class of "The Medical Arts School" in Raleigh.  In the final Medical Arts School commencement, we had 45 total graduates.  Of these, 23 of these graduates were from our Massage Therapy program, 16 came from our Medical Assisting program, and 6 from our Medical Office Administration.  Congrats to all of you and we can't wait to see what the future holds for you.
Don't be too sad about our last graduation, though.  The tradition of outstanding grads from our school won't end, rather they'll now be graduating as Gwinnett College graduates in Raleigh.  We expect to continue to produce fantastic graduates at our Capital B0ulevard/Spring Forest location for many years to come in our Medical Assisting, Medical Office Administration, Massage Therapy, and Paralegal Studies programs.