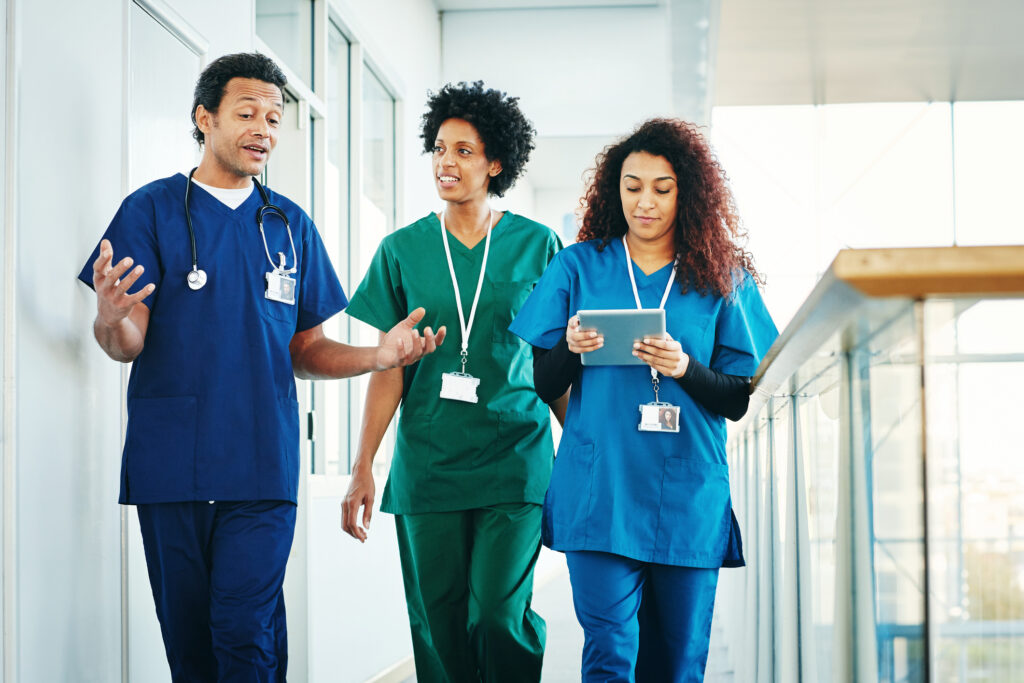 Nursing has always been a noble career choice, but it hasn't always been easy to join the medical field. However, today the healthcare system is expanding, and there's an unprecedented opportunity and growth potential for licensed practical nurses. If you're passionate about helping others, seize the day.
What Does an LPN Do?
An LPN is a fully credentialed, entry-level nurse. Under the supervision of a doctor or registered nurse, they provide direct patient care in a wide range of health settings from hospitals and long-term care facilities to homes and private practices. Their responsibilities vary by setting but may include:
Assisting patient with activities of daily living; dressing, bathing, toileting and eating
Reporting changes in physical condition
Taking vital signs
Administering medications
Monitoring intake and output
Wound care
Performing tube feedings
Ventilator management
Inserting urinary catheters
Measuring blood glucose
Giving insulin injections
Assisting with therapeutic exercises
Collecting laboratory specimens
Nursing documentation
Supervising paraprofessional staff, such as nurse's aides
Patient and family education
As full members of the healthcare team, LPNs collaborate with physicians, therapists and other medical professionals to bring the best in care to their patients.
Is Becoming an LPN a Good Career Choice?
Jobs in healthcare offer far-reaching advantages, but what makes practical nursing a better choice than other medical careers?
Job Security
Pouring your heart into a job that may be obsolete in ten years isn't a good investment. Yet that's what many people are facing as technology displaces humans in the workplace. However, according to the US Bureau of Labor Statistics, the nursing field will continue to grow through the next decade and beyond. It's a field that relies on the human touch.
Never a Dull Moment
Counting down to quitting time, from the moment you walk into work, is emotionally exhausting. As an LPN, you won't have time to be bored. You'll be on the front lines of medicine where fearless people get difficult jobs done.
Camaraderie
Collaboration is rare in some industries, but healthcare is a team sport. As an LPN, you'll work in a supportive environment in which colleagues work together toward a common goal.
Professional Autonomy
Few entry-level workers have as much professional freedom as LPNs. Nurses are licensed and autonomous, managing their own practice within the limits of their job description.
Personal Challenges
A dead-end career is like emotional quicksand. It's impossible to grow as a person. However, nurses face daily challenges that enhance their personal potential, paving the road to maturity and success.
Favorable Work-Life Balance
More workers than ever are looking for careers that won't overwhelm their lives. Nursing is intense when you're on the clock, but jobs are flexible.
You'll work some weekends and holidays if you're employed in a nursing home or an acute care facility, but demand for nurses has resulted in employers adapting schedules to make them more lifestyle friendly. For Monday through Friday hours, consider working in a doctor's office or clinic.
Upward Mobility
Practical nursing can be a forever career or just the first step toward becoming an RN or more. LPNs are encouraged by healthcare administrators to build on their training and experience through higher education. It's an easy climb up the career ladder.
Professional Respect
Practical nursing is vital to the healthcare field. As an LPN, you hold a position of trust. Patients, peers, and clinical professionals appreciate what you do, recognizing your training, skills, and dedication.
Fulfillment
"Making a difference"is more than a cliché for nurses, it's their mission. The goal is to improve the odds that patients get well or live their best lives by optimizing their care. The lifelong connections you make with patients and peers are personally fulfilling and irreplaceable. Every day brings a sense of accomplishment. Few careers that require less than a year of training are as empowering as nursing.
How Do You Become an LPN?
An easy way to become an LPN is to enroll in a vocational school program. Training is intense, but you'll graduate with a diploma in under a year, ready to work in your choice of settings.
It's an ideal way for adults who want a career change to make a move without spending years in school. You can do it without putting your life on hold. The only prerequisites to starting an LPN program are a high school diploma or general equivalency certificate and the willingness to work hard.
Training is a blend of classroom instruction and off-site clinical rotations in healthcare facilities. Let's take a closer look at what you'll learn as a student and how it will help shape your career.
What Do You Learn During an LPN Program?
Practical nursing programs are geared toward beginners. They're popular among nurse's aides, but little experience in healthcare is necessary. Gwinnett College will take it from the top. Topics you'll explore include:
Body Structure and Function
Anatomy and physiology are the foundation of nursing education. This course investigates how the body is made and how its complex systems work together synergistically. You'll review the cardiovascular, respiratory, lymphatic, endocrine, digestive, and genitourinary systems including associated disorders and treatments.
Human Growth and Development
This course delves into human growth and development theory. Nurses work with people of all ages, so you learn how to recognize the distinct physical, emotional, and psychosocial needs of all demographic groups from newborns to senior citizens. You'll learn about major developmental milestones and how we change through the years, preparing you to work in pediatric clinics, nursing homes, and hospitals.
Nursing Fundamentals
The Nursing Fundamentals class dives into the art of nursing, examining its storied history and rapid evolution. An introductory course upon which others expand, you learn about the nursing process. From preventive healthcare and community wellness to end-of-life nursing, you learn how to approach health holistically and compassionately.
Subjects include health assessment, disease states, nutrition, communication techniques, ergonomics, body mechanics, human sexuality and social development, and patient privacy.
Infection Control
Infection control is the science of preventing the spread of disease. In healthcare settings, dangerous pathogens can proliferate, so it's up to nurses to keep their peers and patients safe. You'll learn how bacteria, viruses and parasites grow and spread and how to stop them by breaking the chain of infection through sanitation and immunization.
Personal and Family Care
LPNs provide personal care, assisting with activities of daily living such as bathing, dressing and eating. You will learn helpful hygiene techniques and how to manage mobility restrictions.
You will be well-equipped with the practical skills necessary to care for any age group in any setting with an emphasis on supporting the family unit. Topics also include community health and public health policy.
Mental Health Concepts
Mental health training offers insight into emotional challenges from anxiety and depression to addiction and psychosis. You will explore psychology, group dynamics, chemical dependency and treatment models, learning how they affect individuals and communities.
You'll learn how to recognize cognitive impairments, substance abuse disorders, behavioral issues, and emotional crises, so you can help patients stay safe and stick to their treatment plans.
Certification Preparation
LPNs are state-licensed to practice after passing the NCLEX, the National Council Licensure Examination. The letters "PN"mean it's the practical nursing exam. The NCLEX-RN is the comparable test for registered nurses.
Exams are developed by the National Council of State Boards of Nursing (NCSBN). Updated annually to reflect the best nursing practices, questions evaluate the candidate's competency. Vocational school programs "teach to the test,"so you have great odds of passing on the first try.
What's the Difference Between an RN and an LPN?
All nurses are licensed, professional caregivers who've met minimum education requirements and passed a test demonstrating proven skills. The level of education they receive, however, determines their job responsibilities and advancement potential. RNs have at least two years of training, and more than half hold a bachelor's degree. As frontline caregivers, the push is on nationwide for better-educated nurses.
The curriculum for RNs and LPNs is similar, but RNs learn more about nursing theory, the scientific principles behind nursing interventions. While LPNs focus on practical nursing skills, RNs direct patient care and troubleshoot complex issues.
They Work Side by Side
In most healthcare settings, RNs and LPNs work side by side but in slightly different roles. LPNs are more likely to provide direct care, RNs have more assessment and administrative responsibility.
Managerial Advancement
Advancement into managerial positions is easier for RNs, but pushing paper isn't for everyone. Nurses who thrive on direct patient care make the best practical nurses. LPNs have supervisory positions and even leadership roles in nursing homes and assisted living centers.
Students who are on the fence about which type of nursing credentials to pursue should consider their long-term career goals. If you have your heart set on being an RN, it's worth pushing through challenges. But becoming an LPN first has advantages.
Educational Timeline
Becoming an LPN is quick. For adults who can't afford to be out of the workforce for two or more years, there's no better option. And for students who want a career in healthcare but aren't yet sure what type of nursing they like, becoming an LPN is one way to get your feet wet. The nursing field is so diverse that new graduates struggle to find a job that's the right fit.
Trying out different roles to get a feel for what they're like enables better long-term career decisions. And while you're at, you're gaining valuable experience and making connections that open the door to greater opportunity. Admission to registered nursing programs is highly competitive, but LPNs have an advantage in the admission process.
Final Thoughts
Is becoming an LPN a good career choice? It is. Whether it's your first step on the career ladder or your last, it's a move in the right direction. If you don't feel like you make a difference in your current job, the healthcare community is ready for you. Jobs come and go, but nursing is a career.
Ready to start a good career and work toward becoming an LPN? The Practical Nursing program at Gwinnett Institute provides training to prepare college graduates to enter the nursing profession as an LPN.  Classroom theory, challenging assignments, skill labs, simulations, and clinical experiences help to prepare college graduates for an entry-level nursing position. 
After graduating from the Nursing diploma program and successfully passing the NCLEX-PN licensure exam, nursing students will further their career to become a licensed practical nurse. There is an overall need for LPNs in response to the aging baby boomer population.
*While Gwinnett Institute provides test preparation and review assistance to college students, it cannot guarantee any college student will be able to take or pass any type of licensure exam.  College students must be mindful throughout their entire training program that licensure is a prerequisite for employment as a nurse and to diligently prepare themselves to meet this important requirement.
Contact us today to learn more about becoming an LPN at Gwinnett Institute.