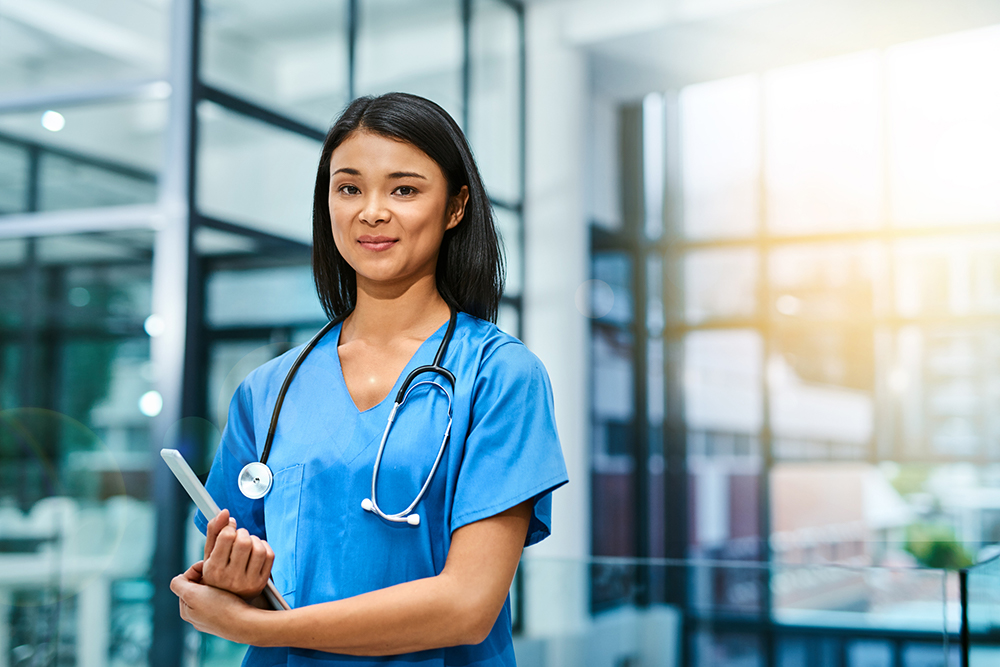 Nurses are the backbone of the healthcare system. The U.S. Bureau of Labor Statistics expects demand for licensed practical nurses to grow nearly nine percent in the coming decade. Tt's a flexible, secure career offering with a sense of purpose and opportunities for professional growth. If you're ready to join the front lines during the pandemic and beyond, here's the fastest way to get started.
What is the Fastest Way to Become an LPN?
The fastest way to become a licensed practical nurse (LPN) is to enroll in a vocational school diploma program. Full-time students are ready to work in months, not years, and graduates qualify for the same professional credentials as students completing degree programs. How?
LPN diploma programs are condensed. Training focuses on practical applications, and you won't spend time or money on elective courses that aren't necessary for the job.
The Importance of LPNs
LPNs work in the hospitals, clinics, and nursing facilities that serve communities in times of need. The pandemic only underscores the importance of front-line healthcare providers, yet demand was building long before it struck. As millions of Baby Boomers approach retirement age, their healthcare needs are growing, and the system is being stretched to its limits. The only solution is an influx of professional nurses.
What Do Students Learn in an LPN Diploma Program?
LPN diploma programs teach the necessary skills for graduates to get started in the field, While no formal training is ever enough to teach medical professionals everything they need to know, courses offer a firm foundation in nursing theory upon which to grow. As an LPN student, you'll learn about:
Anatomy and Physiology
Anatomy is how the body is structured. Students are introduced to how bones, muscles, organs and other soft tissues works. Physiology is how the body functions. The courses cover the eleven major systems and how they integrate with our anatomy to keep us healthy.
Vocational Role and Functions for the Practical Nurse
All nurses are professionals, but each has a different role based on their level of education. Practical nursing is an entry-level field. This course introduces students to the history and role of LPNs in the healthcare industry. You'll graduate knowing what to expect on the job and how you'll fit in.
Foundations and Fundamentals of Nursing Care
This course will familiarize you with the foundations of nursing, the concepts that drive practical nursing skills. Topics include:
Critical Thinking – a method of analyzing information and coming to rational conclusions. It's how nurses know the patient with chest pain needs attention before the patient with a sinus headache. Critical thinking is an essential skill for prioritizing tasks and making quick, effective decisions in a busy environment.
Evidence-Based Practice – means nurses treat patients based on science and facts, using proven clinical knowledge to achieve the best outcomes, nurses don't guess. While not all aspects of healthcare can be reduced to scientific principles because emotions are always a factor, nurses learn proven techniques to deal with them.
Cultural Sensitivity – the world is getting smaller, and nurses will work with patients from diverse cultural and socioeconomic backgrounds. Called cultural competency, it's the recognition that patients have differing worldviews and feelings about healthcare, and it seeks to empower them as individuals. Learning to adapt and work with people with a wide range of perspectives and preferences is a must for providing patient-centered care.
Professional Values – nurses are autonomous professionals. An LPN works under the supervision of a doctor or registered nurse, but their practice is their own. Medical professionals are obliged to be competent and serve as patient advocates. Students in an LPN diploma program learn about professional values and how to use them to guide their many choices.
Medial Law and Ethics – medicine is regulated, providers have to follow the rules if they want to participate in the insurance programs that serve most Americans. Learning about medical law and ethics at the state and federal levels prepares LPNs to practice under regulations, keeping patients safe and protecting their employers from complaints.
Therapeutic Communication – a way of establishing rapport with patients. Using techniques designed by psychologists, nurses can get to the bottom of what their patients need faster while building trust and rapport. It's the foundation of therapeutic relationships.
Nurse Leadership – nurses serve as leaders for patients and the paraprofessional staff they supervise. They not only provide care; they direct it. Students in an LPN diploma program learn to work in groups where they learn both how to follow and lead, giving them a broad perspective of how workplaces function and how to take the reins when they're in charge.
Human Growth and Development
Nurses care for all age groups from infants to seniors, but a lot changes emotionally and physiologically between day one and year 100 of life. Human growth and development courses take LPN students through the life stages, teaching them how to adapt their practice for each age group's unique needs.
Individual and Family Care Across Medical Settings
An LPN treats more than a patient, they embrace the needs of their family and friends. Knowing that loved ones are a patient's support system, LPNs must learn how to support them emotionally and harness their strengths for the patient's benefit. The approaches are different for each setting, patients have different needs at sub-acute, acute and long-term care levels. LPN diploma programs teach skills to match.
LPN Practical Skills
Once students have a foundation in nursing theory, they can apply what they've learned to practical skills, such as:
Assisting patients with hygiene and mobility
Pharmacology and medication administration
Giving injections
Taking doctor's orders
Dressing wounds
Inserting urinary catheters
Caring for feeding tubes
Checking blood sugar
Collecting samples for the lab
Communicating with families
Infection control
Techniques are first introduced in the classroom where LPN students can practice on each other. Clinical rotations and supervised externships then offer opportunities to use skills in the real world. It's a well-rounded experience, and graduates enter the workforce feeling confident in themselves.
Why Become an LPN?
Careers in healthcare are attractive. But there are many different job titles to choose from, so why become an LPN?
Get A Quick Start
Most jobs in medicine require at least a two- or four-year college degree, but you can train to be an LPN in months. Students attending a vocational school program can be out of the classroom and earning money in no time, while gaining valuable experience. It's the perfect option for students who want a secure future in healthcare but can't afford to be out of work for a long period.
Work on the Front Lines
No one expected a pandemic could overwhelm the modern medical system, but the rise of Covid-19 shows we can never be too prepared. As staffing shortages loom, the medical community is looking for ways to offset the virus's impact and future-proof healthcare. Today's new graduate nurses don't have far to look for ways to help their communities on the front lines, jobs are waiting for heroes in the making.
Be Valued
Nurses are held in higher esteem for their ethics than many other professionals. LPNs are valued by both the public and employers for their skills and tireless contributions. It's a motivating feeling.
Be Part of a Team
Working in some fields can feel like you're in a rowboat without oars in the middle of nowhere. There's no sense of teamwork and no one to depend on when things get tough. But in healthcare, you're surrounded by peers, and there's always someone to look to for help.
Stay Excited
No two days on a busy nursing unit are ever alike. They're not so different that you never feel grounded, yet there's always something exciting happening. Medical advancements occur daily, and nurses are among the first to know about cutting-edge treatments and advanced technology. If you get bored quickly and crave the thrill of learning new things, you'll love being a nurse.
Grow Professionally
Graduating with a vocational school diploma can be the beginning of a long and satisfying career or a stepping-stone to higher education. Many LPNs choose to become registered nurses by getting a bachelor's degree but starting out as a practical nurse has several advantages. You can earn while taking classes at your own pace. In the meantime, you'll build experience that makes you more valuable as a job applicant. It's a win-win.
Final Thoughts
Training for a new career is an investment. Students want to know they're spending their time and money wisely on skills that will carry them into the future. All you need to become an LPN is a deep sense of compassion and the willingness to learn. The right vocational school makes the rest a breeze.
Ready to get on the fast track to becoming an LPN? The Practical Nursing program at Gwinnett Institute provides training to prepare college graduates to enter the nursing profession as an LPN.  Classroom theory, challenging assignments, skill labs, simulations, and clinical experiences help to prepare college graduates for an entry-level nursing position. 
After graduating from the Nursing diploma program and successfully passing the NCLEX-PN licensure exam, nursing students will further their career to become a licensed practical nurse. There is an overall need for LPNs in response to the aging baby boomer population.
*While Gwinnett Institute provides test preparation and review assistance to college students, it cannot guarantee any college student will be able to take or pass any type of licensure exam.  College students must be mindful throughout their entire training program that licensure is a prerequisite for employment as a nurse and to diligently prepare themselves to meet this important requirement.
Contact us today to learn more about becoming an LPN at Gwinnett Institute.