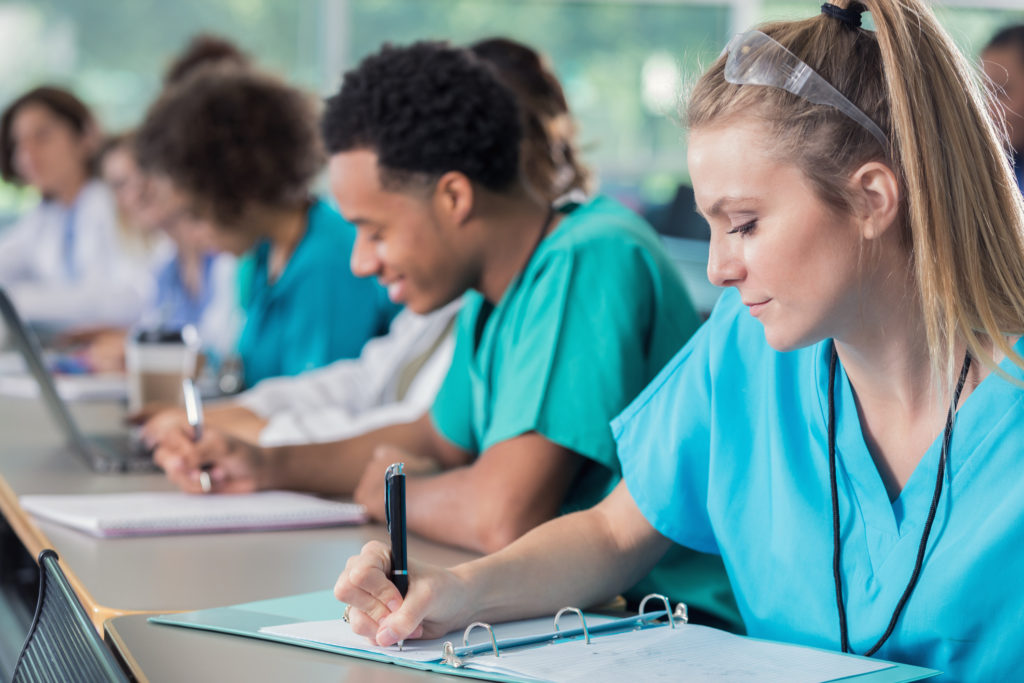 Becoming a Registered Nurse, or RN, is a fast and easy way to launch a rewarding career in healthcare. Top talent is in demand, and whether being a nurse is a student's forever-goal or a stepping-stone to higher credentials, there are valuable job opportunities in nursing just waiting to be filled.
What is an RN?
All nurses are licensed professional caregivers, but their titles and job descriptions vary based on their level of education. An RN's responsibilities include both patient care and supervising paraprofessional staff. An RN's training is focused less on patient assessment and more on practical skills.
Where do RNs work?
RNs are needed everywhere nurses are including hospitals, but because they're best equipped to care for medically stable patients, they're in high demand in doctor's offices, nursing and rehabilitation facilities, assisted living centers and home health care.
What Qualities are Needed to Become an RN?
The only real prerequisites are compassion and a desire to help others, but it's beneficial to have solid communication skills, a willingness to learn and an appreciation of science and medicine.
If a future making a difference in people's lives sounds exciting, follow these steps to land a job as an RN.
An RN's Pathway to Success
Education Requirements
The fastest way to become a registered nurse is to obtain an associate's degree through a vocational school. Education consists of both classroom time and clinical experiences, so when choosing a school, it's important to consider its location and how course offerings fit into a busy lifestyle.
Getting Through School
RN programs are fast-paced and demanding. Each is a little different, but core classes usually include:
Microbiology
Anatomy & Physiology
Psychology
Pharmacology
Practical math
Adult, child and maternal nursing classes and more
In addition to time spent in the classroom, clinical experiences in different healthcare settings allow students to work alongside experienced nurses and practice what they've learned. It's also a valuable networking opportunity where graduates get to know others in the field and make connections that could lead to a job after graduation.
After Graduation
The good news for students is that in most states, RN program graduates can work under supervision for a designated period while waiting to take the licensing exam — known as the National Council Licensure Exam or NCLEX-RN. This the perfect time for friends to get together and study or sign up for a formal exam preparation course.
Sending Out Resumes
To land a great job as an RN, start contacting potential employers at least a few weeks before the big day. Students should reach out to facilities where they had clinical experiences, check local employment listings and connect with the school's job placement services.
Healthcare is a rapidly growing field, and new openings are continuously created, so even if a preferred employer doesn't have an opportunity when it's time to apply, sending in a resume shows initiative and gives graduates a leg up on future postings.
Resumes are an all-important first contact with prospective employers, so experts recommend that as a reflection of an applicant's skill and professionalism, they should always be polished, error-free and printed on top-quality paper. Cover letters that address the employer or human resources manager by name make an impression and distinguish candidates from the rest of the crowd.
Skills for Becoming an RN
There are many different skills that make a registered nurse successfully, the main skills include communication, flexibility, work ethic, time management, attention to detail, and leadership skills.
Communication Skills – may be verbal or written. Both show that applicants can express themselves with confidence in a busy healthcare setting, and that's a must for nurses who interact with the public daily and need to write accurate notes about changes in their patient's conditions.
Flexibility – means an applicant can adapt quickly to change. For employers, it signals a potential hire will be satisfied working in a fast-paced medical facility where responsibilities vary.
Work Ethic – having a good work ethic means a nurse is committed to a job well-done. That is particularly important to healthcare providers who want staff who are devoted to their clients.
Time Management – noting time management skills on a resume shows an applicant understands the value of using time wisely and can work efficiently and productively without feeling overwhelmed.
Attention to Detail – nurses need to be both thorough and accurate in their work. Any experiences that demonstrate attention to detail are a plus.
Leadership Skills – RNs typically supervise paraprofessional staff like nursing assistants and LPNs. Leadership skills help them guide others effectively while fulfilling an organization's broader mission.
Preparing for Interviews
Job interviews can be intimidating, and it's easier for applicants to be confident when they're well-prepared. These steps will help keep the anxiety at bay.
Get to Know the Employer in Advance
Learning about an organization before the interview helps candidates anticipate tough questions and demonstrates a willingness to be prepared. Have a few questions prepared for the end of the interview so you can show the employer that you did your research and ask relevant questions.
Know Where to Go
Nothing makes a worse impression at a job interview than being late. Before the meeting, candidates should drive to the employer's location, so they'll know how long it takes to get there and where to park. Leave at least fifteen minutes early in case there are traffic delays.
Dress Comfortably and Professionally
Looking good for an interview makes a good first impression. Choose clothing in a neutral color that is professional, but not overly formal, and to avoid being distracted by an itchy wool sweater, opt for something comfortable.
Be Prepared to Fill Out an Application
Filling out an application is part of the pre-employment process for many medical facilities, regardless of whether the information is on a resume or not. Impress a future boss by having all the data necessary including contact information for schools, previous employers and references. For nurses, having a copy of their immunization records, CPR card and state license is helpful.
Practice
It's impossible to anticipate every question an interviewer may ask but role-playing with a friend in advance can help ease the jitters. However, try not to memorize answers as this can make you sound unenthusiastic. Instead, remember the bullet points for each question so you have an outline of what you want to say so it does not sound rehearsed.
Feel Good
A good night's sleep and a snack before the interview is the best defense against yawning and hunger. When an applicant feels their best, it shows.
After the Interview
Sending a thank-you note after an interview puts an applicant back in the forefront of an employer's mind. It shows a willingness to go above and beyond to achieve goals and suggests to a boss that a candidate is willing to do the same on behalf of their business.
Notes should be typewritten and thank the interviewer for their time, reiterate contact information and recap how the applicant is a good fit for the position. Should it be sent on paper or via e-mail? Interview coaches say that either way is acceptable, but they recommend sending it in the same way the employer made contact with the candidate.
For Applicants Who Don't Get the Job
The best jobs usually attract multiple applications, so graduates with limited experience who don't get a position they really want shouldn't be discouraged. Always remain gracious with potential employers and thank them for their consideration. Chances are, they will have another opening in the future, and it's good to leave the door open.
Nursing is a fresh and dynamic field that offers career stability, advancement potential and professional respect. For anyone interested in a personally fulfilling, hands-on career where what they do matters, becoming an RN is the perfect way to get started.
Did learning about how to become a registered nurse interest you? The Associate of Science in Nursing degree program at Gwinnett College provides training to prepare college graduates to enter the nursing profession as a registered nurse. Classroom theory, challenging assignments, skill labs, simulations, and clinical experiences help to prepare college graduates for an entry-level nursing position.
Upon successful completion of the program and demonstrated nursing competence, the college graduates will be eligible to apply to take the NCLEX-RN licensure examination.* Upon graduation and licensure, college graduates will be eligible to seek employment in hospitals, clinics, private duty, urgent and acute care centers, and various other medical or business facilities requiring the services of registered nurses.
*While Gwinnett Institute provides test preparation and review assistance to college students, it cannot guarantee any college student will be able to take or pass any type of licensure exam. College students must be mindful throughout their entire training program that licensure is a pre-requisite for employment as a nurse and to diligently prepare themselves to meet this important requirement.
Contact us today to learn more about becoming an RN at Gwinnett College.