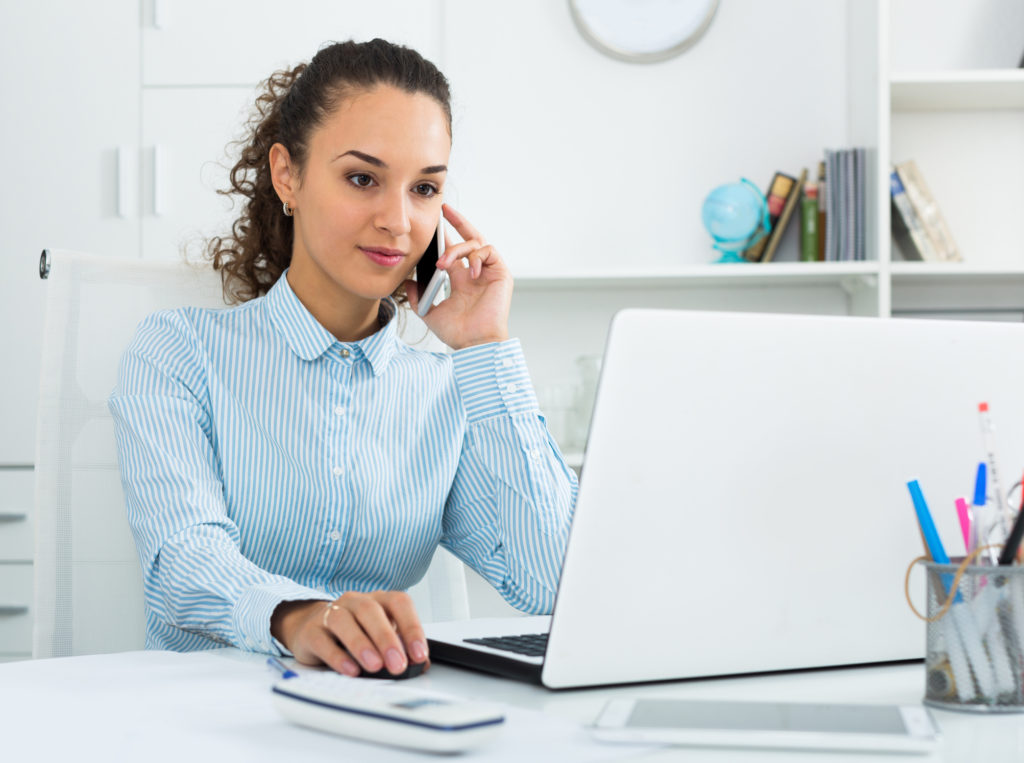 Interested in getting a job that is at the center of a small business? The administrative assistant is the glue that holds the small business together. An administrative assistant may have the title of the secretary, receptionist, or executive assistant. The fundamental job is the same. Usually small business administrative assisting duties consist of making sure that co-workers have the information they need to complete their daily tasks and managing the day-to-day activities in the office. Additional duties may include:
Greet customers and clients
Act as a customer service representative
Answer phones
Maintain document and file system
Take memos
Send emails and faxes
Operate a variety of office machines
Manage inventory of office supplies
Send invoices
Coordinate and schedule events, meetings, and interviews
Perform basic bookkeeping
The first person a client or customer interacts with when they enter a small business is the administrative assistant to the manager. It's essential for the person assisting management to make an excellent first impression since their treatment of visitors reflects on the business.
The person who assists management in a small business must handle a variety of tasks and must always maintain a professional and pleasant demeanor, especially when dealing with clients and customers. It's vital that the administrative assistant keeps up with business correspondence. The administrative assistant must reply to letters and emails and re-route incoming mail.
Administrative assistant duties require you to be proficient with computer applications including spreadsheets, databases and word processing programs. Many vocational programs train administrative assistants on Microsoft Office, Excel, Word, PowerPoint and Access.
One of the essential qualifications of an excellent small business administrative assistant is the ability to schedule meetings and conferences, special events and interview applicants for positions in the company.
Virtually every business or industry has the need for qualified administrative assistants. Small business administrative assisting is an essential position in:
Government agencies
Hospitals
Law firms
Medical offices
Schools
Small business administrative assisting requires specific tasks depending on the specialty of the administrative assistant, their experience, and their job title.
What an Administrative Assistant Does
An administrative assistant performs an array of clerical duties that are essential for an office to run efficiently. Small business administrative assisting involves all the daily operations in an office from preparing documents and keeping files organized to scheduling appointments.
An administrative assistant must be flexible and well organized because the job provides different challenges each day. The administrative assistant may have to schedule appointments or meetings and update calendars of the management staff accordingly. The minutes of meetings and accompanying notes must be prepared in advance and checked for accuracy.
Another of the duties that a small business administrative assistant may perform is drafting presentations, documents, and billing invoices. Each of these tasks must be done on a schedule. The administrative assistant must be meticulous in making sure that plans are adhered to. When billing or inventory of supplies and assets is involved, the administrative assistant must have necessary bookkeeping skills.
As many as four million jobs in the United States are held in administrative assisting in virtually every industry in the country, according to the U.S. Bureau of Labor Statistics. Most workers who hold administrative positions work full-time. Depending on the sector, some may work part-time jobs. During the day, administrative assistants have interaction with executive staff, co-workers, customers, and clients.
Small Business Administrative Assistant Employers
Most administrative assistants work in offices for businesses that provide:
Education
Government agency services
Healthcare
Scientific services
Social services
Technical services
Examples of industry specific duties may include an administrative assistant in a law firm who must have knowledge of preparing legal documents that include subpoenas and motions or an administrative assistant in a medical practice that must process insurance claims.
An administrative assistant in a law firm may have to conduct research for a specific case and work with a paralegal to prepare all the legal documents before going to court, under the supervision of an attorney. In medical practice or research setting, the administrator assisting the doctor or scientist may take dictation and prepare articles or reports.
In school and university settings, the administrative assistant may work for a university president or the head of a department, and handle responsibilities that are complex. These responsibilities may include writing reports and managing research. The administrative assistant may be in charge of clerical staff. The person who handles duties in an educational setting must possess integrity and discretion when dealing with sensitive matters. In public or private schools, the administrative assistant may be the person who handles communications between, students, staff, and parents.
Office Administration Duties
The knowledge that an administrative assistant must have is often business and industry specific. For example, an administrative assistant who works for a real estate developer must be competent in geography and know a lot about different areas of the country; while the administrative assisting coordinator in a web design firm may require basic knowledge of web design and programming. Some administrative assistants may even manage libraries or stockrooms.
An administrative position often requires handling tasks including sending and signing for deliveries or handling invitations that aren't directly related to work. Some administrative assisting management personnel have more duties and higher pay rates than in other businesses; in such cases, the administrative assistant may delegate specific tasks to other co-workers.
Light Bookkeeping Duties
Small business administrative assistants may handle clerical duties, including data entry, sorting mail, and other functions necessary for the small business to operate efficiently. They must possess skills required to prepare invoices, handle company deposits, plan budgets, prepare financial reports, process payments, and submit tax forms.
Core and Advanced Accounting Skills
An administrative assistant must have proficiency in software programs including Microsoft Office and be able to type at 50 words per minute. The administrative assistant must be familiar with using office equipment, including copiers, scanners, and fax machines. The administrative assistant must possess the necessary mathematical skills. They must have basic knowledge of financial principles and accounting.
Some employers don't require advanced or preferred skills but may include them in job listings. Preferred qualifications include proficiency in QuickBooks or related software.
Skills Needed to Succeed
It takes a special kind of person to succeed as an administrative assistant. Assisting management in a small business setting requires specific knowledge of the field in which you work, a combination of personal traits, and the ability to work well as a team member.
You must be conscientious and have a strong will to succeed. Some administrative assistants tend to be conservative and take their duties seriously. They have excellent organizational skills and earn an orderly approach to business.
Other people who enter the field of administrative assisting take their position equally as serious but have a more adventurous attitude toward life and are enterprising in their business dealings. People who are ambitious and confident inspire their co-workers.
The administrative assistant who is energetic and enthusiastic about their job and is the person who often finds solutions to problems. Being assertive is a plus if you want to succeed in administrative assisting at a small business.
Top Qualities of The Successful Administrative Assistant:
Ability to multi-task
Collaboration and teamwork skills
Courteous
Critical thinking and problem-solving skills
Customer focused
Detail oriented
Excellent communication and interpersonal skills
Professionalism
Productivity
Reliability
Strong work ethic
Technical abilities
Time management skills
Well-organized
Multi-tasking is part of the job in a successful small business. A successful administrative assistant keeps up to date with their skills and is willing to learn new procedures quickly.
The assistant is willing to collaborate, can work well with a team, and doesn't quibble about small details that are counterproductive. Presenting solutions rather than discussing problems will get the job done faster and more productively. The administrative assistant always possesses a pleasant demeanor when greeting clients. Since the administrative assistant represents the business and their manager, it's essential that they are customer focused. Professionalism is vital to the administrative assistant who must always possess a positive attitude in the office. Personal problems must be left at home.
A successful assistant must possess a strong work ethic. They must be well-organized and be able to manage their time effectively to complete tasks on schedule. The administrative assistant must be reliable. A busy office doesn't have time to deal with a person who is consistently late for work and makes excuses. Punctuality is an essential key to managing an office.
A conscientious assistant has excellent grammar and spelling skills and can interpret their manager's notes, even if their handwriting is challenging to read. The person who assists the manager must always remember that everyone in the office has schedules and deadlines and should know when a problem should be brought up to their manager and when to find a solution to the problem.
Did learning about small business administrative assisting interest you? The Administrative Assisting diploma program is designed to train Gwinnett College students to seek entry-level positions in the office administration or secretarial field. The Administrative Assisting graduate may work as a secretary, receptionist, executive assistant, or administrative assistant.
Contact us to learn more about becoming an administrative assistant.