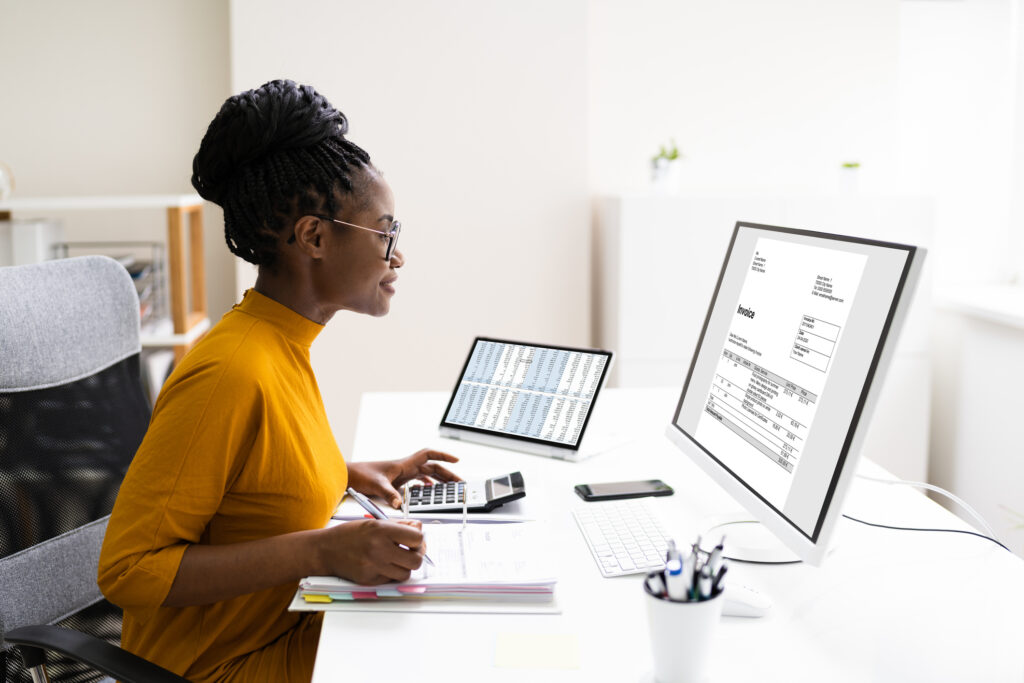 The overwhelming majority of medical services in the United States are covered by insurers, so managing the claims process is a must for hospitals, clinics and private practices to maintain a positive cash flow. As the healthcare industry expands, medical billing specialists are growing in demand. Here's how to be a part of this exciting, up-and-coming field.
How Do You Become a Medical Billing Specialist?
Medical billing can be too complex for on-the-job training, there's so much to learn. But the good news is you don't need an expensive college degree to become a medical billing specialist. A vocation school diploma program prepares you for an entry-level position in months, not years. You'll be out of the classroom and earning a paycheck in no time.
What Do You Learn in a Medical Billing Specialist Program?
Vocational school medical billing programs are designed for beginners. You don't need a background in healthcare. Seasoned instructors will show you the ropes, covering topics including:
Medical Terminology
As a medical billing specialist, you'll review medical records, including diagnostic and operative reports, for important details about patients' conditions and treatments, a basic understanding of healthcare jargon is vital. A medical terminology course teaches you to break down complicated words into their primary parts, so you can decipher what they mean without memorizing volumes of definitions. You'll learn about prefixes, suffixes, root words and how they're combined to form meaningful medical terms.
Health Information Technology
Most of today's medical records are stored and accessed electronically. Vocational medical billing programs cover the basics of health information technology from hardware to software.
You'll learn how data is digitized, shared and used for billing purposes, including audits and fraud detection. Recordkeeping systems and insurer interfaces are covered as well as practice management programs.
Billing Procedures
Healthcare reimbursement models are different from any other business, for most students, it's a whole new world. Billing procedures encompass a wide range of financial activities in a medical office, from revenue cycle management to how healthcare services are valued. Students in a medical billing program get a big picture view of healthcare finance, so they understand where they fit in, and why what they do matters.
Revenue cycle management is how healthcare facilities track insurance claims, reimbursements and collections. It tracks every patient encounter from the time services are rendered until the final account balance is paid. Programs cover the medical billing specialist's role in managing the revenue cycle, from how insurance claims are submitted to how cash payments are posted.
Students also learn about the Resource-Based Relative Value Scale (RBRVS), how insurers determine how much they'll pay for services versus actual market rates. Courses cover the different types of private, commercial and state-sponsored insurance policies plus programs that protect the poor and injured workers. You'll also learn more about the legal and ethical considerations of billing, from patient privacy rights to collection rules.
Medical Coding Systems
Medical codes are a type of shorthand describing symptoms, conditions, procedures, and medical equipment. They condense the volume of information required for billing, reducing what was once multi-page submissions into much shorter forms. There are three major coding systems, including:
ICD-10 – the International Statistical Classification of Diseases and Related Health Problems, 10th Revision, assigns alphanumeric codes to every known symptom, disorder or cause of death. Codes are used for billing and by public health officials to track community health data. Codes are regularly updated.
CPT– Common Procedural Codes, are five-digit numbers given to medical, surgical and diagnostic procedures. Developed by the American Medical Association, they're used for billing purposes and by healthcare watchdog organizations to gather treatment outcome data.
HCPCS – Healthcare Common Procedure Coding System, is a two-part system including CPT codes and Level II codes for ancillary medical services and products such as ambulance services and novel drugs. Developed for the federal government, it's updated every six months.
Each coding system has a distinct purpose and is used in different settings. Students in a medical billing specialist program learn how to use them for inpatient, outpatient and clinical coding.
What Are the Benefits of Attending a Vocational School?
Vocational schools offer timely, affordable training in relevant fields. Benefits include:
Focused Training Programs
Colleges offer degrees in medical billing and coding, but you'll have to spend two to four years in school and spend money on elective courses that add to your educational experience but not your qualifications. If you can't afford to be out of the job market for long and need a good job fast, vocational school training is the quickest way to get it. Why put your educational aspirations on the back burner?
Small Class Sizes
At a big university, you're just a number. Cavernous lecture halls offer little chance for meaningful interaction with teachers and fellow students. Most students find the small classes at vocational schools more relaxing and personal. Instructors can individualize their teaching plans to make the most of students' strengths, no one feels lost or gets left behind.
Hands-on Learning
Everyone has a unique learning style. Some students absorb information better by reading it, others need a more hands-on approach. Vocational school medical billing programs emphasize practical skills, so you'll have the chance to complete projects using the same medical records software and industry forms you'll use on the job.
Industry-Experienced Instructors
Learning from instructors experienced in the healthcare field is an advantage. They not only teach the required material, but also how to apply it in the most practical sense. Having been there, they know the nuances of the field and can offer tips and tricks to help you get ahead. Impress them, and you might even get a job reference.
You'll Learn More Than Medical Billing
Education is more than book learning; it's about developing interpersonal skills that boost your expertise. As a vocational school student, you'll not only learn the practical skills needed for success in the workplace, but you'll also discover how to be a better team player through interactions with instructors, peers and future colleagues. You'll feel more confident about your abilities and how to fit in with coworkers on your first job.
Diplomas Demonstrate Commitment
Medical billing positions attract applicants from new graduates to veteran specialists. You'll compete with far more experienced candidates for the same positions, so it's critical to have something to offer. A diploma shows you take training seriously and want to grow in the profession. It demonstrates commitment, something every employer values.
You'll Be Prepared to Grow Professionally
Graduating from a diploma program is the first step in a career with significant advancement potential. Graduates are prepared for industry certification from accredited organizations based on their career goals, such as the American Academy of Professional Coders (AAPC), the National Healthcareer Association (NHA) and the American Health Management Association (AHIMA). Certification isn't required to work as a medical billing and coding specialist, but it makes job applicants more attractive to prospective employers.
Final Thoughts
Medical billers are the foundation of the healthcare industry. Their work supports reimbursement, improves public health surveillance and enhances the data gathering that improves the quality of patient care. Their role is non-clinical, but they save lives. With demand rising for qualified medical billing specialists, there's no better time to consider a career in this secure and rewarding field.
Want to Learn More?
Now that you know how to become a medical billing specialist, interested in learning more? Gwinnett Colleges & Institute's Medical Billing and Coding programs will provide you with the opportunity to learn insurance coding and processing, medical administrative procedures, and the regulatory requirements in the healthcare delivery system.  School externships provide the opportunity to apply the medical billing and coding skills learned in the classroom in actual medical settings. Gwinnett Colleges & Institute offers medical billing & coding courses to gain essential skills and training to achieve entry-level positions in this career field. These medical billing & coding courses will be the first step in starting a rewarding career.
Contact us to learn more about how you can become a medical billing and coding specialist today.