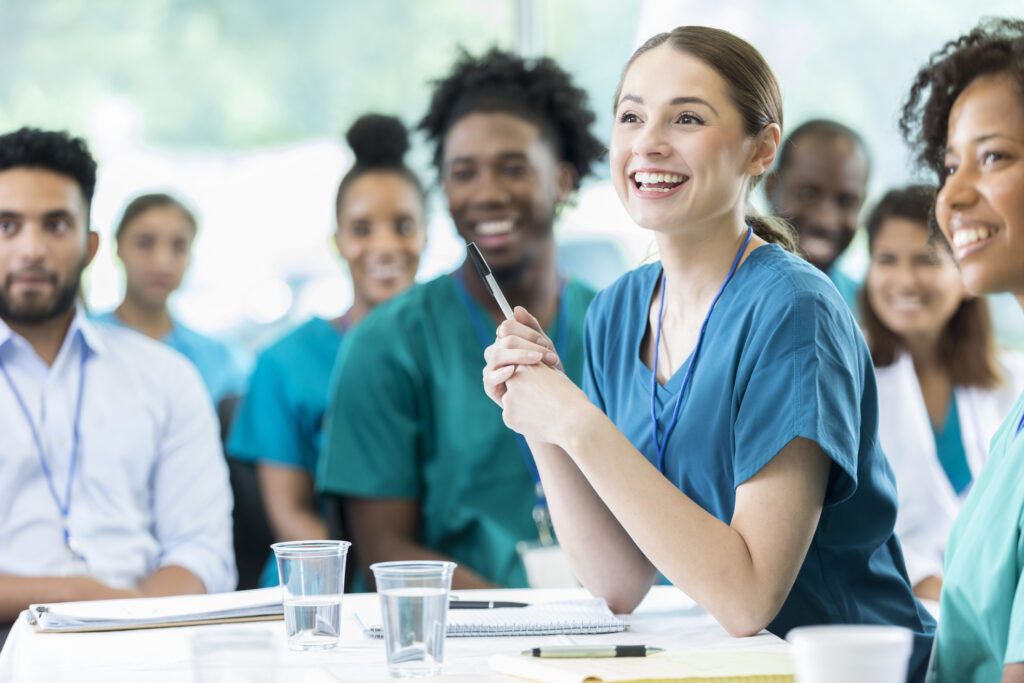 All nurses share a similar mission, but licensed practical nurses (LPNs) and registered nurses (RNs) have unique roles with different career paths commensurate with their training. The level of education you choose should reflect your professional goals, but the path you follow matters less than getting started. It's a short road from a vocational school to a rewarding career in nursing.
Do You Need a Degree or Diploma to Be a Nurse?
All nurses are licensed, clinical professionals. States set the education requirements, but a diploma or degree is required to be a nurse in all 50 states. There are no exceptions.
Why Do You Need Formal Education to Be a Nurse?
Healthcare is an increasingly complex, highly scientific field. The level of education nurses need has been widely debated as communities struggle with shortages, but the research is clear, better-trained nurses mean improved health outcomes for patients.
How Do You Become an LPN, RN or RN with a Bachelor's degree?
Training defines your role as a nurse. While LPNs, RNs with associate degrees (ADNs), and RNs with bachelor's degrees (BSNs) qualify for many of the same jobs, each role requires progressively more education.
If getting a degree isn't in the cards right now, the good news is that all you need to become a practical nurse is a vocational school diploma. It's the first step on the path to a rewarding career in healthcare and a stepping-stone to higher education.
What Is the Difference Between an LPN, an RN and a Nurse with a Bachelor's Degree?
The biggest difference between an LPN, an ADN and a BSN is their level of training. Let's take a closer look at what each nurse does, who they work with, where they work and what their career trajectory looks like.
Licensed Practical Nurse (LPN)
Licensed practical nurses are just that, nurses who focus on practical tasks. A vocational school diploma is required to practice. The curriculum is basic yet comprehensive. LPNs learn how to:
Bathe, feed and dress patients
Take vital signs
Manage therapeutic diets
Monitor intake and output
Give medications and administer treatments
Monitor blood sugar
Insert urinary catheters
Remove sutures and staples
Perform stable wound care
Help with therapeutic activities
Collect biological specimens
Document care
Educate patients
Support families
Supervise paraprofessional staff
Perform basic life support
LPN work with other nurses, nurse's assistants, therapists, doctors and more in clinics, hospitals, private practices, nursing homes, assisted living centers and patients' homes. Their skills are ideal for people who need nursing supervision but are clinically stable, so the two settings LPNs work in most are nursing homes and home care.
Because practical nurses can meet the needs of most nursing or residential home patients, they qualify to be floor supervisors and with experience, nurse managers. They can also handle their own home care cases and are well-suited to help persons who need daily nursing care, such as tube feedings or ventilation management.
Being a practical nurse is a valuable and fulfilling role, but career growth is minimal without further education.
Registered Nurse (RN) — ADN
It takes a two-year Associate Degree in Nursing or a four-year Bachelor of Science in Nursing degree to become a registered nurse. Both RNs and BSN s qualify for the same entry-level positions, but associate degree programs focus on developing clinical expertise versus leadership abilities.
RNs learn the same practical skills as LPNs, but they receive additional training. Topics included in an RN program but not in an LPN's curriculum may include:
Pathophysiology
Advanced physical assessment skills
Psychology and mental health
Evidence-based nursing
Research and practice development
Nursing informatics and technology
Community nursing
RNs work in the same places as LPNs, but most are employed in hospitals because they have the training and clinical judgment needed to assess and manage unstable patients. From admission through discharge, they plan, implement and evaluate the outcomes of nursing care.
Responsibilities beyond those of an LPN include:
Starting IV lines
Complex wound care
Blood transfusions
Post-surgical monitoring
Advanced life support
Care planning
They also supervise practical nurses in most settings.
Because registered nurses benefit from classes that dive deeper into the science of healthcare, they're better equipped to troubleshoot complex medical issues and make independent decisions about nursing care. They're expected to interact with the clinical healthcare team at a higher level.
ADNs also benefit from additional clinical rotations that expose them to specialized care settings from mental health and chemical dependency units to specialty clinics. They begin their careers with more experience and, therefore, a broader view of the professional nursing field.
Although ADNs have the same scope of practice and professional license as registered nurses with bachelor's degrees, their career growth is comparatively limited. Moving into a leadership position may prove difficult without experience and higher education.
ADNs may work as charge nurses, floor supervisors and lower-level nurse managers, but roles in upper management and administration are usually reserved for BSNs. ADNs who want to improve their skills and job prospects can take an RN to BSN bridge course to get their bachelor's degree.
RN to BSN
The number of nurses with bachelor's degrees grew in size in the last few years. Why? Citing improvements in patient outcomes and lower mortality rates, National Academy of Sciences, Engineering and Health calls for an increase in the number of nurses with bachelor's degrees. Researchers found significant improvements among safety and quality indicators when nurses with BSNs were on the job, so the benefits can't be ignored.
Students enrolled in a bachelor's nursing program receive the same clinical training as RNs with an associate degree, but course material digs deeper. The goal is not only for BSN-educated nurses to develop superior clinical skills, but also to be critical thinkers and natural leaders. Third- and fourth-year students take courses in:
Research
Health
Genomics
Health technology
Leadership
Management
Health policy
These broader clinical experiences deepen their knowledge and the role of nurses in the world around them. Graduates are primed for even further education and top leadership positions.
Still, most BSNs begin their careers working in hospitals where they learn the ropes and fine-tune their clinical skills. Later, they can advance into supervisory jobs, working their way up the ladder from charge nurses to unit managers. Or, if they prefer clinical practice, BSNs can become certified in a wide range of clinical specialties such as wound care, dialysis and diabetes education.
BSNs are also employed in other healthcare settings for their unique clinical skills. Outreach practices, for example, benefit from hiring nurses with an understanding of community health. But they also qualify for purely administrative roles and jobs in research that none but the most experienced ADNs get. Having a bachelor's degree opens doors and makes you a more valuable employee.
Most school nursing and public health positions require at least a bachelor's degree. In these jobs, you'll not only support your community, but you'll work with local leaders and heads of industry to create healthcare policy. If you want to take your nursing career as far as it can go, start by getting a bachelor's degree.
LPN, RN or BSN — Making the Right Choice
There's no wrong way to join the nursing field, but the education choices students make early in their careers help shape their futures. It's essential to think about your career goals and where you want to be as a nurse in five, ten or fifteen years from now before you decide.
An easy way to launch a nursing career is to enroll in a vocational school practical nursing program. You'll graduate with a diploma in months, not years, having spent less time and money than your college counterparts to break into the industry. It's a great way to gain experience and a good option for adults with responsibilities at home who can't afford to be without a paycheck for the two to four years it takes to become an RN or BSN.
Becoming an LPN is also an attractive option for students who want to be nurses but who aren't yet sure which direction they want their careers to take. Working in different settings helps you get a feel for different types of nursing. Many students start as LPNs, so they can earn while they learn, gaining experience and insight as they work toward a degree part-time.
But while experience and aptitude play a part in which jobs nurses grow into, it's important to be realistic. State law limits a nurse's scope of practice based on their training, so no matter how much enthusiasm and experience an LPN has, they will never become an RN without a degree. Practical nurses have good jobs, but opportunities for advancement are limited.
If your heart is set on becoming an RN, nurses with bachelor's degrees are the future. But if you can't spend multiple years in college now, start with an associate degree and work toward a bachelor's at your own pace.
As a BSN, you'll also have education options that can take your career even further. With a master's degree, you can become a primary healthcare provider in your own right as an Advanced Practice Registered Nurse (APRN) specializing in family health, midwifery, anesthesiology and more.
Florence Nightingale once said that nurses should never consider themselves finished with education. So, whether you begin your nursing career as an LPN, an RN or a BSN, where you start is always less important than where you're going.
Final Thoughts
The World Health Organization projects a 5 million-plus shortage of nurses worldwide by 2030, so LPNs and RNs with all levels of training will continue to be in demand. Nearly a quarter-million new nurses are needed in the next decade in the US alone. But training remains the key to success in this versatile and dynamic field. With the right education, you can lead the pack.
LPN Program
Gwinnett Institute in Orlando offers a Practical Nursing diploma program that trains LPN students for positions delivering basic bedside care to patients. LPN courses create employment opportunities that include entry-level practical nursing positions in long-term care facilities, nursing homes, hospitals, rehabilitation centers, urgent care facilities, occupational care centers, and physician offices.
Upon successful completion of the program and demonstrated nursing competence, the college graduates will be eligible to apply to take the NCLEX-PN or NCLEX-RN licensure examination.*  
Registered Nurse Program
The Associate of Science in Nursing degree program at Gwinnett College provides training to prepare college graduates to enter the nursing profession as a registered nurse.  Classroom theory, challenging assignments, skill labs, simulations, and clinical experiences help to prepare college graduates for an entry-level nursing position. 
RN to BSN Program
The RN to Bachelor of Science in Nursing/RN-BSN program is designed to provide professionals currently licensed as registered nurses the flexibility of online study to build upon the knowledge gained through previous training and education. The RN to BSN program courses are designed to assist college students with developing the core knowledge and skills needed to provide patient-centered care and to work collaboratively with other professionals in the field.
*While Gwinnett Colleges & Institute provides test preparation and review assistance to college students, it cannot guarantee any college student will be able to take or pass any type of licensure exam.  College students must be mindful throughout their entire training program that licensure is a pre-requisite for employment as a nurse and to diligently prepare themselves to meet this important requirement.
Contact us today to learn more about becoming an LPN, RN or BSN at Gwinnett College.