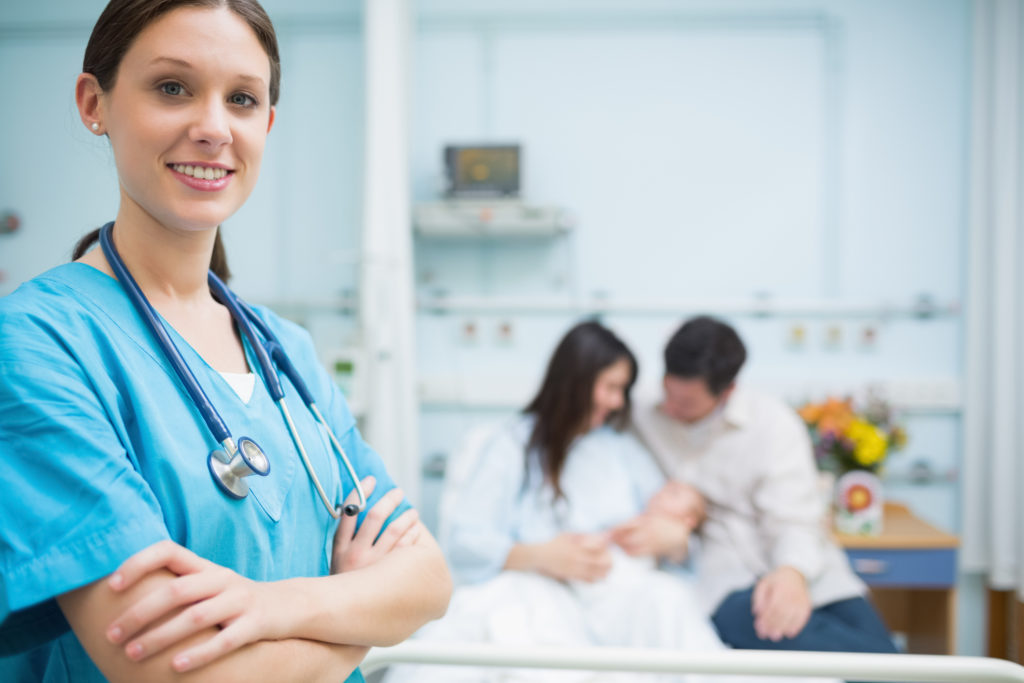 Licensed practical nurses work in a wide range of settings, but among the most rewarding is the maternity ward. Also known as labor and delivery units, maternity wards are busy, but the work is exciting. LPNs with an interest in both maternal and child health can use their role for the benefit of both mothers and their newborns. It's more than a career, it's a mission.
What is a Maternity Ward?
A maternity ward is a hospital unit where women give birth to their children. There, mothers and newborns receive care from a team of professionals from admission to discharge. The goals are to promote safe deliveries, manage complications and optimize care for new families.
What Do LPNs Do in a Maternity Ward?
An LPNs role in a maternity ward begins with helping families through labor. It's an unpredictable process that can last from a few hours to a few days, and it can be either simple or complicated. Labor is similar for all women, occurring in three stages, yet no two labors are exactly alike.
Care consists of both physical and emotional support, and new mothers may seek care as soon as they begin experiencing early contractions. Lasting from a few hours to 30 or more, this is the most prolonged phase of labor. It progresses from mild contractions until the cervix is completely dilated at 10 centimeters, and the woman is ready to push.
As the process moves along, pain and anxiety increase. During that time, maternity ward nurses offer encouragement and reassurance, keeping the family informed of progress while monitoring the physical condition of the mother and fetus and preparing for birth.
Responsibilities for an LPN include:
Welcoming the mother and family into a delivery room
Promoting physical comfort by assisting with activity and therapeutic position changes
Checking maternal vital signs, such as blood pressure, for indications of complications
Recording the frequency, duration and severity of contractions
Monitoring pain and offering control measures per the birth plan
Informing the obstetrician or midwife about progress and unexpected symptoms
Keeping the delivery area clean
Starting an intravenous line for medication or fluids
Preparing instruments for the birth
Assisting perineal relaxation techniques or episiotomies
Measuring fluid intake and output
Administering medications and blood transfusions
During the second stage of labor, pushing through birth, maternity ward nurses:
Support the mother and family emotionally
Help with pain control using medications and breathing techniques
Monitor for fetal distress
Act in the event of complications
Assist with the delivery of the child
The third stage of labor begins after the child is born and includes delivery of the placenta and care for the newborn, including:
Collecting cord blood
Cleaning the skin and suctioning fluid secretions from the nose and mouth
Weighing and measuring the child
Conducting APGAR periodic assessments of heart rate, breathing, muscle tone, reflexes and color
Providing a clean, warm and safe environment
Encouraging the first breastfeeding
Recording vital statistics
Documenting the nursing care provided during labor and delivery
Unless there are complications, both the mother and child are moved to a room together after delivery. There, nurses assume responsibility for the well-being of both mother and child by:
Watching for uterine hemorrhage or infection
Monitoring episiotomies
Administering analgesics and other medications
Assisting with lactation
Keeping the physician informed of changes in the mother's condition
Assessing for risk of post-partum depression
Assisting with post-natal treatments for the newborn
Offering nutrition guidance
Cord and circumcision care
Scheduling aftercare care visits for the woman and child
Family bonding is critical during this time. Maternity wards that were once cold and sterile are now home-like, and partners and siblings may room-in. Families take on the role and tasks associated with newborn care, such as bathing and dressing, while LPNs assist with cord care and lactation.
New mothers have many questions after the birth of a child. LPNs are their go-to source for information for a broad array of topics such as:
Newborn nutrition
Lactation issues
Circumcision
Elimination patterns
Immunizations
Environmental needs
Child safety
Well-care schedule
Today, maternity wards offer full-service care, so no newborn falls through the cracks. Recognizing that a mother is a child's primary caregiver, nurses also help women get back on their feet as soon as possible. Some women suffer few health effects from labor and delivery; others can experience complications from mild to severe. Common issues include:
Fatigue
Anxiety
Episiotomy pain
Anemia associated with blood loss during delivery
Depression linked to post-partum hormonal changes
And because women are giving birth later and have higher incidences of chronic disease, LPNs are increasingly involved in preventive care education.
What Does it Take to Work on a Maternity Ward?
Maternity ward nurses have a unique role, and beyond professional competence, soft skills like compassion, communication skills, a nonjudgmental attitude, critical thinking skills, emotional stability, team management skills, team spirit, confidence and flexibility are important.
Skill #1:Compassion
Compassion is the desire to alleviate the suffering of others. Childbirth is an enriching experience for most families, but it can be a stressful time for those with physical and emotional challenges. Healthy births are the norm, but there is always the risk of complications for both mother and child. The role of maternity ward LPNs is to put themselves in the shoes of their patients and tackle sensitive issues with both clinical proficiency and compassion.
Skill #2: Communication Skills
No other nursing specialty requires caring for two lives simultaneously. As frontline healthcare providers, maternity ward LPNs guard the physiological health of both mother and child, reporting changes to providers while also acting as a liaison between the family and the healthcare team. New parents want to be informed every step of the way, and the questions they ask can be complicated. Excellent verbal and written communication skills are critical to this role.
Skill #3: A Nonjudgmental Attitude
Giving birth is usually a joyful time in a woman's life, but it's also fraught with change. New mothers depend on maternity LPNs for guidance and emotional support. However, maternal health and child-rearing are sensitive issues, and families may make unconventional health decisions that make LPNs feel uncomfortable. As long as ideas present no danger to the mother or child, LPNs must offer guidance without judgment.
Skill #4: Critical Thinking Skills
Critical thinking is the ability to look at facts and come to sensible conclusions. It's a vital skill that helps LPNs prioritize tasks and make quick, accurate clinical judgments. In a maternity ward, it's how an LPN decides that an expectant mother with heavy vaginal bleeding needs to see the doctor before a woman with indigestion. Critical thinking isn't a process that comes naturally to everyone, but it's a skill that can be learned and nurtured with experience.
Skill #5: Emotional Stability
Crises are common in a maternity ward, and to function effectively, LPNs need to be emotionally stable. The labor and delivery process can be stressful, and after giving birth, physical exhaustion and hormonal changes take their toll. For some women, it's a blissful time, but for others, it's filled with anxiety, pain and fear that can manifest as negative behavior. Emotional stability helps maternity ward LPNs stay level-headed during emergencies and guide new mothers through challenging times.
Skill #6: Time Management Skills
Maternity wards are busy. Except for cesarean sections, labor and delivery rarely happen on schedule. Two days of downtime may be followed by around-the-clock deliveries. LPNs must then care for two patients at a time with different needs while being prepared for the unexpected. The pace can be stressful some days but being able to make the most of every minute keeps it from becoming overwhelming.
Skill #7: Team Spirit
Maternity care is collaborative, requiring input from the family plus a diverse team of health professionals, including doctors and nurses as well as midwives, lactation consultants, nutritionists, doulas and others. Everyone has a role to play while working toward a common goal, and outcomes are best when everyone is willing to work together. As the liaisons between the mother and family and their healthcare providers, team spirit is especially important for LPNs.
Skill #8: Confidence
Childbirth is a normal physiological process. In a maternity ward, doctors try to make it less medical by not hovering over patients as they might do in acute care settings. LPNs tend to bear more responsibility for monitoring, and therefore, they need to be self-starters with the confidence necessary to take charge of the process.
As professionals, they're responsible for their practice, and it's a nurse's role to set goals for their patients and create plans of care. It's a responsible role.
Skill #9: Flexibility
The maternity ward never sleeps. Mothers and newborns need care around the clock, and women may arrive in labor at any time, shifts don't always go as planned. Managing work-life balance is important to avoid stress, but there are times when new patients exceed the number of LPNs scheduled, and employers expect nurses to be flexible.
Nursing is among the few careers where there are opportunities available to fit every lifestyle, but flexibility is essential when working in a maternity ward.
Final Thoughts
LPNs everywhere make a difference in the lives of the people they serve, but nowhere do they make a more significant impact than on a maternity ward. From celebrating the moment of birth to giving new families the best possible start in life, maternity ward LPNs are the gatekeepers of mother and child health. It's an unforgettable ride and an awesome responsibility.
Did learning about the role of an LPN working in a maternity ward interest you? The Practical Nursing program at Gwinnett Institute provides training to prepare college graduates to enter the nursing profession as an LPN.  Classroom theory, challenging assignments, skill labs, simulations, and clinical experiences help to prepare college graduates for an entry-level nursing position. 
After graduating from the Nursing diploma program and successfully passing the NCLEX-PN licensure exam, nursing students will further their career to become a licensed practical nurse. There is an overall need for LPNs in response to the aging baby boomer population.
*While Gwinnett Institute provides test preparation and review assistance to college students, it cannot guarantee any college student will be able to take or pass any type of licensure exam. College students must be mindful throughout their entire training program that licensure is a prerequisite for employment as a nurse and to diligently prepare themselves to meet this important requirement.
Contact us today to learn more about becoming an LPN at Gwinnett Institute.