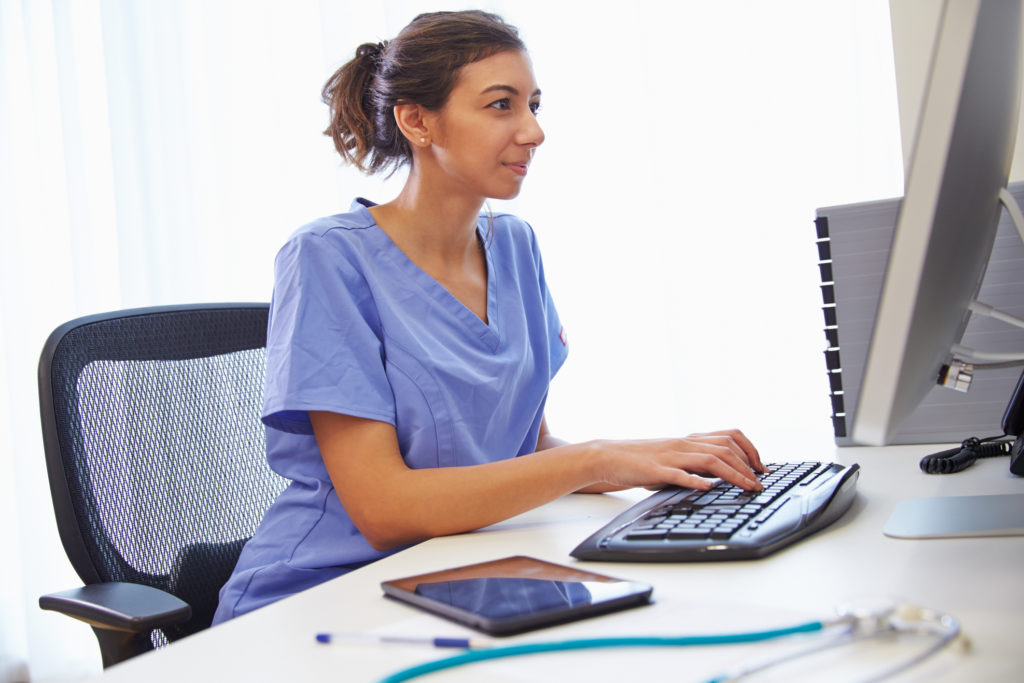 Training for a healthcare career is a smart move, jobs for medical billing and coding specialists is expected to grow 8-percent in the coming decade, according to the U.S. Bureau of Labor Statistics. But hands-on medicine isn't for everyone, so if you are interested in health and have an aptitude for business, working as a medical billing and coding specialist might be a great fit. Don't let the acronyms scare you, ICD-10, CPT and HCPCS codes aren't as mysterious as they seem.
What is ICD-10, CPT & HCPCS Coding?
The majority of all medical bills in the US are paid for by insurance companies. Before they pay, they want to ensure the patient's policy covers the services they received.
But if claim forms contained all the required information in the standard text format, it would clog the system with irrelevant information. Medical codes were developed as a type of shorthand to describe conditions, procedures and equipment, condensing the total volume of data submitted.
While there are nuances in claims submission processes, most of it is standardized and follows the rules established by the Centers for Medicare and Medicaid Services (CMS), the nation's largest insurer.  Coding systems include ICD-10, CPT & HCPCS.
ICD-10 Codes
ICD-10 is the oldest coding system in the world and traces back to 17th century England. Short for the International Statistical Classification of Diseases and Related Health Problems, 10th Revision, codes are alphanumeric and have been used globally since 1977 to classify every disease, injury or symptom known to medicine.
In addition to billing, codes are used by public health officials to track health data and mortality statistics, a significant function in the current pandemic. The World Health Organization is responsible for updating ICD codes regularly, roughly every ten years on average.
CPT Codes
The CPT, or Common Procedural Code, is a five-digit numeric sequence assigned to all medical, surgical or diagnostic procedures. Developed by the American Medical Association and updated annually, CPT codes are used for both reimbursement and to gather data on treatment outcomes that are used to evaluate quality of care.
HCPCS Codes
HCPCS, or Healthcare Common Procedure Coding System, is a two-level alphanumeric system explicitly developed for CMS.
Level I is the CPT index. Level II is a separate system that codes medical products from pharmaceuticals and prostheses to services such as anesthesia and radiology. There are 17 categories and counting, updates may occur as often as every six months.
A Medical Billing and Coding Specialist's Interaction
ICD-10, CPT and HCPCS codes are a medical billing and coding specialist's bread and butter. When requesting insurance pre-authorizations and filling out health claims, they interpret patients' medical information and assign the appropriate codes.
Accuracy is a must. A percentage of medical claims are rejected for inaccurate coding, resulting in costly payment delays for institutions and creating the potential for dangerous medical mistakes.
Since coding is regulated in most states, it carries significant responsibility. Medical billing and coding specialists need a firm grasp of medical terminology and the willingness to stay up to date on coding changes. Medical billing and coding specialists working in private practices will work almost exclusively with ICD-10 and CPT codes, while hospital representatives will use HCPCS extensively. Expect some overlap.
Why is Medical Billing and Coding Essential?
Medical coding is more than a way to for doctors to bill, it's evolved into an information tool and offers many benefits.
Benefit #1: A Universal Language
Medical coding is a universal language everyone from billing to clinical specialists can understand. Records can be cross-referenced at a glance. Reviewing a patient's diagnosis list in the emergency department takes seconds, not hours, improving the speed and efficiency of care. Medical coding isn't hands-on care, but it saves lives.
Benefit #2: Billing Efficiency
Coding allows paraprofessionals to manage billing without the help of a clinician. Doctors and nurses can use their time doing what they do best, caring for the sick, while trained administrative professionals can tackle the billing. Payments are processed faster, using fewer clinical resources, it's a bargain for both institutions and healthcare consumers.
Benefit #3: Confidentiality
The Health Insurance Portability and Accountability Act of 1996 set new standards for confidentiality in healthcare. Sharing of sensitive medical data is now restricted, only people approved by the patient or those who need to know to do their jobs can access records.
Yet, between insurers, clinical staff, family, office personnel and outside professionals collaborating on cases, extensive amounts of data change hands frequently. Coding limits the amount of personal information moving from place to place and enhances patient privacy.
Benefit #4: Benchmarking
Healthcare facilities were once reimbursed by insurers solely on what their services cost to provide, but payment models have shifted. Now, the emphasis is on outcomes, and doctors and hospitals that perform better are paid more. It's a win for patients.
But benchmarking, the process of comparing provider performance to industry leaders and best practices from other institutions is data intensive. Were it not for the coding systems already in place, creating a structure to track metrics would be cost-prohibitive.
Today, consumers benefit from benchmark reporting, being able to access key statistics for hospital, nursing home and physician outcomes. Patients with heart failure, for example, can seek services from providers with lower rates of re-hospitalization. Knowing which facilities have a track record of success is a confidence builder.
Benefit #5: Public Health Tracking
Public health authorities worldwide use coded data to analyze general health issues among demographic groups and monitor for the incidence of disease. Agencies, like the WHO and the CDC, use it to compile morbidity and mortality statistics. Whenever a medical journal reports shifting trends in deaths from heart disease or diabetes, you can bet researchers gleaned the information from ICD-10, CPT and HCPCS codes.
Healthcare is data-driven, and statistics support public health planners at every level. During a pandemic, medical coding is used to:
Identify disease trends by age
Survey causes of death
Manage hospital and ICU utilization
Track use of medical equipment such as ventilators
Evaluate treatment outcomes
Audit reimbursement
Officials can monitor outbreaks and plan responses in near real-time.
What is the Future of Medical Coding?
Education is an investment. At a time when jobs are being replaced by technology, it's good for students to ask, will medical coding be relevant in another ten years?
Since coding is an efficient way to transfer expansive volumes of health information for reimbursement and research, experts agree, it's an invaluable tool. Without it, finding meaningful data is like looking for a needle in a haystack. Coding organizes records, simplifying them and making management easier. The lower costs alone make coding a career with a future.
As medicine becomes more dependent on technology and cloud-based medical records applications become the norm, coding will become more complex, and the next generation of coders will need more education. Employers struggling to fill the demand for medical billing and coding specialists are increasingly partnering with vocational schools for well-trained graduates. It's the perfect time to apply.
Final Thoughts
Medical billing and coding specialists are the backbone of the healthcare industry. Their work guides reimbursement, bolsters public health and supports policymaking. In a few short months, students attending a vocational school program full-time can be ready for a rewarding career with ample room for professional growth.
Did learning about ICD-10, CPT and HCPCS coding interest you in becoming a medical billing and coding specialist? Gwinnett Colleges & Institute's Medical Billing and Coding programs will provide you with the opportunity to learn insurance coding and processing, medical administrative procedures, and the regulatory requirements in the healthcare delivery system.  School externships provide the opportunity to apply the medical billing and coding skills learned in the classroom in actual medical settings. Gwinnett Colleges & Institute offers medical billing & coding courses to gain essential skills and training to achieve entry-level positions in this career field. These medical billing & coding courses will be the first step in starting a rewarding career.
Contact us to learn more about how you can become a medical billing and coding assistant today.