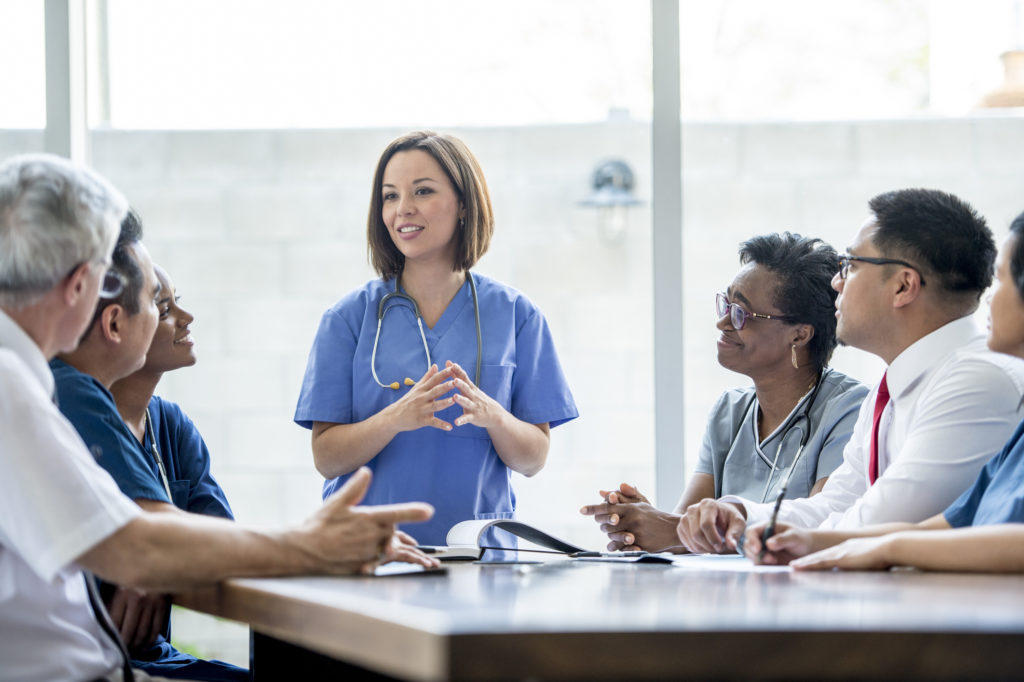 The nursing field is brimming with opportunity for advancement, and graduates are taking on increasingly responsible roles as policy and decision-makers. But while RNs with associate's degrees have the same professional credentials as nurses with higher education, they qualify for fewer management positions. Now more than ever, the healthcare system needs nurses with the expertise necessary to lead, and the good news is, getting a bachelor's degree through an RN to BSN program has never been easier.
Why Getting a Bachelor's Degree Matters?
The National Academy of Medicine has a goal of increasing the number of registered nurses with BSN's by 80%. The idea isn't new- it was proposed as early as 1920 to ensure that all registered nurses are prepared for advancement within an ever-changing industry. Leading professional organizations, including the American Nurses Association (ANA), and the National League for Nursing (NLN)), are on board. Why?
While an associate degree curriculum offers the training necessary for graduates to be competent nurses, there are gaps in the level of preparation each program offers. The program focuses on the practical aspects of nursing without covering the in-depth theory students need to understand broader issues in nursing. Associate-prepared RNs can grow into positions of authority, but only after years of experience, and they're often passed over in favor of candidates with more education.
Opportunities for RN to BSN Graduates
Few fields offer as many opportunities for professional advancement as nursing, but only for graduates with a sound educational foundation. What types of roles do RN to BSN degree program graduates qualify for? Nurses with a Bachelor's of Nursing degree have a better chance at becoming nurse supervisors, nurse managers or nurse administrators.
Nurse Supervisors
Nurses work as part of a team, but they're independent professionals. At the ground level, they supervise paraprofessional staff, such as nursing assistants, but when an organization's hierarchy expands, the most qualified and experienced RNs oversee other nurses.
Responsibilities vary. In a large hospital, there may be nurse supervisors for every floor or unit, and most report directly to a nurse manager. Titles may include shift supervisor, head nurse, or nurse mentor. Many of these positions are experience-based versus education-based, but candidates with BSN degrees are generally more likely to get the job.
Nurse Managers
Beyond direct supervision, nurse managers shepherd entire units. Responsibilities include higher-level functions such as budgeting, resource allocation and performance reviews. Nurse managers are staples at long-term care facilities, as they have the right blend of skills to oversee a stable patient population.
In an acute care facility, nurse managers handle unit staffing and quality improvement projects. Working under administrators, they serve as a vital link between nurses, patients and facility management.
Nurse Administrators
Nurse administrators are senior employees with decision-making authority. In a nursing home, titles include director of nursing and facility administrator. In a hospital, these highly skilled nurses hold jobs such as vice-president of nursing, chief nursing officer and similar positions. They have the highest level of responsibility among nurses, managing all aspects of nursing care at an organizational level. A bachelor's degree or higher is required to land these impactful roles.
A BSN degree also prepares nurses for master's programs leading to advanced practice roles such as nurse anesthetist, family nurse practitioner and clinical nurse specialist.
Why an RN to BSN Degree Program Makes Sense?
Associate degree nurses work hard for their credentials. They work side-by-side with bachelor's-prepared nurses, and rarely miss a beat, so why is more schooling important? Is it really necessary to head back to the classroom just for a promotion?
For nurses who want to make the most of their careers, it's critical. Plus, most RN to BSN degree programs are accelerated, taking less than a year to graduate while sometimes offering credit for experience and past academic achievements. Recognizing that nurses with associate degrees already have the right skills, schools seek to build on them, not reinvent the wheel. An RN to BSN degree program is an excellent choice for working nurses, and offers top financial and educational value.
RN to BSN Degree Program Curriculum
What do students learn in an RN to BSN degree program that qualifies them for advancement? The curriculum includes quality and safety, palliative care, a holistic approach to health assessment, ethical issues, and nursing leadership.
Quality and Safety in Nursing and Health Care
Quality is the name of the game in healthcare; no longer are institutions paid for providing services, they're reimbursed for results. Key quality and safety benchmarks must be met for continued participation in major insurance programs, and it starts and ends on the front lines, with nurses.
RN to BSN degree programs cover the role of metrics and outcomes in healthcare policy. Graduates are well-prepared to be the link that brings administration and nursing together in their mission to provide the best quality care.
Palliative Care
Palliative care improves the quality of life of patients with serious or life-threatening diseases. It's a compassionate approach that addresses the whole person, not just the sum of their symptoms. It's long been a part of nursing study, but associate degree programs lack the comprehensive treatment the subject deserves.
With more Americans choosing palliative over rehabilitative care, it's not surprising that hospitals and long-term care facilities want nurses with more training in this area.
Holistic Approach to Health Assessment
Similar to palliative care, holistic nursing takes a body-mind-spirit approach to care that incorporates alternative as well as traditional medicine. The goal is more than health, it's complete wellness.
Ethical Issues in Nursing
Nurses have a front-row seat to a wide range of ethical issues in healthcare, from patient confidentiality and autonomy to end-of-life decisions and futile care. RN to BSN degree programs better equip nurses to handle these topics individually and to support other nurses and organizations during controversies.
Nursing Leadership and Management
Leading nurses require more than experience. The nursing field is diverse, and managers need a broader view of what and whom it encompasses. Nurse leaders work with industry, government, and communities to improve accessibility and quality of care, it's an extended sphere of influence that must be used wisely.
Leadership and management courses teach the skills necessary to communicate with others, manage workplace conflicts and evaluate policies, as well as network, motivate and influence. Students learn how to facilitate teamwork, manage professional development and affect organizational change, plus they get a background in healthcare governance, time management, and social media outreach. RN to BSN degree program graduates are well-rounded and ready to apply for leading roles immediately.
Final Thoughts
Is the National Academy of Medicine meeting its learning goal for nurses? With help from employers and states in making BSN the new gold standard for nursing education, the percentage of BSN-prepared nurses in 2020 is rising to meet the goal. That's great news for the healthcare field and nurses alike because with more training comes more responsibility and greater job satisfaction. There's no better time to make this important investment in the future.
Did learning about an RN to BSN degree program interest you? The RN to Bachelor of Science in Nursing/RN-BSN program is designed to provide professionals currently licensed as registered nurses the flexibility of online study to build upon the knowledge gained through previous training and education. Gwinnett Institute's online program will prepare licensed registered nurses to assume leadership positions in a variety of medical settings including hospitals, long-term care facilities, and various public and private health care agencies.
Contact us today to learn more about the Bachelor's in Nursing degree program at Gwinnett Institute.