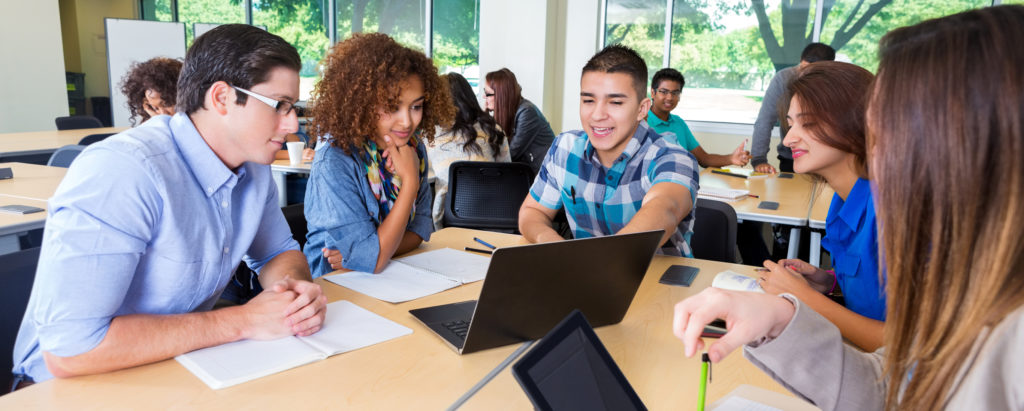 Are you graduating from high school or looking for a new career? Ready to start college? You have many options but attending a career college can give you the best opportunity to hop on the fast track to a new career. You could learn a new vocation and start earning in less than a year or two. However, are you asking yourself, "What is a Career College?"
What is a Career College?
A career college is an educational facility that allows you to learn a trade, technical or vocational skill. Career colleges focus on a specific job, like medical assisting or massage therapy, and create curriculum around that job with the help of industry experienced professionals and instructors. Career college courses focus on the necessary knowledge and skills you will need after graduation, starting an entry-level position at a local organization. Career colleges focus on your professional life and training you to start earning in under two years.
What Programs are Offered at a Career College?
Most career colleges offer associate degrees and diploma programs. Each program focuses on a specific vocation and prepares you to start working as an entry-level professional in the industry chosen.  Programs offered include business, computer operations, massage, medical specialists and assistants, nursing, paralegal, personal training and many other vocations.
Business/Office Administration – classes provide knowledge and practical skills to function as an office assistant or executive assistant. Curriculum focuses on Microsoft Office, accounting, light bookkeeping and office management.
Computer Operations – courses focus on various Microsoft Office applications relating to word processing, spreadsheets, and presentation creation. Some computer operations programs even prepare you to take certification exams on different computer programs and software.
Massage Therapy – courses focus on the different modalities of massage including Swedish, chair, and sports massage to name a few. Career college curriculum includes training around the scientific knowledge, manual skills, and mastery of business you need to become a professional massage therapist.
Medical Assistant – courses help you gain essential skills and training to achieve entry-level positions in this career field. Medical assistant programs focus on two curriculum objectives, providing training in both front and back office skills
Medical Billing and Coding – courses focus on insurance coding and processing, medical administrative procedures, and the regulatory requirements in the healthcare delivery system. Career college programs provide additional training in coding from the operative report and ICD-10 CM coding for long-term care.
Medical Office Assistant – courses help train you in general office skills, computer skills, medical office procedures, and medical insurance and coding procedures.
Nursing – career colleges can offer a variety of nursing programs for LPNs & RNs. Further program training can focus on the RN to BSN track allowing nurses more opportunity for leadership positions in medical facilities. Curriculum focuses on classroom theory, challenging assignments, skill labs, simulations, and clinical experiences to prepare you for an entry-level nursing position.
Paralegal – programs teach the technical and computer skills needed to assist law firms in managing cases in personal injury, criminal law, intellectual property, bankruptcy, immigration, family law and real estate.
Personal Training – coursework includes the science of the human body including anatomy, physiology, kinesiology, and pathophysiology. You will work one-on-one with gym clientele to develop and implement individual exercise programs, track clients' progress, and demonstrate the effectiveness of the individual training program.
How to Choose a Career College?
There are many different factors involved in choosing a career college. Does it fit your work/life balance, is it located in commuting distance, and is it accredited? Here are some of the factors you should consider when choosing a career college.
Personal Responsibilities
All of us have personal responsibilities. Do you take care of a family or elderly parent? A career college that offers evening classes can be helpful if you have daytime responsibilities. Especially if you need to keep a job by day to pay your bills while working toward a new career at night. Make sure you balance your work and life, so you don't burn out. Once you graduate from a career college you will be well on your way to a more balanced work/life.
Location of College
There is probably a career college just around the corner. Make sure you understand the commute and how often you may need to go to the library, see faculty or attend lectures. The closer you career college, the more opportunity you will have to keep a balanced work/life and be able to manage personal responsibilities.
Accreditation or Licensing
It is important to attend a career college that is accredited. Only accredited schools can offer specific types of financial aid. Many certifications also require that school hours are completed at an accredited career college. Gwinnett Colleges & Institute are accredited by well known councils, commissions and licensures. Learn more here about Gwinnett's licenses and accreditations.
Program Length
Many traditional colleges take four years to complete. They have you take electives and general education classes for the first two years. Career colleges focus on the second half of the education and only build vocational skills that will help you start working in an entry-level position. Some programs can even last less than one year for diplomas and certifications in massage, computers, office administration and other vocational programs. The quicker you get through the career college, the quicker you are ready to start earning.
Program Options
Does the career college offer the vocational program you are looking for? Make sure the type of program you are looking for is offered and the classes are relevant to the specialties you may be considering. College is a great place to figure out which specialty you would be interested in, so make sure your career college of choice has a wide variety of classes. An externship will also help you figure out what you want to do, while giving you a head start at networking for your next job after graduation.
Class Schedule Flexibility
Are you a morning person or want to take classes at night? Do you have the ability to access all the resources needed to succeed online? Make sure your career college is flexible and can meet your needs. Make sure you invest your time wisely to get the most of your career college experience.
Career Services Assistance
Most career colleges offer graduates career services. They will help you prepare for your first job interview, complete your resume and write thank you emails. Career Services are available to assist you throughout the career college and continues to offer you assistance beyond graduation.  While most career colleges do not guarantee employment, they provide you with continuous career services assistance upon graduation from your vocational program.
What are the Funding Options?
Most accredited colleges offer state and federal financial aid to students that qualify. Make sure to know when deadlines occur so you are eligible for FAFSA financial aid. Some career colleges also offer veterans benefits or local scholarship opportunities. When you register for classes at your career college, make sure to stop by the financial aid office to understand your options and how you can get assistance with paying for college.
Final Thoughts
Every student must consider many different factors when choosing the right career college. If you are looking for a career college that works with industry experienced instructors and creates curriculum with the help of local industry leaders, then attending Gwinnett Colleges & Institute may be the right decision for you. Start learning, start earning and get ready for a new and exciting career.
Because you are making the commitment to seek career-focused technical training and vocational education, we commit ourselves to providing you with exceptional customer service each step of the way.  Gwinnett Colleges & Institute is committed to providing you with information on the college financial aid for which you may qualify in addition to the other services we provide to our vocational college students. All of our vocational school instructors possess education or experience in the fields in which they teach which provides you with a quality learning experience.  
Contact Gwinnett Colleges & Institute today to learn more about taking classes to become an essential worker.