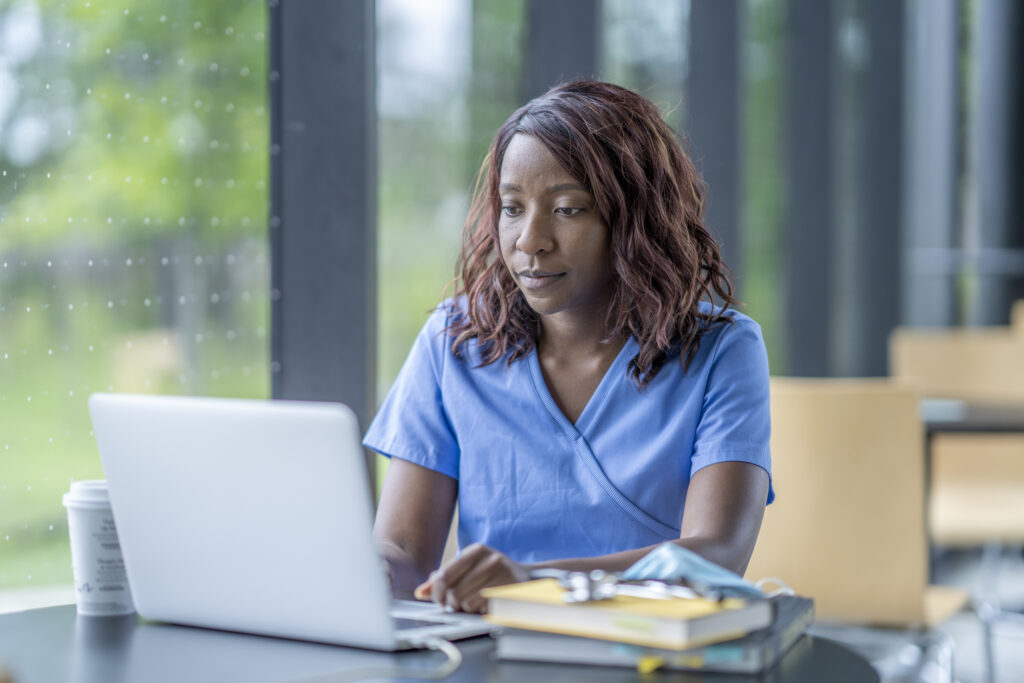 Medical coding is a vital component of the healthcare system. Skilled medical billing and coding specialists review medical records, translate clinical data into easy-to-read invoices, and secure reimbursement from insurance providers. Every healthcare facility needs talented professionals to complete billing and coding tasks, whether a single physician operating a private practice or a vast hospital system.
This multi-faceted career requires adaptable critical thinkers who can process complex information while adhering to rigorous regulatory standards. As a result, the industry offers rewarding work and career stability to attract high-quality individuals.
The best way to become a medical billing and coding specialist is with a formal training program. Vocational schools provide comprehensive instruction focused on real-world application to ensure graduates can succeed from their first day on the job. Potential specialists can pursue a billing and coding diploma or degree. Each track offers distinct advantages depending on your career goals and focuses.
What Does a Medical Billing and Coding Specialist Do?
Medical billing and coding specialists provide vital administrative support to clinical practitioners in a variety of healthcare settings. They also help maintain document compliance to promote patient safety. You will compile and manage patient information in electronic medical record systems, conducting audits for completeness and compliance.
Medical Billers and coders primarily generate health insurance claims by converting narrative healthcare data from patient charts into standardized invoices using the ICD-10, CPT, and HCPCS coding systems. As a medical billing and coding specialist, you will uphold ethical compliance regarding healthcare claims and follow patient privacy and HIPAA confidentiality guidelines.
You will most likely work in a conventional office setting within a clinical facility or remotely at an off-site facility. Depending on your employer, you may specialize in a specific practice area, focus on one phase of the revenue cycle, or serve as a generalist, completing all aspects of the billing process.
Medical Billing and Coding Diploma and Degree Programs
Choosing a diploma or a degree will provide you with the foundational knowledge and practical skills to confidently begin your career as a medical billing and coding specialist. The top employers require some level of formal training for applicants.
Completing your diploma or degree is the best way to secure an interview and begin working. When deciding between a diploma or degree, it's vital to consider the following factors and how they relate to your short and long-term career goals.
Individuals with strong attention to detail and persistence are best suited for diploma and degree programs. As a medical biller and coder, you will encounter diverse cases every day because each patient's course of care is different. You will need to assess the available information, utilize what you learned during your program, and research solutions to new problems you encounter.
Career Path
In general, you can complete a diploma program in a shorter timeframe than a degree program. Obtaining your diploma provides the quickest pathway to begin working as a medical billing and coding specialist. These programs are great for students without medical coding experience because they immerse you in the field. As a diploma holder, you'll start gaining valuable experience that will help you grow professionally and build seniority with your employer.
Degree programs are excellent for individuals some prior billing experience because they establish the underlying fundamentals of the profession before adding advanced topics. A degree takes longer to obtain but offers broader career opportunities. While entry-level positions often require a minimum of a diploma, employers often limit promotions to advanced or supervisory roles to medical billing and coding specialists with degrees.
In addition, holding a degree is often a prerequisite for obtaining advanced certifications, like the Certified Billing & Coding Specialist (CBCS) credential. The long-term earning potential with a degree is higher, but it will take you longer to begin working.
Curriculum and Coursework
In both programs, you will learn anatomy and physiology, coding skills, clinical terminology, and how to function as a biller and coder. Vocational educators are uniquely qualified to provide complete classroom instruction and use real-world scenarios to develop the practical skills needed to thrive in the workplace.
A diploma program will focus on how to complete billing tasks and the fundamental knowledge needed to understand the revenue cycle. You'll learn the worldwide billing standard, federal laws, industry-wide rules, and regulations. Getting your diploma will make you an effective billing and coding specialist because your coursework will blend theory and simulated billing activities that will prepare you for the field.
A degree curriculum is more comprehensive. Your coursework will delve into advanced topics including clinical coding, pathophysiology, and a deeper exploration of the theory underlying billing practices. The broader scope of your coursework will prepare you for more specialized coding positions and opportunities for advancement because you'll have a global understanding of the billing and coding industry.
Timeframe
While all vocational programs are structured to help you begin your career as soon as possible, a diploma can be earned faster than a degree. The diploma programs are tailored to get you up to speed quickly and efficiently, covering all the essential knowledge for you to successfully analyze, code, and bill healthcare claims.
Completing a degree takes a few extra months due to the additional classes needed to expand your knowledge about pathophysiology, healthcare regulations, and advanced coding principles. However, a degree program is still much faster than a 4-year college program.
What Do You Learn During a Medical Billing and Coding Diploma and Degree Program?
Diploma and degree programs cover the same topics. Degree programs will devote more time to core topics and delve into advanced curriculum that allows graduates to pursue positions with greater specialization. The core medical billing and coding training program will include the following course topics.
Billing Basics
You will learn the components of a complete bill, conventions that govern bill generation and submission, and how to understand insurance plans. The coursework will cover the standards and practices as well as hands-on billing simulations to help you understand the processes. Billing basics are a vital component of both diploma and degree programs. Each subsequent class will build on this foundational knowledge.
You will rely on your basic billing skills to communicate with doctors and other clinical staff to ensure they understand the documentation requirements needed for generating proper insurance claims.
ICD-10 Coding
The International Statistical Classification of Diseases and Related Health Problems (ICD-10) is the standard alphanumeric dosing system used to identify body parts, diagnoses, and injuries. This course will teach you the basics of analyzing healthcare data and translating chart notes into the codes needed to establish medical necessity.
The instruction will help you gain confidence to read and interpret the manual so you can adapt to billing for a wide range of medical specialties and practice areas. A degree program will devote more time to ICD-10 theory and how to navigate the applicable manuals.
CPT/HCPCS Coding
You will learn the Current Procedure Terminology (CPT) and Healthcare Common Procedure Coding System (HCPCS) systems which you will use to generate bills for services. These alphanumeric languages are used to secure reimbursement for rendered medical services. This coursework will build on the pathophysiology and clinical terminology courses to help you read and understand medical records.
While both the diploma and degree programs will provide the skills needed to succeed as a billing and coding specialist, degree programs will cover a broader range of treatments and procedures to expand your knowledge base.
Advanced Clinical Coding
Once you have learned the basics of coding, you will move into advanced clinical coding courses that explore specialized outpatient coding topics related to multiple medical disciplines. These courses will prepare you for work in specialty clinics, like dermatology or rheumatology practices.
The advanced coding courses included in a degree program may be divided into multiple modules that give you an in-depth understanding of distinct clinical practice areas, making you a more versatile biller and coder.
Inpatient Coding
Your inpatient coding coursework covers coding topics related to patients admitted to a hospital or clinical facility. You'll learn about the components of inpatient medical records, relevant terminology, and special requirements that pertain to inpatient care.
This curriculum is covered in a diploma course to give you essential competency. Degree holders who want to work for a hospital or large healthcare network will have advanced inpatient coding courses that highlight every aspect of inpatient care in acute, subacute, and long-term care facilities.
Coding from Operative Reports
All surgical procedures are thoroughly documented and subject to rigorous bill review. Your coding from operative reports class will teach you surgical terminology, advanced anatomy and physiology, and the conventions of operative reports and records.
These cases are dense and complex, requiring strong analytical skills and keen attention to detail. This coursework will help you succeed in a hospital setting or surgeon's office. Degree programs will devote enough time to operative coding to help you gain the skill and competence needed to succeed on the job.
Health Information Technology
Today, all healthcare information is managed using electronic medical record systems. This helps ensure compliance, keeping patients safe and doctors accountable. Both diploma and degree programs allow you to practice your skills using live software, which is similar to the systems you'll use throughout your career.
Instructors will cover the privacy and compliance obligations that billing and coding specialists must follow. You will regularly communicate patients' protected health information both internally and externally. This responsibility places you at the front lines of HIPAA compliance and data security.
Advanced topics in health information management are a component of degree programs, helping you secure supervisory positions in health information management, which is closely linked to billing and coding.
Want to Learn More?
Gwinnett Colleges & Institute's Medical Billing and Coding programs will provide you with the opportunity to learn insurance coding and processing, medical administrative procedures, and the regulatory requirements in the healthcare delivery system.  School externships provide the opportunity to apply the medical billing and coding skills learned in the classroom in actual medical settings. Gwinnett Colleges & Institute offers medical billing & coding courses to gain essential skills and training to achieve entry-level positions in this career field. These medical billing & coding courses will be the first step in starting a rewarding career.
Contact us to learn more about how you can become a medical billing and coding specialist today.