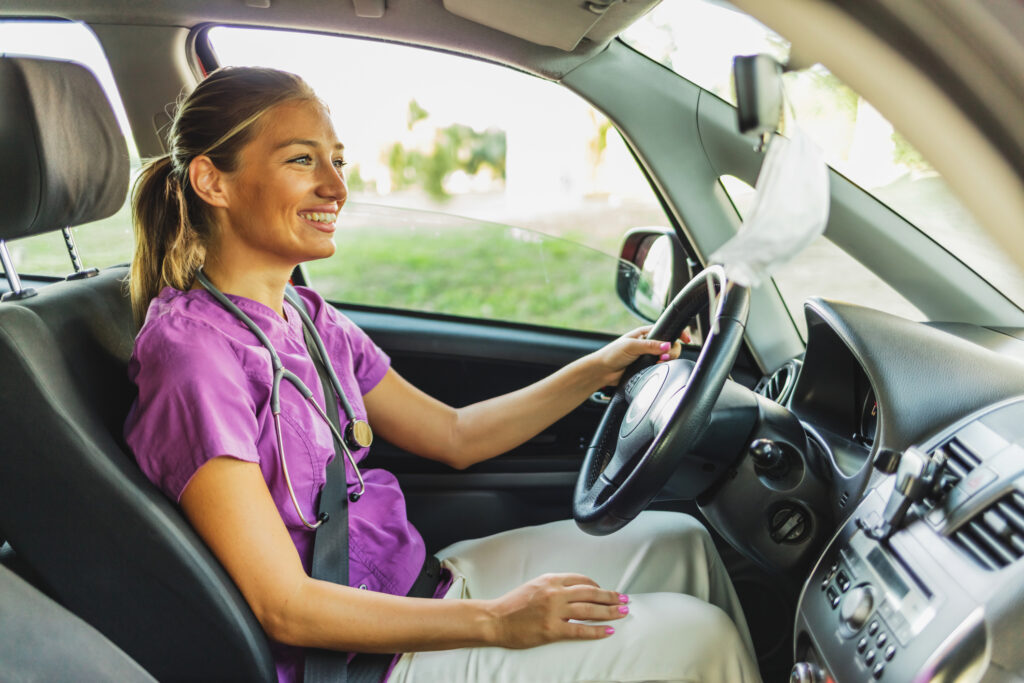 Are you interested in traveling Florida as a traveling nurse? There are many opportunities for traveling nurses because of the demand for healthcare professionals. According to Avant Healthcare Professionals, there will be a deficit of 59,00 nurses by 2035. So, what exactly is a traveling nurse?
What is a Traveling Nurse?
A traveling nurse is employed in short-term roles by healthcare staffing agencies, according to EveryNurse. As a traveling nurse, you will work on a contract basis before transitioning to another medical facility in need. Assignments can vary from hospitals and clinics to assisted living facilities. The standard travel nurse assignment is 13 weeks; however, some are more flexible. So, what does it take to be a traveling nurse?
What Does it Take to be a Traveling Nurse?
For those that want to become a traveling nurse, the first step is to complete a Nursing program. Then you must become licensed by passing the NCLEX exam. Some states may require a state specific license so completing training at a vocational school will allow you to travel in the Sunshine State as a traveling nurse.
Experience as a Nurse
It is important to get some experience as a nurse before you can start traveling. Traveling nurse agencies are looking for candidates with some experience and proven ability to adapt to a new environment. This will help build your confidence, so you are ready when you step into a new hospital with different protocols.
Find a Travel Nurse Agency
The next step is to identify a travel nursing agency that works with nurses of your skill level. There are big and small agencies that work with all types of specialties in many different metro areas. If you find an opportunity at a specific hospital first, you may need to work with the travel nursing agency that manages that hospital. Agencies also have travel nurse recruiters that liaison between you and the hospital, negotiating on your behalf.
Pick an Assignment
You may get the flexibility to choose your assignment. Do you want to work during the day or evenings, weekdays, or weekends? The contract you sign for the assignment will dictate the specifications of the nursing role.
Find Housing
Most travel agencies will have company-provided housing however some offer a stipend and rely on you to find housing accommodations. You can find long-term housing at hotels, Airbnb, and through Facebook. Make sure you understand your situation. For example, Hawaii may pay more for nurses but living expenses may also be higher. Know your options.
Keep Your Nursing License Valid
Each state has a minimum number of hours you must work to keep your nursing license as a traveling nurse. Make sure you understand each state's requirements, so you are not left without the opportunity to take travel nursing roles. Some states also require an annual number of continued education units in specific areas to maintain licensing.
What are the Benefits of Being a Traveling Nurse?
There are many benefits to becoming a traveling nurse. These benefits include:
Traveling to New Places
Travel nurses can explore the new cities they are assigned to by travel nurse staffing agencies. During the duration of the contract, you can enjoy the food, recreation and nightlife offered by many cities and metro areas. Not only do you see new places, but you also meet new people. People that you may keep in touch with for years to come.
Flexibility
Traveling offers flexibility over a permanent nursing career. You get to choose when and where you work. You can also take off days in between assignments to relax and unwind. This can offer you a better work/life balance.
Increase Experience
By traveling to distant hospitals, you get the opportunity to try new things and learn new skills. You can gain experience and learn new skills that permanent nurses may not be able to achieve. This can help you secure a full-time position in a specialty once you decide to settle down.
Great Pay
Traveling nurses are well-compensated. In addition to competitive salaries, travel nurse staffing agencies may pay for housing and offer health insurance or bonuses to entice traveling nurses to rural locales.
However, make sure you properly calculate your take-home pay because you may be responsible for some additional expenses. While a job may be advertised at a certain rate, it is important to understand the cost of housing, travel and other expenses that coincide with the job opportunity.
Are Traveling Nurses in Demand in Florida?
Hospitals have been counting on traveling nurses to meet temporary needs. Whether nurses are on vacation, the hospital is short due to an outbreak or other circumstance, hospitals will look to traveling nurse staffing agency to fill temporary needs.
The Affordable Care Act has significantly increased the demand for traveling nurses. Millions of people gained access to healthcare coverage, and this left hospitals short staffed. In the interim, hospitals looked to travel nurses to fill the shortage while they attracted and retained full-time staff.
What are Travel Nurse Staffing Agencies in Florida Looking for?
A travel nurse staffing agency is looking for a balance of experience and education. They look for candidates that work in a variety of settings, that posses' good communication and can adapt to their environment. The specific skills a travel nurse staffing agency in Florida looks for include:
Flexibility
As a travel nurse, you will need to be flexible and adapt to new environments. You will end up working for a variety of supervisors with different temperaments and leadership styles. You must be able to adapt quickly and build effective relationships with fellow colleagues.
A Good Attitude
Travel nurse staffing agencies in Florida interview candidates and look for signs of a positive attitude. Do you have a positive, optimistic outlook? Do you work well with a variety of people that have different characters and interpersonal skills? A successful candidate will be positive and have energy to excel in their station.
Competence
A travel nurse must be in good standing with education, credentials, and licensing. They must be competent in their duties and have a full complement of knowledge and skills to perform nursing duties. It helps to be a self-starter to learn new protocols and get along with new people.
A Team Player
In a hospital, it is a team effort. Everyone must work together to offer positive healthcare outcomes. Sometimes it is important to lead and other times to follow. A good team player understand their role and works toward a common goal.
Final Thoughts
Are you interested in becoming a traveling nurse? Let us help you complete a Licensed Practical Nursing (LPN) program and prepare you for the NCLEX-PN exam. We can get you started on your new career path and support you every step of the way.
Practical Nursing Program
The Practical Nursing program at Gwinnett Institute provides training to prepare you to enter the nursing profession as an LPN. After graduating from the Nursing diploma program and successfully passing the NCLEX-PN licensure exam, you will further your career to become a licensed practical nurse.
*While Gwinnett Institute provides test preparation and review assistance to college students, it cannot guarantee any college student will be able to take or pass any type of licensure exam. College students must be mindful throughout their entire training program that licensure is a prerequisite for employment as a nurse and to diligently prepare themselves to meet this important requirement.
Contact us today to learn more about becoming an LPN in Florida at Gwinnett Institute.