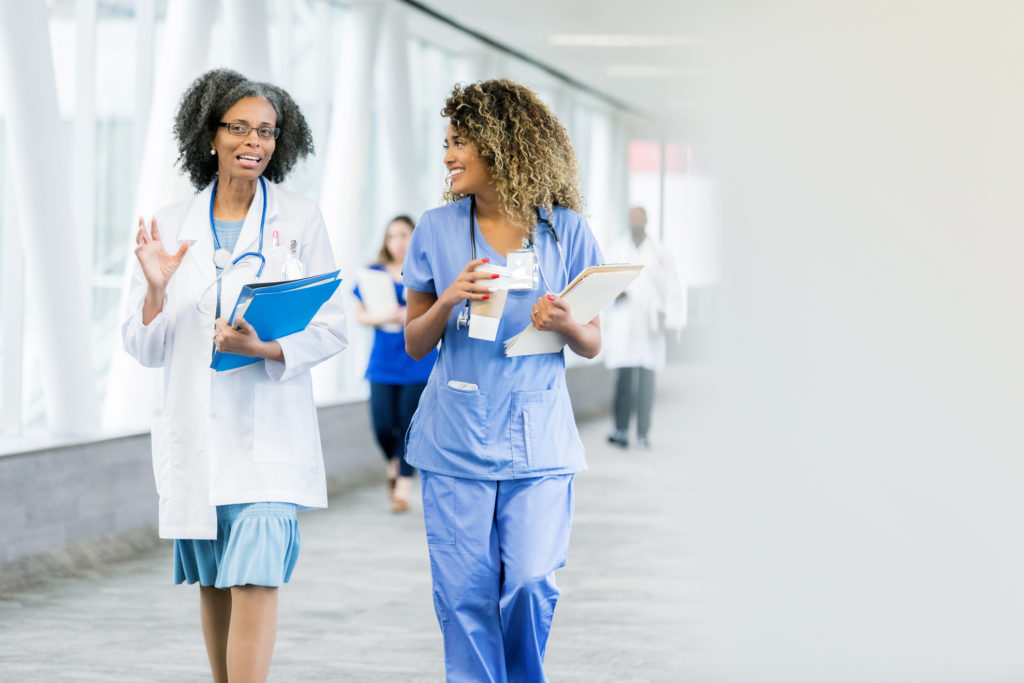 All LPNs need a mentor, an experienced veteran to help guide them through the ever-evolving world of healthcare. While vocational school training teaches students everything they need to know to get started, no program can cover every possible skill and clinical challenge. A new LPN has a lot to learn, and who better to learn from than an RN?
What is a Mentor?
Mentors are veteran nurses who help newcomers to the field build on the skills they learned in school. They take new graduates under their wing and show them how to make connections with peers and tackle the tough issues in medicine that aren't always black and white.
All experienced nurses were new once, and they understand the stress recent graduates go through. Not only do new LPNs have to learn the ropes of real-world clinical practice, but they also need to develop relationships with peers, and that can feel like an uphill battle in a busy healthcare setting.
Nurses have significant responsibility, and they're expected to be professionally competent on day one. That heightens the pressure to acclimate to a new job quickly.
Why Choose an RN as a Mentor?
An RN and an LPN are both licensed professional nurses with similar job descriptions. They share many of the same clinical skills, and both participate in hands-on patient care. An RN has more training and takes a more active role in planning and overseeing care. In other words, an LPN is a front-line caregiver who collects data, and an RN has the knowledge to interpret it and make big-picture decisions.
In acute care settings, such as hospitals, LPNs are directly supervised by RNs. In long-term care facilities, such as nursing homes and assisted living centers, LPNs have more responsibility and may work independently with distance supervision. Because RN training is the next step in nursing education, an LPN can hone their skills by practicing with RN guidance. And since an experienced RN has seen many clinical issues that a new LPN hasn't, they make an ideal mentor.
Mentors and Mentoring Programs
A mentoring relationship can be informal or formal. Informal relationships usually begin not long after hiring as new nurses make connections with existing staff who are open to answering questions. Since mentoring is a two-way street, new nurses should choose colleagues who are also willing to provide constructive feedback. Mentoring is more than on-the-job orientation.
Mentors can be supervisors, colleagues or friends, but they should be more professionally advanced than the mentee. Veteran LPNs can help new graduates learn the ins and outs of their practical responsibilities. Since mentoring relationships should encourage personal and professional growth, choosing an RN with greater knowledge and the wisdom of years on the job helps LPNs attain a broader focus.
In addition to informal mentors, structured mentoring programs offered by employers are increasingly popular. New LPNs may be partnered with experienced RNs for as long as 12 months depending on the complexity of their position.
In some settings, participation in a mentorship program is optional, in others, it's required. The learning curve for a new LPN is steep, and employers want new hires to feel supported while they learn to work safely in a fast-paced environment.
Mentorships give new staff time to familiarize themselves with institutional policies and procedures, while gaining valuable clinical experience. RN mentors are well-established in their field, and they know through experience what new graduates have only seen in a classroom. The differences can be striking.
A structured mentorship may include rotations through a wide range of clinical departments from labor and delivery to orthopedics and intensive care. Mentors are usually volunteers chosen by administrators for their expertise and willingness to teach, very few positions are compensated.
Practicing side-by-side with an RN gives an LPN a better view of care planning in general, so they understand how what they do fits into the clinical picture. RNs have also had a more extensive range of opportunities to practice hands-on skills on difficult cases. They know the tricks of the trade and can help an LPN learn the nuances of complicated procedures from IV insertion to catheterization.
Finding the Right RN Mentor
As professionals, LPNs want a mentor who can guide them when they encounter new clinical situations. However, throughout their careers, LPNs will also need advice about ethical and personal issues that affect them in the workplace. Help with these is best sought from someone who's walked a mile in the same shoes, and no one is in a better position to do that than a seasoned RN.
A mentoring relationship exists to help new LPNs:
Develop self-confidence
Hone critical thinking
Improve practical skills
Be more creative
Advance interpersonal relationships with peers
Understand different perspectives on healthcare issues
Grow professionally
Experienced RNs can do all of that and more, but finding the right mentor isn't always easy. Sometimes, mentoring relationships develop without a clear catalyst, at other times, it takes more effort. Mentoring is a calling that not everyone shares, some nurses find it challenging to teach others. New LPNs in any setting can typically sense which RN may be a willing mentor. The fastest way to find a mentor is to ask.
What Characteristics Make an RN a Good Mentor?
A good mentor is experienced, available, committed, confident, honest and passionate.
Experienced
People are usually drawn to others based on their personality, but in a mentoring relationship, experience is what counts. The ideal mentor is one who has expertise in areas where the mentee is weak. As a nurse, an RN has the knowledge and skill to be a good role model in all areas of nursing practice, but those who are certified in an LPN's areas of interest are especially valuable guides.
LPNs can further their careers by obtaining specialty certifications, and RNs have the know-how and connections to help them do that. For LPNs who are interested in higher education, there is no better mentor than an RN who can support them both at work and through another round of school.
Available
Mentoring takes time. An RN with many job responsibilities may not have the time it takes to properly commit as a mentor. While many of the most successful mentoring relationships rely solely on electronic communication, an LPN looking to develop clinical skills should choose a mentor they can work with hands-on.
Committed
Teaching others requires an emotional commitment that doesn't come naturally to everyone. Unlike a friend, a mentor needs to challenge their mentee, and that's not a role everyone is comfortable with. Mentoring can be a love-hate relationship that some RNs aren't prepared for. LPNs should choose mentors who are committed and will push them out of their comfort zone and toward their maximum potential.
Confident
Without being brash or thinking they know it all, the best RNs are confident that sharing their experiences will help new nurses develop the right skills. An RN who doesn't believe they have anything to offer is unlikely to have the insights necessary to be a mentor.
Honest
Both praise and constructive criticism are necessary for professional growth. RN mentors owe it to their LPN mentees to tell them what they need to hear, not what they want to hear. A pat on the back for a job well-done encourages LPNs to tackle new challenges but glossing over errors is a barrier to accomplishment. Honesty is the bedrock on which good mentoring relationships are built.
Passionate
Nursing is more than a job, it's a career that continually evolves. Good mentors know the foundation of healthcare is learning, and they're passionate about staying abreast of advancements in the field. They're current on new developments and thrive on sharing that knowledge with new nurses. Being passionate is what drives mentors to take their teaching role seriously, and because most states require continuing education credits for RNs to renew their licenses, most are aware of learning opportunities for LPNs.
How to Be a Good Mentee
The mentor-mentee relationship should be mutual. A good mentee is open, responsible, respectful, and goal oriented.
Open
For a mentor to be helpful, the mentee must be open about their needs. New nurses may feel like they have something to prove, and they're reluctant to ask questions or share experiences that put them in a bad light. But while mentors are called to be honest, mentees must be equally open to benefit from a learning relationship. Every experienced RN has had their share of failures, the best mentors are grown from them.
Responsible
Mentors are not supervisors; they offer one-on-one guidance on a peer level. As fellow professionals, mentees must take responsibility for their individual practice by being self-aware and asking for help when needed.
Mentees should first seek their own solutions to problems because when bringing them to a mentor, the more focused the questions, the more meaningful feedback will be. Because the purpose of a mentoring relationship is personal and professional growth, mentees should seek honest feedback and be accepting of constructive criticism without feeling hurt or being defensive.
Respectful
RN mentors put hours of unpaid personal time into helping LPNs, but they still have their job to do. Mentees should respect the sacrifices a mentor makes on their behalf by acknowledging their efforts and finding ways to reciprocate whenever possible.
Goal-oriented
The purpose of a mentoring relationship is to promote professional development. Mentoring relationships can help new nurses develop skills over time, but they stagnate without consistent action. LPN mentees should set new goals to work on with their RN mentors as soon as prior goals are met.
Final Thoughts
Mentoring spurs career development, inspires leadership skills and energizes peer relationships. For an LPN, finding an RN mentor is one way to reach their professional potential.
Did learning about how LPNs can look to RNs as mentors interest you? The Practical Nursing program at Gwinnett Institute provides training to prepare college graduates to enter the nursing profession as an LPN. Classroom theory, challenging assignments, skill labs, simulations, and clinical experiences help to prepare college graduates for an entry-level nursing position.
After graduating from the Nursing diploma program and successfully passing the NCLEX-PN licensure exam, nursing students will further their career to become a licensed practical nurse. There is an overall need for LPNs in response to the aging baby boomer population.
*While Gwinnett Institute provides test preparation and review assistance to college students, it cannot guarantee any college student will be able to take or pass any type of licensure exam. College students must be mindful throughout their entire training program that licensure is a prerequisite for employment as a nurse and to diligently prepare themselves to meet this important requirement.
Contact us today to learn more about becoming an LPN at Gwinnett Institute.