Ready to become a medical assistant but wonder what options you have after graduating from a medical assistant program? Entry-level medical assistants can work towards unique specialties. Regardless of which specialty a medical assistant works in they will be responsible for administrative and clerical duties including answering phones, scheduling appointments, greeting patients, helping to take vital signs, processing billing and insurance claims, filing paperwork both paper and electronic and entering patient information into computer databases.
Specialty Options for Medical Assistants
As a medical assistant, there are many specialties to choose from depending on which type of doctor or clinic you work for. The medical assistant can work in immunology, chiropractic, dermatology, emergency medicine, family medicine, obstetrics, ophthalmology, osteopathy, otolaryngology, pediatrics, podiatry, pathology, plastic surgery and radiology. The following is an explanation of the medical specialties and how the medical assistant may assist.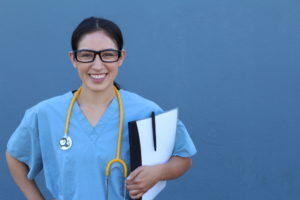 Allergy and Immunology – the medical assistant will assist in the treatment of adults and children with allergies and problems of the immune system. They will work with allergists and immunologists that diagnose, manage and treat allergic and autoimmune disease.
Chiropractic – the technique of spinal manipulation. The medical assistant will greet and escort patients to exam rooms. They will assist the chiropractic practice by perform administrative tasks including answering phones, processing insurance claims and filing of patient information.
Dermatology – the medical assistant will assist a dermatologist that specializes in the skin. The dermatologist diagnoses skin disease and may perform minor surgery, with the help of a medical assistant.
Emergency Medicine – for a faster paced environment, the medical assistant can work in emergency medicine, typically in a hospital. Emergency medicine focuses on treating acute illnesses and injuries that need immediate care. The medical assistant will support the nurses and emergency doctors with patient management, information gathering, filing, and support of colleagues with clerical duties.
Family Medicine – the medical assistant will work alongside doctors treating adults and children for routine care. They will work to educate patients in how to stay healthy and treat the total health of the individual. The medical assistant in a family practice will do many administrative and clerical tasks in addition to patient education and management.
Obstetrics – specialty that involves the care of patients during pregnancy and delivery. The medical assistant assists by checking in patients, reading vital signs, and educating the patient and their family on the procedure.
Ophthalmology – specializes in the care of a patient's eyes. The medical assistant helps the ophthalmologist manage disease and conditions of the eye. They will also help educate the patient that is getting tested for glasses, undergoing surgery, laser correction or the proper use of contact lenses.
Osteopathy – a mix between scientific and holistic medicine that focuses on healing the entire person rather than a specific disease or condition.
Otolaryngology – specialty that focuses on the care of the ear, nose, throat, head and neck. The medical assistant will assist in medical examination, minor surgery and many different administrative tasks that are needed in an otolaryngologist's office.
Pediatrics – this specialty involves the care of children from birth to adolescence. Many medical assistants will choose pediatrics because they like working with children.
Podiatry – treatment of the disorders of the feet and ankles. The medical assistant can help those with diabetes, the elderly and others that require specialized foot care, while working in a podiatry practice.
Pathology – examines cells, tissues and specimens to determine whether a structure in the body is normal and attempt to determine the cause of a disease. Medical assistants may assist the pathologist in preparing work spaces, keeping workstations disinfected and helping with filing of patient information.
Plastic Surgery – the surgical and non-surgical treatment of physical defects in the human body. The medical assistant will work alongside the plastic surgeon to keep the practice running smoothly both during procedures and with clerical responsibilities.
Radiology – specialty involving the use of x-ray, computed tomography (CT) scan, and magnetic resonance imaging (MRI). Medical assistants will assist will equipment upkeep and cleaning for radiologist to get accurate images to better treat patients.
Does one or more of these specialties interest you? Interested in becoming a medical assistant? Gwinnett Colleges & Institute offers medical assisting courses to gain essential skills and training. The core curriculum focuses on the medical assisting skills and training you will need to seek entry-level employment in physicians' offices, clinics, hospitals, and other medical settings needing the services of associates trained in both front and back office medical assisting skills. These medical assisting courses will be the first step in starting a rewarding career.