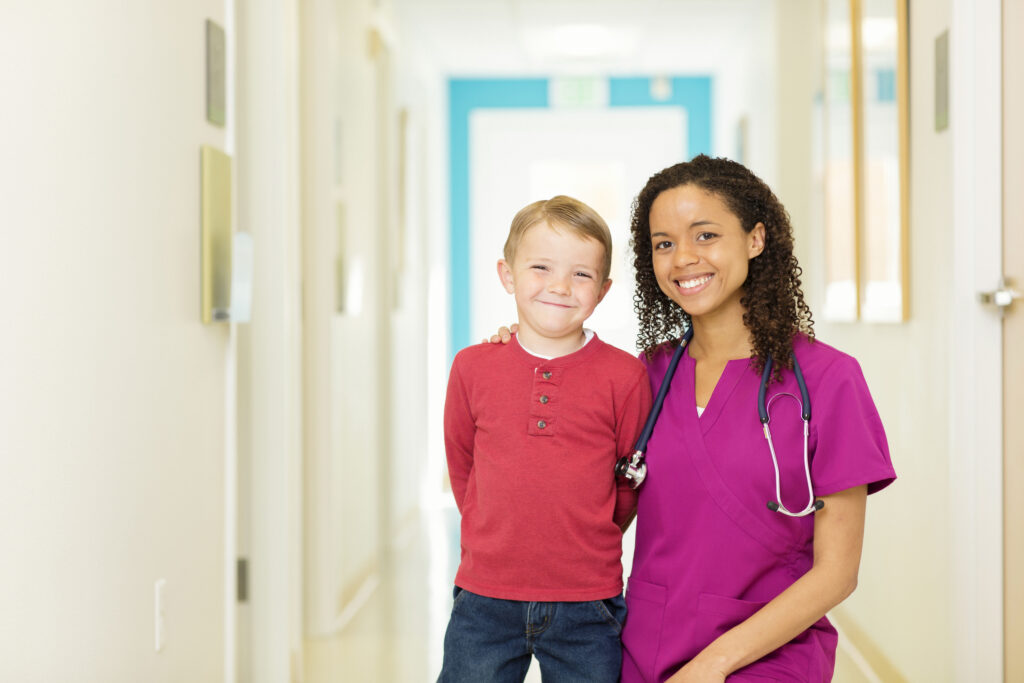 Working with children is a popular specialty among nurses. There's something unique about their vulnerability that makes us want to reach out to them. But how much education do you need to be a pediatric nurse, what will you learn, and how will it help you be successful? Let's find out.
What Does a Pediatric Nurse Do?
Pediatric nurses perform the same duties as all nurses but with children from birth through adolescence. Their job descriptions vary based on their employment setting and credentials as registered nurses (RN) or licensed practical nurses (LPN), we'll take a closer look at both.
Their responsibilities may include:
Monitoring for changes in their patients' conditions
Administering medications and treatments
Assisting with personal care
Pain management
Psychosocial intervention
Supporting families
Supervising paraprofessional staff
Documentation
End-of-life care
General advocacy
How Much Schooling Does a Pediatric Nurse Need?
All registered nurses need an associate's or bachelor's degree. Vocational schools can prepare licensed practical nurses in less than a year. Both RNs and LPNs can be pediatric nurses, their training is similar, but each will have different roles based on the depth of their education.
LPNs provide hands-on care under the supervision of a physician or registered nurse. They work primarily in clinics, doctors' offices, private homes, and nursing facilities.
Registered nurses have more education, so they care for the sickest patients and take a leading role in planning their care. They're employed in all settings but are more likely to work in hospitals than LPNs.
What Does an RN and an LPN Learn in School?
Nursing diploma programs train students to deliver basic bedside care. Associate degree programs prepare graduates for more complex roles. The education you choose should reflect your career goals. Here's what you'll learn in each program.
Associate Degree RN Program
During an associate degree program, you will learn anatomy, physiology, foundations of patient care, medical surgical nursing, maternal and pediatric care, mental health, surgical nursing, and gerontological nursing.
Anatomy and Physiology
Everything nurses do depends on understanding the anatomy of how the body is made, and the physiology of how it works. You'll learn about the twelve body systems and how they work together to keep you healthy. It's the foundation of most other learning in a nursing program.
Foundations of Patient Care
The best place to begin your nursing education is at the beginning, with the principles that define nursing care. Topics include:
Professional standards and scope of practice for registered nurses
Patient-centered care
Cultural competency
Maintaining a safe and effective nursing environment
Interpersonal communication
Evidence-based nursing practice
Risk identification
Patient education and advocacy
Wellness and preventive care
Medical law and ethics
Patient privacy
Infection control
Pharmacology
Later courses will build on this foundation, covering care for all age groups from infants to seniors.
Medical-Surgical Nursing
Medical-Surgical nursing is the meat and potatoes of the field, focusing on a wide range of acute and chronic conditions and how they're treated on a nursing floor. You'll learn about:
Health promotion strategies
Fluid and electrolyte imbalances
Acid-base abnormalities
Endocrine system disorders, including diabetes
Gastrointestinal, musculoskeletal, and neurological diseases
Cardiac care
Elimination disorders
Skin conditions
Aseptic and surgical techniques
Pain management
Emergency interventions
Pre- and post-operative care
By the end of this course, you'll understand basic nursing care for adult patients.
Maternal-Pediatric Care
Care of the mother and child is difficult to separate. Maternity nurses care for expectant mothers from preconception through birth. Pediatric nurses care for children from newborns to young adults. This course covers:
Fertility, conception, and contraception
Prenatal care, including nutrition, immunizations, and lifestyle counseling
The stages of labor and delivery
Postpartum care and complications
Care of the newborn
Child development and nursing considerations
Early childhood immunizations
Therapeutic communication techniques
Family support and crisis intervention
A proactive and integrated approach to maternal-child wellness helps women have better pregnancies and healthier babies, so it's a win-win.
Mental Health
Mental Health issues are reaching crisis proportions in the US. In this course, you'll learn about the common conditions affecting each age group and their nursing considerations. Topics include:
Brain function
The nurse-patient relationship
The therapeutic milieu
Mental status assessments
Neurobiological concepts
The effects of stress and trauma
Pharmacology
Child and adolescent mental health
Crisis management
Substance abuse and addiction
Inpatient and outpatient treatment models
Common mental health conditions, including depression, anxiety, schizophrenia, bipolar, personality and eating disorders
Students will gain a fundamental understanding of most mental health problems and how nurses help.
Surgical Nursing
Surgical nurses assist patients and physicians before, during and after surgery. You'll learn about:
Preoperative procedures
Informed consent
Patient preparation
Instrument handling and sterilization
Aseptic technique
Anesthesia and pain management
Patient monitoring
Emergency situations
Anesthetic recovery
Post-surgical care
Surgical nurses work everywhere from hospital ORs to doctor's offices that specialize in performing routine procedures.
Gerontological Nursing
Gerontological nurses manage a full range of complex issues that affect older adults' lives. Gerontology courses cover:
Generational expectations
Physical and cognitive changes associated with aging
Mental health in seniors
Psychosocial considerations
Chronic conditions that affect independence
Communication with the older generation
Gerontology is an essential topic for today's nurses because America's demographics are changing, and more patients than ever are now 55 and older.
Students in associate degree programs also participate in clinical rotations, practicing their skills in diverse, real-world healthcare settings under the supervision of instructors and a mentor. Some programs also include capstones, comprehensive projects that demonstrate you understand the principles you've learned. On graduation day, you'll feel confident in your skills.
Practical Nursing Program
RNs and LPNs learn many of the same fundamentals. Most LPN programs can be completed in as little as a year, covering the unique role of LPN with courses that include:
Functions for the Practical Nurse
Practical nurses work side-by-side with registered nurses and do many of the same tasks, however, their responsibilities reflect their education and are limited by each state's nurse practice act. Courses in a vocational school program are designed to clearly delineate an LPN's responsibilities, so they're comfortable with their scope of practice.
Fundamentals of Nursing Care
LPNs and RNs learn many of the same fundamentals, but while RN programs emphasize both planning and skills, LPN programs focus primarily on the practical aspects. Students learn how to:
Take vital signs
Administer medications
Give injections
Draw blood
Dress wounds
Insert urinary catheters
Test blood sugar
Monitor intake and output
Apply oxygen
Educate patients and families
Recognize emergency
Document symptoms
You'll practice using the same equipment and computer systems you'll find in medical facilities.
Body Structure and Function
Anatomy and physiology courses are less intense for LPNs because they have fewer complex responsibilities. Still, they need a firm grasp of the basics to understand mobility, nutritional and pharmacological interventions, so it's still covered but in less detail.
Infection Control
Infection control is a critical part of every practical task an LPN does. Infection control is covered in depth, from the microorganisms that cause infections to where they're found and how to prevent their spread.
Human Growth and Development
All nurses study human growth and development, how we change and grow as we age. LPNs learn what to expect of people from infants to seniors so they can better provide age-appropriate care.
Nursing Care Across Settings
LPNs and nursing assistants provide the majority of beside care, helping patients of all ability levels bathe, dress, eat and use the toilet. Their needs, however, differ between settings and range from the minor support level to requiring total care. Understanding each helps LPNs prepare for the patients they will encounter in doctor's offices, nursing facilities and private homes.
Mental Health Concepts
LPNs learn about mental health issues in ways that help them work with affected individuals. There's less focus on theory and more practical advice about how to approach and communicate with mentally ill patients. You'll learn about the most common psychotropic medication, how they're used, and how to monitor for side effects.
Choosing the Right Path to Become a Pediatric Nurse
RNs and LPNs have similar job descriptions, but with experience, their paths diverge. Managerial roles in pediatrics are typically reserved for RNs. But if you prefer pushing patients in wheelchairs to pushing paper, you won't go wrong becoming an LPN.
There's no wrong way to become a nurse, but your career goals should guide your decisions. The shortest path to your first job is to complete a vocational school LPN program. It's a good choice for students with other responsibilities who can't afford to be out of work for two years, you'll be earning money in less than twelve months.
It's also helpful for students who want to be nurses but aren't sure what type of nursing they'll enjoy. Working on the ground floor in different environments helps you get a feel for what the day is like in pediatrics versus geriatrics, so you make a better choice. While you're at it, you'll make connections that may lead to opportunities. Some employers will help LPNs become RNs in exchange for a work commitment.
Students who have the time and want roles that require more education may be better off starting with an associate degree program. In most states, you'll need a master's degree to teach, and in some areas, a bachelor's is required to be a school nurse, a goal for many pediatric nurses. Credits are typically transferable to RN to BSN programs. It may be the best deal in education today.
Final Thoughts
The more education you have as a nurse, the more opportunity you have for professional growth. But pediatric nurses at all levels are in demand. Where you start climbing the career ladder isn't as important as taking the first step. Whether you become an RN or an LPN, there will be a worried parent who's grateful to see you.
Registered Nurse Program
The Associate of Science in Nursing degree program at Gwinnett College provides training to prepare college graduates to enter the nursing profession as a registered nurse.  Classroom theory, challenging assignments, skill labs, simulations, and clinical experiences help to prepare college graduates for an entry-level nursing position. 
LPN Program
Gwinnett Institute in Orlando offers a Practical Nursing diploma program that trains LPN students for positions delivering basic bedside care to patients. LPN courses create employment opportunities that include entry-level practical nursing positions in long-term care facilities, nursing homes, hospitals, rehabilitation centers, urgent care facilities, occupational care centers, and physician offices.
Upon successful completion of the program and demonstrated nursing competence, the college graduates will be eligible to apply to take the NCLEX-PN or NCLEX-RN licensure examination.*  
*While Gwinnett Colleges & Institute provides test preparation and review assistance to college students, it cannot guarantee any college student will be able to take or pass any type of licensure exam.  College students must be mindful throughout their entire training program that licensure is a pre-requisite for employment as a nurse and to diligently prepare themselves to meet this important requirement.
Contact us today to learn more about becoming an LPN or RN at Gwinnett College.