The job market in the US is competitive and writing a good business resume will give you a leg up on the competition. If you are looking for a job in business after graduating from a career college, here are 7 tips for writing a business resume that stands out.
Tip #1 – Format the Business Resume for Easy Viewing
A human resources manager only has 20 seconds to scan your business resume before taking the time to read it fully. The business resume should only be one page long as multiple pages will not only seem overwhelming to the human resources manager but shows that you are not concise with your communication.
Use headers to emphasize important information and bullet points for key accomplishments. Bold and italic type can help guide the human resources manager's eyes properly through the business resume. Make sure the business resume is readable, organized and visually appealing.
Also, clearly state your name and contact information at the top of the business resume. Don't give the human resources manager any reason not to contact you for an interview.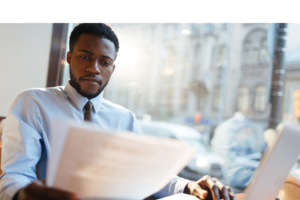 Tip #2 – Tailor Your Business Resume to The Company You Are Applying To
Human Resource Managers and Hiring Managers will see hundreds of resumes per position and you want to stand out from the crowd. A good way to stand out is by tailoring your business resume to the company you are applying to. Don't just send in a catch all business resume, personalize it to the company and industry.
When writing a cover letter, try using the human resource manager's name in the salutation. Insert the company name were applicable. Focus on the companies needs by reviewing the job description and tailor your business resume to the job you are applying for.
Tip #3 – Optimize Your Business Resume for Keywords
Many new resume services like Indeed will rank your business resume by relevance when a hiring manager is searching for job candidates. Other resume services will give the hiring manager the ability to weed out business resumes by ranking them by keyword saturation, much like a search engine. Make sure your business resume includes all the words that the hiring manager may be looking for by understanding the job description and position you are applying for.
Tip #4 – Write a Career Summary instead of an Objective
Take the opportunity to make a good first impression. The career summary is the first thing the hiring manager will read when looking at your business resume. Everyone wants to work for a good company that is challenging but not everyone has the career experience you bring to the table. Present yourself as the solution to the hiring managers problem.
Tip #5 – Accomplishments, not Job Descriptions
You are telling a story with your business resume. Use bullet points to call out the tasks you performed on a job but put the tasks in the form of accomplishments. Quantify your accomplishments and avoid using industry jargon. Instead of saying I proofread articles at my last job say that you had a 99% accuracy when reviewing and submitting articles to the key stakeholders. Use this section of the business resume to sell yourself and the accomplishments you will bring to this new job.
Tip #6 – Proofread Your Business Resume
Nothing will get your business resume rejected quicker than spelling and grammatical errors. When a hiring manager sees these errors, they feel like the candidate is not taking the process seriously. Have a friend or family member read over your business resume for a second set of eyes. Many times, they may see errors that you may not.
Tip #7 – Include Social Media Links
Do you already have a Linkedin profile? Take the time to write a tailored business resume but also include a link to your Linkedin profile. Get endorsements from colleagues, former employers and teachers that may enhance your list of references. Share your featured skills with the hiring manager to confirm the business skills you have match that of the job description.
Don't forget that the human resources manager will look at your social media accounts before sending the resume to the hiring manager. Make sure you don't have anything on your social media that will disqualify you or impact the decision of the human resources manager from adding you to the list of prospective candidates.
Ready to start your journey as a business student? Gwinnett College can help you prepare for a career in business. Gwinnett College students that graduate from the business program can also select a concentration in computer information technology, medical office administration, or massage therapy.  Gwinnett College graduates are awarded an Associate of Science Degree in Business and can seek entry-level positions based upon their areas of concentration.